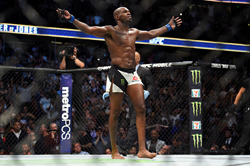 Anaheim, California (PRWEB) August 01, 2017
Monster Energy's Jon 'Bones' Jones entered the octagon with a vengeance after a two-year hiatus and regained his light heavyweight title after knocking out Daniel Cormier with a lethal head kick to ground and pound at UFC 214 inside the Honda Center in Anaheim, CA.
With a dramatic rematch two years in the making, Jones came back with pure aggression, orchestrating a picture-perfect redemption to solidify his status as one of the greatest fighters of all time, and end one of the most bitter rivalries in MMA history. Jones defeated Cormier via unanimous decision at UFC 182 and held the title from 2011 through 2015 until it was stripped from him for disciplinary action and he was suspended from UFC 187, a title defense against Anthony Johnson. Olympic wrestler Cormier replaced Jones for UFC 187 and won the light heavyweight belt.
In April 2016 Jones was ready to regain his title against Daniel Cormier, until Cormier had to withdraw due to an injury - instead Jones beat Saint Preux at UFC 197 for the interim belt, which he declined saying, "it wasn't the right belt." Then Jones' UFC 200 fight against Cormier last July was cancelled after Jones tested positive for banned substances that led to a yearlong suspension. Instead Cormier fought and retained his belt against late replacement Anderson Silva. Fast forward to UFC 214 after much perseverance, leaving his two-year detour behind, Jones made a storybook comeback by finally reclaiming his UFC light heavyweight belt.
For the better half of two rounds Jones (23-1) and Cormier (19-2) didn't disappoint with a fairly even standup battle filled with crisp strikes and heavy grappling from both men, until Jones ended the night abruptly with a devastating kick and jumped the stunned Cormier to finish him off with a brutal ground and pound assault ending the affair at 3:01 of the third round.
A gracious and emotional Jones accepted his belt, fell to his knees after the announcement of his victory, and humbly accepted his title back by praising his former nemesis Cormier as a 'model champion.'
With the win, Jones takes his 14th consecutive victory since his only career loss, which was a controversial disqualification in 2009 (Jones has never been defeated by another fighter). What's next for Jones, perhaps moving up to heavyweight to face WWE mega star Brock Lesnar who he called out after the fight. Lesnar replied with, "Be careful what you wish for young man." Since Lesnar has a six-month suspension to finish out, Jones will most likely have to fight someone in the meantime and most true MMA aficionados are hoping for a rematch with Alexander Gustafsson who gave Jones his hardest test to date, and looked laser sharp in his last KO victory.
Jones' Monster Energy teammate Tyron 'The Chosen One' Woodley (18-3-1 MMA, 8-2-1 UFC) easily retained his welterweight title against Demian Maia who was on a seven-win streak.
Woodley, a two-time All American college wrestler amazingly shut down Maia's grappling by defended a staggering 24 take-down attempts from Brazilian Jujitsu practitioner Maia, while nearly closing his eye in round one, knocking him down in round two, and badly bloodying his nose. While Woodley's clinical approach of stuffing Maia's takedowns and cautiously picking the Brazilian apart from distance wasn't fan friendly, he did something nobody has done of late — survive the relentless Jujitsu of Maia and beat him. And defeat him resoundingly with a unanimous-decision victory recording scores of 50-45, 49-46, and 49-46. After defeating two extremely stylistically difficult fighters in Stephen "Wonderboy" Thompson and Demian Maia, who nobody wants to fight, let's hope Woodley gets a more traditional freestyle fighter matchup, so fans can see his offensive skills on full display.
Daniel Cormier and Jon "Bones" Jones are amongst Monster Energy's elite UFC athletes along with Conor "The Notorious" McGregor, Donald "Cowboy" Cerrone, Dominick "Dominator" Cruz, Chris 'The All American' Weidman, Tyron "The Chosen One" Woodley, Paige VanZant, Cain Velasquez and Yair Rodriquez.
For more on Jones, Cormier and Monster Energy's MMA athletes visit http://www.monsterenergy.com. Follow Monster Energy on YouTube, Facebook, Instagram and Twitter.
###
About Monster Energy
Based in Corona, California, Monster Energy is the leading marketer and distributor of energy drinks and alternative beverages. Refusing to acknowledge the traditional, Monster Energy supports the scene and sport. Whether motocross, off-road, NASCAR, MMA, BMX, surf, snowboard, ski, skateboard, or the rock and roll lifestyle, Monster Energy is a brand that believes in authenticity and the core of what its sports, athletes and musicians represent. More than a drink, it's the way of life lived by athletes, sports, bands, believers and fans. See more about Monster Energy including all of its drinks at http://www.monsterenergy.com.