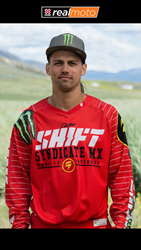 Corona, California (PRWEB) August 27, 2017
Monster Energy congratulates freestyle motocross team rider Kris Foster on winning X Games gold in this year's X Games Real Moto contest. Competing against some of the world's best freestyle motocross riders in an online video contest judged by an expert jury, the 29-year-old from Kamloops, Canada, claimed the win with a spectacular FMX performance. He was joined in the Top Three by Monster Energy teammate Axell Hodges from California, who took X Games silver for his epic video.
As the fifth installment of this year's X Games Real competition series – also including Real BMX, Snowboarding and Skateboarding events – X Games Real Moto began on August 16 with videos from five athletes released online via the official X Games website.
Originally launched with the X Games Real Street competition in 2010, the main goal of the X Games Real series is to showcase the essence of a rider's unique talent in a 90-second video, created with a filmer of the rider's choosing. Real Moto riders selected their own tricks, spots, and music – thereby providing a "real" experience of FMX via premium video content outside the big stadium events.
A panel of industry experts decided the winning athlete-and-filmer teams, announced on today's World of X Games episode aired on ABC, supplemented by behind-the-scenes footage from this year's video shoots.
Ultimately the judges gave it to Monster Energy's Foster, who already took silver in last year's X-Games Real Moto event, and delivered the winning formula with a heavy-hitting video part. The Canadian has been making FMX videos since the age of 12, and packed his winning edit with spectacular freeride stunts filmed near his hometown of Kamloops, British Columbia. Highlights include technical wheelies and nose wheelies on tabletops as well as a high-flying Kiss of Death, backflips on creative obstacles, contorted Whip, backflip nac, and gravity-defying jumps on natural terrain in the backcountry. Make sure to watch Kris Foster's first place video in HD here.
Foster's Monster teammate, 21-year-old Hodges from Encinitas, California filmed his edit on the Dumont Sand Dunes in Death Valley, as well as a secret location in Southern California. The rookie pro with a penchant for high-flying aerials made his X Games debut in Austin last year and instantly took home silver in the Moto X Best Whip competition. This year's Real Moto video boasted Hodges first time ever flipping with a back flip debut and stunts such as Hodges' signature 'Turn Up Whips', technical wheelie combos on natural terrain, backflips, and gap aerials traveling incredible distances in the backcountry on his Kawasaki KX450. You can watch Axell Hodges' X Games Real Moto second place video here.
Also stoking out the fans, Monster Energy's Jackson Strong showed why he his a three-time X Games Moto X gold medalist with an intense video filmed in Lockhart, New South Wales.
Riding his Yamaha Y2250 and Panthera CR500, the 25-year-old Australian packed his 90-second edit with a punk rock soundtrack and dirt riding highlights such as Hart Attack, no-handed backflip, and Hart Attack flip, before diving into a punk rock mosh pit and ending the show with a Cliffhanger over a burning house. Epic! Watch Jackson Strong's Real Moto video here.
Fans will also have a chance to chime in and vote for their Real Moto Fan Favorite, who will receive an additional cash prize. Voting concludes tomorrow, August 28, at 9 a.m. ET. The X Games will announce the results at 12 p.m. ET.
Will Foster or Hodges claim the coveted Fan Favorite award? Stay tuned.
Photos for editorial use only.
For more on Foster, Hodges, Strong and the rest of the Monster Energy team visit http://www.monsterenergy.com, and follow Monster Energy on Facebook and Instagram.
###
About Monster Energy
Based in Corona, California, Monster Energy is the leading marketer and distributor of energy drinks and alternative beverages. Refusing to acknowledge the traditional, Monster Energy supports the scene and sport. Whether motocross, off-road, NASCAR, MMA, BMX, surf, snowboard, ski, skateboard, or the rock and roll lifestyle, Monster Energy is a brand that believes in authenticity and the core of what its sports, athletes and musicians represent. More than a drink, it's the way of life lived by athletes, sports, bands, believers and fans. See more about Monster Energy including all of its drinks at http://www.monsterenergy.com.