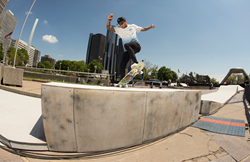 The competition is always super gnarly and this course isn't easy to skate. That's the reason I like this competition. Consistency is the key. Being able to put down a solid first run so you can try something harder on your second run. Nyjah Huston
Corona, California (PRWEB) May 16, 2017
Monster Energy congratulates team rider Nyjah Huston for taking 1st place at the annual Red Bull Hart Lines professional street skateboarding competition in Detroit, Michigan. In front of a capacity crowd in Downtown Detroit and a global audience tuned in via live stream, the 22-year-old from San Juan Capistrano, California, took the win against the world street skating elite for the second consecutive time.
Now in its third year, Red Bull Hart Lines invited 23 of the world's best street skaters to bring their skills to a one-of-a-kind street course in Detroit's Hart Plaza. Skated from top to bottom in a downhill fashion, the Hart Lines course featured a variety of rails, banks, ledges, transitions, and stair sets at the end. Divided into two lanes, this year's course reduced the size of some key obstacle in order to shift the focus towards technical difficulty. Each rider received three attempts to string together the most difficult tricks into consistent and flawless "lines."
Consistent and flawless skateboarding is exactly what Huston is known for, and he managed to put it all together once again in Detroit. For the first back-to-back win in the contest's history, Huston combined all elements the judges at Hart Lines are looking for: difficult tech tricks, creative transfers, lots of flow and high speed – plus big tricks right at the finish line in Hart Plaza's amphitheater.
One of Huston's flawless runs started with a 360 kickflip over the hip, followed by frontside noseblunt slide on the step-up box, frontside Smith grind on the bump-to-ledge, backside overcrook on the bump-to-rail, huge ollie over a set of bumps, and a massive kickflip to frontside boardslide off the kicker onto the amphitheater rail. Other highlights included backside 360 kickflip over the kicker, fakie kickflip and nollie heelflip into the large Euro gap bank, backside Smith grind the long downhill rail, and gap-out to frontside noseblunt slide on the amphitheater rail for a cumulative 84.83 point score and the win.
"The competition is always super gnarly and this course isn't easy to skate. That's the reason I like this competition; it's super diverse. Consistency is the key. Being able to put down a solid first run so you can try something harder on your second run," said Huston upon winning first place.
Known as the world's most winning street skater – with over $2 million from Street League Skateboarding events alone – Huston joined his long-time sponsor Element Skateboards at a young age and continues to push the boundaries in high-profile video parts on Thrasher and other platforms. He will be competing on this year's SLS Nike SB World Tour and also at X Games Minneapolis, Minnesota from July 13-16, 2017.
For more Monster Energy skateboarding tune in this weekend when Huston and teammates Ishod Wair, Chris Cole, Kyle Walker, and Matt Berger will be competing in the SLS Nike SB Pro Open in Barcelona, Spain, on May 20-21, 2017. They are battling for SLS Championship points and a chance to win a Golden Ticket straight to the SLS Nike SB Super Crown World Championship in Los Angeles on September 15, 2017. Stay tuned!
Find more information on http://www.monsterenergy.com and make sure to follow Monster Energy's Facebook, Instagram & Twitter for exclusive updates.
###
About Monster Energy
Based in Corona, California, Monster Energy is the leading marketer and distributor of energy drinks and alternative beverages. Refusing to acknowledge the traditional, Monster Energy supports the scene and sport. Whether motocross, off-road, NASCAR, MMA, BMX, surf, snowboard, ski, skateboard, or the rock and roll lifestyle, Monster Energy is a brand that believes in authenticity and the core of what its sports, athletes and musicians represent. More than a drink, it's the way of life lived by athletes, sports, bands, believers and fans. See more about Monster Energy including all of its drinks at http://www.monsterenergy.com.