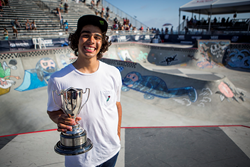 I just try to motivate myself before each event, and especially with winning X Games, it just gives me that faith in myself to keep going, do the best I can, and have a good time as well. - Kevin Peraza
Huntington Beach, California (PRWEB) August 08, 2017
Monster Energy congratulates Kevin Peraza on taking third place at the series finale of the Vans BMX Pro Cup during the US Open of Surfing. Peraza has barely had a chance to catch a breath from his X Games gold medal victory before heading to the beach to compete in this unique, style-focused bowl event with the 40 best bowl riders in the world.
Approaching the event the only way he knows how, Peraza dropped in with a smile on his face and scored second place in the qualifiers on Friday. With a packed crowd in the stands, the finals on Sunday had a fairly unique scoring system: a three-run, overall-impression-judging system meant that both consistency and variety were key. And Peraza's riding is just that. A cancan-tire grab over the channel, alley-oop downside tailwhip transfer, 270-indown over the hip, superman seatgrab, and his signature G-turns were all tricks that Peraza was firing out. Staying on his bike through all three runs put Peraza on the podium at the end of the day.
After the event, Peraza explained the Pro Cup:
"The cool thing about this event is that it's so free and open," said Peraza. Being at the beach makes the vibe super chill and while it's a simple bowl, there are dudes with all different styles of riding and they all approach it differently, so it's sick." He went on to explain his own approach to riding the bowl, "This year the bowl was more spread out, so I tried to get as many quick lines as I could. I like to go back-to-back on tricks, but I made sure I waited 'til the end to do that so it didn't ruin the entire run. I just like to keep it chill and do things that I want to do and find a line that no one else was doing."
With a gold at X Games, a third place in Huntington, and yet another event this coming week at Woodward Camp in State College, Pennsylvania, Peraza's schedule continues to be unrelenting.
"It's super hectic, but it's all fun and joy," said Peraza. Obviously I want to do well at events, but if I stay healthy and get to go onto the next one then I'm winning. I just try to motivate myself before each event, and especially with winning X Games, it just gives me that faith in myself to keep going, do the best I can, and have a good time as well."
Download Photos for Editorial Use Only.
For more on Peraza and the rest of the Monster Energy BMX team visit http://www.monsterenergy.com, and make sure to follow Monster Energy's Facebook, Instagram & Twitter for exclusive updates.
###
About Monster Energy
Based in Corona, California, Monster Energy is the leading marketer and distributor of energy drinks and alternative beverages. Refusing to acknowledge the traditional, Monster Energy supports the scene and sport. Whether motocross, off-road, NASCAR, MMA, BMX, surf, snowboard, ski, skateboard, or the rock and roll lifestyle, Monster Energy is a brand that believes in authenticity and the core of what its sports, athletes and musicians represent. More than a drink, it's the way of life lived by athletes, sports, bands, believers and fans. See more about Monster Energy including all of its drinks at http://www.monsterenergy.com.