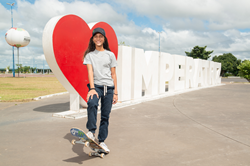 "When I did the heelflip, my mother filmed it, and everything blew up from there." - Rayssa Leal
CORONA, Calif. (PRWEB) November 07, 2022
Meet a true skateboarding phenomenon! Monster Energy is proud to announce Episode 8 of the 'Aspire – Inspire' mini-documentary video series, featuring 14-year-old pro skateboarder Rayssa Leal from Imperatriz, Brazil. The second episode in Season 2 of the series details the rise of the young Olympic silver medalist and boundary-pushing street skateboarder.
Released worldwide, the new 'Aspire – Inspire' episode featuring Leal is available on the official Monster Energy YouTube channel. Filmed on location in Brazil and supplemented by archival footage, the 11-minute video allows a detailed look at the technically gifted skateboarder who has won X Games gold and just claimed the 2022 Street League Skateboarding (SLS) Super Crown World Championship title after winning every stop on the tour.
"She is growing into a powerful skateboarder. To see her carry through and progress – and now she's winning Street League. It was so fast how it happened because she's not that old!" said Brazilian skateboarding legend Bob Burnquist about Leal on 'Aspire – Inspire'.
Leal's young career is already full of records and milestones: In 2019, she made history as the youngest competitor to win an SLS tour stop at age 11 and took second place at the SLS World Championship in Brazil that year. Today, she commands an Instagram following of 6.3 million and pushes the limits of technical street skateboarding. At the Tokyo Olympics, the young skateboard prodigy took home the silver medal in Women's Street Skateboarding for Brazil. Leal earned her first X Games gold medal in early 2022 and just won the SLS Super Crown World Championship in Brazil.
Produced by Monster Energy, the 'Aspire – Inspire' mini-documentary skateboard video series was created in 2021. The episodes combine interviews, skate action, and archival footage to explore the backstories of inspiring personalities on the Monster Energy skate team. In Season 1, riders portrayed on 'Aspire – Inspire' included Aurelien Giraud, Ayumu Hirano, Kelvin Hoefler, Matt Berger, Rune Glifberg, and Nyjah Huston. Season 2 of the series showcases Monster Energy's talented female skateboarders, starting with Mami Tezuka.
The new episode follows Leal in her Brazilian hometown as she revisits spots and skateparks that molded her talents. The episode was filmed and edited by Ryan Neddeau and produced by Mike Burgess at EPC Los Angeles with additional footage from skate competitions across the globe. Skateboard personalities we meet in the episode include Brazilian skateboard legend Bob Burnquist alongside several generations of Leal's family.
Asked about Leal's beginnings, her mother remembers: "From the very beginning, she wanted a skateboard as a birthday gift. And I had a friend that used to skate. One day we were walking through the door of his house, and he had a skateboard on the floor. She then asked to ride on the skateboard. He said to be very careful because you're a girl. I had never seen her skate. She climbed on top of the skateboard and started to push down the street."
Her mother then began taking her to the local skatepark. "She started skateboarding at age six at home, and then at age seven, she already knew how to skate," said her mother, Lilian Mendes. That's when the "fairy explosion" happened: Leal caught the international spotlight in 2015 in a video heelflipping down a set of stairs dressed in a fairy costume for Brazilian Independence Day.
When skateboard icon Tony Hawk shared the video on Instagram, millions of viewers saw and liked the clip – and a star was born. "When I did the heelflip, my mother filmed it and everything blew up from there," said Leal while visiting the stair set on the episode.
In Brazil, she became known as "A Fadinha do Skate," meaning "The Little Fairy of Skateboarding." But most importantly, Leal followed up her viral fame with what is already one of the most prolific careers in women's skateboarding. She won her first SLS competition at age 11 and has since claimed victories in every top competition on the circuit. "I'm really competitive. I don't know, it's not only in skateboarding. Everything I play, like handball at school, I want to be the best," said Leal on the episode.
The Olympics added an extra level of fame – and another milestone to her track record. Claiming the silver medal for Brazil. "The Olympics wasn't only my dream, but my mother's and father's, too. Being able to make their dream come true was super exciting to me," said Leal on 'Aspire – Inspire'. "I want to keep having fun, inspiring girls. Helping people not only in skateboarding but outside as well."
Download high-resolution photos here.
Want to hear the full story of the Brazilian trailblazer pushing the boundaries of women's skateboarding? Episode 8 of 'Aspire – Inspire' featuring Rayssa Leal is live now on Monster Energy's YouTube channel.
Media representatives can find shareable social media teasers and visuals for editorial use by clicking here.
For more on Rayssa Leal and the Monster Energy skateboard team, visit http://www.monsterenergy.com. Also, follow Monster Energy on YouTube, Facebook, Instagram, Twitter and TikTok for exclusive updates from the 2022 skateboarding season.
About Monster Energy
Based in Corona, California, Monster Energy is the leading marketer of energy drinks and alternative beverages. Refusing to acknowledge the traditional, Monster Energy supports the scene and sport. Whether motocross, off-road, NASCAR, MMA, BMX, surf, snowboard, ski, skateboard, or the rock and roll lifestyle, Monster Energy is a brand that believes in authenticity and the core of what its sports, athletes, and musicians represent. More than a drink, it's the way of life lived by athletes, sports, bands, believers, and fans. See more about Monster Energy including all of its drinks at http://www.monsterenergy.com.