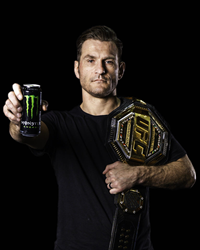 "I would never have thought in a million years to have the opportunities that I've gotten. Being a professional fighter. Being the World Champion and winning it multiple times. Being sponsored. Any opportunity I get, I take and I'm going to give it 110 percent!" - Stipe Miocic
CORONA, California (PRWEB) March 24, 2021
Explore the mindset of one of the greatest heavyweight fighters the UFC has ever seen! Monster Energy is proud to announce the worldwide premiere of "Becoming the Monster", a new documentary film chronicling the rise and philosophy of two-time and current UFC Heavyweight Champion Stipe Miocic.
Fans can now go online and watch the inspirational documentary film, released to global audiences today on Monster Energy's YouTube channel.
The eleven-minute documentary arrives at a crucial moment: "Becoming the Monster" releases on the eve of Miocic's highly anticipated UFC Heavyweight title defense fight against Francis Ngannou at UFC 260 on Saturday, March 27, 2021 in Las Vegas.
It's not the first high-profile test for Miocic, who first took the heavyweight crown in 2016 from Fabricio Werdum in front of a roaring hometown crowd of 45,000 in Brazil at UFC 198.
"You gotta have the nerves. If you don't have the nerves, you're not ready," said Miocic about his approach to headline fights in the documentary.
Filmed on location in Miocic's hometown of Cleveland, Ohio, and with footage from his unparalleled mixed martial arts career, "Becoming the Monster" paints a complete picture of the reigning UFC champion. Prepare to get up close and personal, as the 38-year-old mixed martial artist provides an unprecedented look inside his humble philosophy.
"Just a normal guy. Nothing different. Loyal as they come. You got my back, I got yours," says Miocic about himself in the documentary.
But with that said, there has never been a heavyweight fighter like Miocic in the history of the UFC. The American MMA icon with Croatian roots has earned the most 'Performance of the Night' bonus awards in the heavyweight division's history with nine in total, the majority achieved by stoppage. Miocic has also held the World Championship title for the longest time and defended his belt more than any other fighter before him.
So what exactly allows the dedicated family father who also volunteers as a firefighter-paramedic to 'flip the switch' and annihilate opponent after opponent inside the Octagon?
There's only one way to find out! Watch "Becoming the Monster" with Miocic today on Monster Energy's YouTube channel.
Personalities featured in the documentary include Miocic's Head Coach and lifetime friend Marcus Marinelli at Strong Style MMA gym, who has a strong take on what drives the reigning champ: "I think he hates losing more than he loves winning!"
The unbreakable will to win shines through in "Becoming the Monster". Especially in moments like UFC 226 in 2018, when Miocic lost his UFC Heavyweight Championship to Daniel Cormier – only to reclaim it one year later with a thundering knockout victory. It's one of many milestone achievements for a fighter who takes nothing for granted.
"I would never have thought in a million years to have the opportunities that I've gotten. Being a professional fighter. Being the World Champion and winning it multiple times. Being sponsored. Any opportunity I get, I take and I'm going to give it 110 percent!" said Miocic.
Download photos for editorial use.
Experience Miocic's undeniable drive in "Becoming the Monster" on YouTube. Also make sure to read the inspirational background story on the Monster Energy website r evisiting career milestones and MMA records.
And don't miss the next challenge on the horizon: Tune in this weekend to see Monster Energy's Miocic defend his UFC Heavyweight Championship title against Francis Ngannou at UFC 260 in Las Vegas on Saturday, March 27.
Visit http://www.monsterenergy.com and follow Monster Energy on Facebook, Instagram, Twitter for exclusive updates from Stipe Miocic and Monster Energy's elite roster of MMA fighters.
###
About Monster Energy
Based in Corona, California, Monster Energy is the leading marketer of energy drinks and alternative beverages. Refusing to acknowledge the traditional, Monster Energy supports the scene and sport. Whether motocross, off-road, NASCAR, MMA, BMX, surf, snowboard, ski, skateboard, or the rock and roll lifestyle, Monster Energy is a brand that believes in authenticity and the core of what its sports, athletes and musicians represent. More than a drink, it's the way of life lived by athletes, sports, bands, believers and fans. See more about Monster Energy including all of its drinks at http://www.monsterenergy.com.