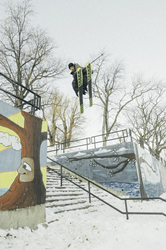 "The idea for the film came from conversations with my mother about how she handled my innate daredevil nature when I was young. These conversations made me wonder how many other athletes on Monster Energy's roster were in a similar situation." Clayton Vila
CORONA, Calif. (PRWEB) April 09, 2021
Sometimes the journey to the top is full of obstacles, but those who rise above can become the best in their sport. That's the inspiring message behind the new "Finding Monsters" short film, released to global audiences today on Monster Energy's YouTube channel. The emotional short feature features true stories of Monster athletes Lizzie Armanto (Skateboard), Taka Higashino (Motocross) and Clayton Vila (Freeski) from zero to action sports hero.
"Since I first heard about the concept for 'Finding Monsters' I was excited to see how it would turn out. I honestly wasn't sure one way or the other. Now after seeing it, I think it's pretty cool," said X Games gold medalist Armanto about the video.
Viewers can now go online and watch the high definition "Finding Monsters" video on YouTube here.
The film was directed by Monster Energy athlete and filmmaker Clayton Vila, who took inspiration from his own experience as an ambitious freeskier who was raised, not in the mountains, but on an island off the New England coast.
"The idea for the film came from conversations with my mother about how she handled my innate daredevil nature when I was young. These conversations made me wonder how many other athletes on Monster Energy's roster were in a similar situation. I became fascinated by Taka and Lizzie's stories. Both had completely different circumstances, but we shared similar challenges, because our environments weren't conducive to our ambitions," said pro skier and director Clayton Vila.
All three featured Monster Energy riders rose from challenging environments to become professional athletes and X Games medalists.
At a time when pro skateboarding was still a male-dominated career, Armanto blazed her own trail as a multi-medal-winning X Games competitor.
"I'd say the biggest challenge for me was getting my parents to support my decision to stop going to college and pursue it full time. Being a female pro skateboarder able to make a living wasn't really something that existed when I decided to make the jump to skating full time," said Armanto.
Along the way, the 28-year-old from Santa Monica, California, opened many doors in women's skateboarding: Armanto took gold in her X Games debut in Barcelona in 2013 and made history in 2018 as the first female skateboarder to complete the legendary 'Loop of Death' obstacle in a challenge hosted by skateboard icon Tony Hawk. She was the first female skateboarder featured on the cover of TransWorld Skateboarding magazine. Today, she endorses signature skateboards and footwear for A-list brands, appears in video games and films.
In Japan, Higashino discovered a passion for freestyle motocross at a young age, when the country's active FMX scene was almost non-existent. With support from his parents and key figures in the sport, he defied the odds and emerged as one of the pacesetters of the sport's progression. In 2012, Higashino claimed surprise X Games motocross freestyle gold, followed by two more consecutive X Games gold medals as a historic milestone that made the 35-year-old an icon of FMX.
"I had two paths in front of me. If you want to try and pursue your dream, you have to spend all your energy. You have to give 100 percent, and someone will help you. But if you only give it 90 percent, you won't have your dream!" said Higashino.
Vila had to rise from the insular confines of Block Island, New England to chase a career as a pro freeskier. After cutting his teeth on the competition circuit, he discovered his own calling: Vila's self-published online freeski videos, including 2008's "Clayton Vila Shreds Block Island" went viral across the globe. His debut documentary as a filmmaker, "For Lack of Better", garnered honors as Film of the Year at the Powder Awards in 2015. And in 2016, Vila received an X Games bronze medal for his freeski performance in the Real Ski video competition filmed on natural terrain.
In "Finding Monsters", Vila sets out to capture the story of overcoming adverse environments in a unique look. "Overall, we simply wanted the piece to look like a contemporary indie film rather than your traditional action-sport film."
For Armanto, working on the film put her journey in perspective: "It definitely brought back some of those memories of coming home all black and blue and bruised up and seeing how my parents reacted. Needless to say, they learned to accept and even embrace my beaten and broken body."
But better see for yourself! For an inspirational journey from childhood ambitions to X Games fame and global stardom, viewers can now go online and watch "Finding Monsters", live on YouTube in full HD.
"I hope the film inspires anyone who is in the difficult situation of raising a talented little daredevil to let them give it a shot. These days, with companies like Monster out there looking for the next big thing, the odds are more in a kid's favor than ever before," said Vila.
Also make sure to read the background story behind the making of "Finding Monsters" on the Monster Energy website, featuring exclusive commentary from all three featured athletes about their rise to the top.
Media representatives can high-res photos here.
Also visit http://www.monsterenergy.com and follow Monster Energy on Facebook, Instagram, Twitter for exclusive updates from Lizzie Armanto, Taka Higashino, and Clayton Vila.
###
About Monster Energy
Based in Corona, California, Monster Energy is the leading marketer of energy drinks and alternative beverages. Refusing to acknowledge the traditional, Monster Energy supports the scene and sport. Whether motocross, off-road, NASCAR, MMA, BMX, surf, snowboard, ski, skateboard, or the rock and roll lifestyle, Monster Energy is a brand that believes in authenticity and the core of what its sports, athletes and musicians represent. More than a drink, it's the way of life lived by athletes, sports, bands, believers and fans. See more about Monster Energy including all of its drinks at http://www.monsterenergy.com.