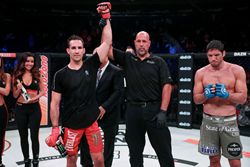 I feel pretty good. It's such an honor to be able to compete in an arena like this in New York City. I truly feel blessed to come so far in my career to be fighting for a world championship here in Madison Square Garden. Rory MacDonald
NEW YORK (PRWEB) June 17, 2019
Monster Energy congratulates Rory MacDonald on retaining his Bellator Welterweight title against Brazilian Neiman Gracie in the main event at Bellator 222 inside Madison Square Garden in New York City on Friday. In a strong five-round performance, the 29-year-old Canadian returned to full fighting form to hand Gracie his first professional defeat via unanimous decision.
Also on the night's main card, Monster Energy's Juan Archuleta derailed Eduardo Dantas with a one-punch knockout in the Featherweight division. New to Monster Energy's MMA team, 20-year-old Valerie Loureda from Miami picked apart Larkyn Dasch in the women's Flyweight fight as part of the preliminary card.
MacDonald needed a win in New York City this weekend. He captured the Bellator welterweight championship from Douglas Lima back in January 2018. But the 'Red King' had walked away from a grueling five-round cage match against Jon Fitch in April with a draw and lost to Gegard Mousasi in his previous two fights. Meanwhile, jiu-jitsu expert Gracie came into the fight with a perfect record (9-0), including eight submission victories.
Evading Gracie's much-feared submission game was the key to staying alive for MacDonald on Friday night. Straight out the gate, Gracie attempted several takedowns, but MacDonald used the strength of his jab to keep his distance. Although the Brazilian did land a takedown early in round two, MacDonald managed to maintain the power position on the mat by combining slick striking attacks with dominant ground moves.
Both fighters showcased tremendous martial arts skills, but it was MacDonald who fought at an elite level and defeated Gracie's armbars and leg locks. Staying close to his opponent, MacDonald handed out significant damage from the top position and landed harsh right hands that swelled the Brazilian's eyes. As the fight entered into its last round, Gracie desperately needed a takedown to secure a last-minute win, but MacDonald kept landing shots while maintaining his guard.
After the final bell rang out, it was a clear case as the judges handed MacDonald the win via unanimous decision (49-46, 48-47, 48-47). Tonight's victory brings the Red King's career count to 21 wins (21-5-1), while Gracie walked away with the first blemish on his record.
"I feel pretty good. It's such an honor to be able to compete in an arena like this in New York City. I truly feel blessed to come so far in my career to be fighting for a world championship here in Madison Square Garden," said MacDonald upon retaining his Bellator Welterweight title in New York City on Friday.
Next up, the 29-year-old from Kelowna, British Columbia will face Douglas Lima in the Bellator Welterweight Grand Prix finals. It's a heavily anticipated fight and a rematch from Bellator 192, when MacDonald beat Lima by unanimous decision to win the Bellator Welterweight title.
Looking forward to the Grand Prix bout, MacDonald said: "That's a toughie, but I'm looking forward to it because it was a close fight. I'm not surprised to meet him in the finals. He's a true fighter and a gentleman and it's an honor to compete with a guy like that."
Earlier on Friday night, the Featherweight fight saw Archuleta take on former Bellator Bantamweight World champion Eduardo Dantas. Coming in hot on a 17-fight winning streak, Archuleta, also known as 'The Spaniard', found what looked like an even opponent in Dantas. Both fighters pressured each other to land shots and exploit weaknesses, but the fight remained balanced.
Ultimately, that all changed with a show stopper near the end of the second round. Blocking a kick and punches combo from Dantas, Archuleta found an opening to land a brutal right-hand knockout punch to the chin that sent the Brazilian on his back at the 4:59 minute mark. He remained down for several minutes, but was able to leave the ring on his own account.
Following the brutal one-punch, walk-off knockout Archuleta has now won 23 of his 24 pro bouts (23-1 MMA, 5-0 BMMA) and is hungry for more. After Friday night's fight, he announced his plan to go back to 135 pounds and challenge new Bellator titleholder Kyoji Horiguchi.
In Friday's undercard fight in the women's Flyweight division, 20-year-old taekwondo phenomenon and Monster Energy athlete Loureda from Miami faced Dasch from Michigan. Dasch came into the match-up as a short-notice fill-in and gave Loureda a test of skill and endurance.
Instead of looking for a quick knockout, Loureda was mindful of her defenses, meeting Dasch's aggressive approach with clean counter strikes. Loureda focused on finding openings to dish out painful punches and managed to land a heavy body kick in round one that forced a quick grappling exchange.
Loureda continued to strike from a controlled distance in round two, picking away at Dasch with punches and body kicks. Evading surprise shots from Dasch, she connected a heavy head kick before the end of round two and went into the final round at a clear advantage. Although Dasch landed a potshot before the final bell, Loureda maintained her dominance and took the win via unanimous decision (29-28, 30-27, 30-27).
"I'm born to be in that cage. I felt normal. I don't think you guys realize how much more comfortable I felt than the last fight. This is what I'm born to do. And I'm going to have that belt again some day soon," said Loureda upon winning the women's flyweight fight at Bellator 222 on Friday.
The victory brings Loureda's record to two professional wins after beating Colby Fletcher in February at Bellator 216. Looking ahead, the taekwondo expert and American Top Team competitor wants to improve all aspects of her MMA game and walked away from Bellator 222 with a major confidence boost.
Download photos for editorial use.
Rory MacDonald, Juan Archuleta and Valerie Loureda are amongst Monster Energy's elite MMA athletes along with Jon Jones, Conor "The Notorious" McGregor, Daniel Cormier, Donald "Cowboy" Cerrone, Dominick "Dominator" Cruz, Chris 'The All American' Weidman, Tyron "The Chosen One" Woodley, Max Holloway, Yair Rodriquez, Jessica-Rose Clark, Li Jingliang, Gökhan Saki, Rose Namajunas, Cris Cyborg,T.J. Dillashaw, Quinton Rampage Jackson, Michael Chandler, Joe Schilling, Phil Davis, and Gaston Bolanos.
For more on Monster Energy's MMA team visit http://www.monsterenergy.com. Follow Monster Energy on YouTube, Facebook, Instagram and Twitter.
###
About Monster Energy
Based in Corona, California, Monster Energy is the leading marketer and distributor of energy drinks and alternative beverages. Refusing to acknowledge the traditional, Monster Energy supports the scene and sport. Whether motocross, off-road, NASCAR, MMA, BMX, surf, snowboard, ski, skateboard, or the rock and roll lifestyle, Monster Energy is a brand that believes in authenticity and the core of what its sports, athletes and musicians represent. More than a drink, it's the way of life lived by athletes, sports, bands, believers and fans. See more about Monster Energy including all of its drinks at http://www.monsterenergy.com.