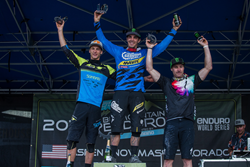 I wasn't too sure what to expect with the altitude and the race, but I just did the best I could and feel like I rode really consistently on each stage - Sam Hill
Aspen, Colorado (PRWEB) August 01, 2017
Monster Energy's Sam Hill (AUS) has taken home his second ever Enduro World Series event win at the sixth stop of the year, in Aspen, Colorado, his first win was Round 7 in Valberg, France in 2016.
The five-time downhill World Champion took the win after six stages over two days of racing (three on Saturday and three on Sunday). Monster Energy teammate Jared Graves took third overall.
"My week went good," said Hill. "I really enjoyed all of the trails here and was having a ton of fun practicing. I wasn't too sure what to expect with the altitude and the race, but I just did the best I could and feel like I rode really consistently on each stage. I'm heading to Whistler next and will see what we can do there for the next round."
Fresh tracks, massive altitude, (stage 4 started at over 11,250') and stiff competition made for exciting racing, with only 3.89 seconds separating Hill from second place after over 46 minutes of timed special stages and 70km of riding. Rain the night prior to the race helped keep the dust down, and by the time the Pro Men dropped in the dirt was in prime shape for racing.
With black storm clouds threatening and a 35-minute delay due to an early morning power outage, everyone was anxious to take to the track on day one in case of further delays. Hill started off the weekend's competition in great form, taking the win on stage 1 by less than a second, a high-speed stage that lacked the technical features that normally favors him. The Aussie finished off the first day of racing with a second place on the third and final stage, and took second overall going into Sunday. Monster Energy's jack-of-all-trades, and master of fun, American Mitch Ropelato managed to take home his first EWS stage win on 3.
Day two dawned with blue skies and warm temperatures, and the once tacky dirt returned to the dry, dusty conditions that Colorado is known for. Graves took the win on the new stage 4. At over 14 minutes long, stage 4 features steep off camber loamy corners that eventually gave way to an old, hardback jump track that had most racers simply hanging off the back and trying to make it to the finish before they ran out of gas.
Also freshly built, stage 5 was a loose rocky single track, built in just over three days right before the week's racing began.
Without much time to bed in, or for the rocks to settle, every run was a gamble not knowing if a loose rock or stump had appeared in the line. Hill simply went for broke, taking home another win on stage 5 and sneaking back into the lead, putting seven seconds into his closest competitor and giving himself a comfortable gap going into stage 6 (the last stage of racing for the week); a stage that Hill had previously raced on in a 2006 downhill event.
Showing the poise that only a veteran can have, Hill took no chances on the final stage. A 12th place secured him victory for the week, and his second ever EWS race victory. With the win, Hill also slipped into the lead for the Enduro World Series title by 40 points, with only two rounds remaining. Graves settled into 3rd and Ropelato would end up 22nd on the weekend respectively.
Racing resumes after a weekend off in Whistler, Canada with the second to last round of the 2017 EWS season. The final round will take place in Ligure, Italy.
Download Photos Here for Editorial Use Only.
For more on Hill, Graves and the rest of the Monster Energy team visit monsterenergy.com, and make sure to follow Monster Energy's Facebook, Instagram & Twitter for exclusive updates.
###
About Monster Energy:
Based in Corona, California, Monster Energy is the leading marketer and distributor of energy drinks and alternative beverages. Refusing to acknowledge the traditional, Monster Energy supports the scene and sport. Whether motocross, off-road, NASCAR, MMA, BMX, surf, snowboard, ski, skateboard, or the rock and roll lifestyle, Monster Energy is a brand that believes in authenticity and the core of what its sports, athletes and musicians represent. More than a drink, it's the way of life lived by athletes, sports, bands, believers and fans. See more about Monster Energy including all of its drinks at http://www.monsterenergy.com.