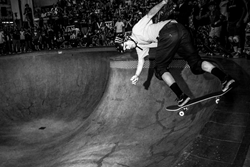 I'm pretty stoked! That was a crazy contest; everyone really killed it. I thought Cory [Juneau] was going to beat me with his run - Tom Schaar
Orange, CA (PRWEB) May 22, 2017
Monster Energy congratulates team rider Tom Schaar for taking 1st place in the Pro Division at the 13th annual Vans Pool Party contest at Vans Skate Park in Orange, California. In front of a capacity crowd and thousands of international viewers tuned in via live stream, the 17-year-old from Malibu took the win – his second Vans Pool Party victory – against the vertical pool skateboarding elite.
The Vans Pool Party is one of the world's most respected deep bowl skateboarding events. Every year, the pioneers of modern-day pool riding join the next generation of skaters for a day-long competition in three divisions at Vans Skate Park's legendary Combi bowl. This year's Pro Division results mark a generational passing of the torch, as all three top-ranking skaters –Schaar followed by Cory Juneau in 2nd place and Clay Kreiner in 3rd – are 20 years and under.
Schaar started his winning run with a massive 9-foot backside 540 in the deep end and maintained his momentum by covering every angle of the Combi bowl with high-flying aerials and technical lip tricks. A huge frontside ollie on the "peninsula" hip, kickflip varial Indy air and body varial 540 in the square section, alley-oop backside ollie transfer over the hip, backside tailslide through the corner, frontside nosegrind, frontside ollie blunt, alley-oop frontside 5-0 to fakie, and a fast-footed no-comply frontside tailslide earned Schaar a 91.67 point score and the win.
"I'm pretty stoked! That was a crazy contest; everyone really killed it. I thought Cory [Juneau] was going to beat me with his run," said Schaar upon winning 1st place.
The Vans Pool Party connects the past, present, and future of vertical bowl skating in an iconic setting: The Vans Combi bowl is a replica inspired by historic Upland Pipeline Skatepark, a "combination" of a rounded and square pool joined together by hips and channels. The original park in Upland, California, became one of the hotbeds of progression in 1980s vertical skateboarding, skated by the likes of Lance Mountain, Steve Caballero, and Steve Alba who all competed in the Legends Division today.
Today marks the second time Schaar has won the Vans Pool Party after claiming 1st place in 2015 at the age of 15. When he was only 12 years old, he made history as the first skateboarder to ever land a 1080 aerial in 2012. With a track record including trophies for 1st place in the 2014 X Games Big Air event in Austin, Texas, the former child prodigy is now a strong competitor in the men's division. In March, Schaar started the 2017 contest season with a win at the Vans Park Series Pro Tour kick-off in Manly Beach, Australia. He will be competing at upcoming global tour stops, including the Vans Park Series event in Huntington Beach on July 30, 2017 and X Games Minneapolis, Minnesota from July 13-16, 2017.
For more Monster Energy skateboarding make sure to tune in this weekend when Schaar's teammates Nyjah Huston, Ishod Wair, Chris Cole, Kyle Walker and Matt Berger will be competing in the SLS Nike SB Pro Open in Barcelona, Spain, on May 20-21, 2017.
Find more information on http://www.monsterenergy.com and make sure to follow Monster Energy's Facebook, Instagram & Twitter for exclusive updates from the 2017 Vans Park Series.
###
About Monster Energy
Based in Corona, California, Monster Energy is the leading marketer and distributor of energy drinks and alternative beverages. Refusing to acknowledge the traditional, Monster Energy supports the scene and sport. Whether motocross, off-road, NASCAR, MMA, BMX, surf, snowboard, ski, skateboard, or the rock and roll lifestyle, Monster Energy is a brand that believes in authenticity and the core of what its sports, athletes and musicians represent. More than a drink, it's the way of life lived by athletes, sports, bands, believers and fans. See more about Monster Energy including all of its drinks at http://www.monsterenergy.com.