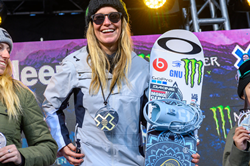 HAFJELL RESORT, Norway (PRWEB) March 02, 2020
The biggest spectacle in action sports is headed to Scandinavia in only a few days from now! Monster Energy, the official energy drink partner of X Games, is proud to bring some of the world's biggest names in competitive freeski and snowboarding to X Games Norway 2020. Now in its fifth consecutive year, the event returns to Hafjell Resort for snow sports competitions in a festival atmosphere from March 7 - 8, 2020.
Broadcast live to audiences across the globe, X Games Norway 2020 will feature the following competitions: Men's and Women's Ski and Snowboard Big Air as well as Men's and Women's Ski and Snowboard Slopestyle, plus the progressive Knuckle Huck event across ski and snowboard disciplines.
X Games is the pinnacle of winter sports competitions, which is why the invite-only event is reserved for multiple-time X Games medalists and upcoming professionals in order to keep the level of riding world class. As the official drink sponsor of X Games Norway 2020, Monster Energy is looking forward to raising the bar in Norway with a heavy-hitting team of athletes and defending gold medalists.
At the recent X Games Aspen 2020 in January, Monster Energy athletes put on a dominant performance. Over the course of four days, the team claimed 22 medals (10 Gold, 5 Silver and 7 Bronze) while team riders such as Jamie Anderson, Henrik Harlaut and Max Parrot set new career medal count records in their respective disciplines.
Going into X Games Norway 2020, watch out for the following key Monster Energy athletes and competitions:
The snow action at Hafjell Resort kicks off on Saturday with the Women's Snowboard Big Air event, where Monster Energy's Kokomo Murase is looking to improve on her Big Air silver medal from X Games Norway 2019. The 15-year-old rookie first became a global sensation by winning the event at XG Norway in 2018 and already owns four medals (1 gold, 2 silver, 1 bronze) despite her young age.
The Japanese rookie will be joined by the most decorated woman in snow sports, snowboard innovator Jamie Anderson who is fresh off winning Female Rider of the Year honors at the inaugural Snowboarder Awards in February and owns an unequalled 17 medals. Also keep an eye on 19-year-old Zoi Sadowski-Synnott from Wanaka, New Zealand. The newly minted Monster Energy team rider earned Big Air silver at X Games Aspen 2019 and made history by claiming bronze at the 2018 Winter Olympics, the first Olympics medal for New Zealand since 1992.
These three athletes will return in Women's Snowboard Slopestyle on Sunday, when Anderson looks to expand her historic record of six Snowboard Slopestyle gold medals after surpassing Shaun White and Mark McMorris at X Games Aspen 2020. Then again, Zoi Sadowski-Synnott has claimed gold in Slopestyle before and Kokomo Murase has also proven herself podium-worthy with a bronze at Aspen 2020.
Looking into the Monster Energy Men's Snowboard Big Air competition, all eyes are on one rider: Max Parrot is back to winning form after last year's battle with Hodgkin Lymphoma cancer. After clinching Big Air gold at X Games Aspen 2020 in January, the Canadian Parrot now holds the most medals in the history of X Games Snowboard Big Air at nine medals (6 gold, 3 silver). But also save some room on the podium for his Monster Energy teammate Sven Thorgren, who took home bronze at Aspen 2020 and now owns six medals (1 Gold, 1 Silver, 4 Bronze) from nine X Games appearances.
Let's not count out the hometown hero, five-time X Games medalist Ståle Sandbech from Norway who has two Big Air bronze medals to his name, and will be battling for a podium spot alongside Darcy Sharpe and 20-year-old Monster Energy rider Rene Rinnekangas from Iisalmi, Finland
Heading into Men's Snowboard Slopestyle, the new man to beat is Monster Energy's Sharpe. An epic run at X Games Aspen 2020 earned the 23-year-old from Comox, Canada his very first X Games gold and he'll be hungry for more in Norway next weekend. Also, never underestimate the all-round skills of previous Slopestyle medalists Sandbech, Thorgren and Parrot. And definitely keep an eye on Finland's Rinnekangas, who caused an upset with a surprise Slopestyle silver medal in Aspen 2019 with creative and unpredictable moves.
Creativity is the name of the game in the Snowboard Knuckle Huck event, where riders 'huck' technical and stylish moves off the Big Air ramp's roll-over, also called the 'knuckle'. Watch out for the freestyle talent of Swedish team rider Kevin Backstrom, known for breakout parts in snowboard films like 'Arcadia' and 'The Future of Yesterday', in his second X Games appearance. Knuckle Huck will also mark the X Games debut of young gun Dusty Henricksen, who sent a shock to the system with his recent Slopestyle win at the 2020 Land Rover U.S. Grand Prix at Mammoth Mountain.
The epic Knuckle Huck will also be contested in Ski after making its debut in the discipline at X Games Aspen 2020. Monster Energy's Colby Stevenson is the name to watch after taking home Ski Knuckle Huck gold in Aspen and making history as the first rookie to win Slopestyle gold that same weekend. However, the 22-year-old rookie will have to deal with teammate Henrik Harlaut, who brings an unmatched bag of tricks to the knuckle. Harlaut finished in second place in Aspen and will surely be looking for a rematch in Norway this weekend.
Let's move into ski events, starting on Saturday with the Women's Ski Big Air contest. Monster Energy's Giulia Tanno from Lenzerheide, Switzerland, returns as a podium threat after claiming silver at X Games Norway last year. She will be battling U.S. freeski prodigy Maggie Voisin who has earned Big Air bronze at X Games Norway in 2017 and is also a threat in Slopestyle.
The two freeskiers will also bring the heat to the Women's Ski Slopestyle event: Voisin steps into the fray as the first American woman to win Ski Slopestyle gold at XG Aspen 2018 and the recent Aspen 2020 bronze medalist. What's more, Tanno is making her return to Slopestyle after missing the competition in Aspen and will be looking for her very first medal in the discipline. Will the stars align this weekend?
The game sure has changed in Men's Ski Slopestyle since Colby Stevenson clinched gold at X Games Aspen 2020. Will the rookie expand his history-making double gold medals from Knuckle Huck and Slopestyle into a three-peat? Not if Monster Energy rider Evan McEachran from Canada has a word after claiming his first X Games medal, silver, in Aspen. Also don't rule out their teammate Harlaut as the proud owner of Slopestyle gold at X Games and one of the sport's key innovators.
Most importantly, Harlaut will be looking to expand his legacy in Men's Ski Big Air this weekend. After taking home gold at Aspen 2020, the 28-year-old freeski icon from Åre, Sweden, is now officially the most decorated ski athlete in X Games history with twelve medals to his name (7 gold, 5 silver).
On the way to the top, Harlaut will battle the elite of Big Air freeskiers, also including teammates McEachran and Stevenson in what promises to be one of the most epic editions of X Games Norway ever.
Download photos for editorial use.
The spectacular two-day action sports showcase will be broadcast live to audiences across the globe. In addition to local Norwegian broadcasts and ESPN's U.S. media, X Games Norway 2020 competitions will be televised on ESPN networks around the world. The live action from Hafjell Resort will also be aired across ESPN's online streaming services, with select shows available on X Games YouTube, Facebook and Twitter.
Viewers in the United States can also look forward to watching the 'Best of X Games Norway 2020' anthology as part of World of X Games on ABC Television. Part 1 of 'Best of X Games Norway 2020' will air on March 14, 1:00 p.m. ET and Part 2 on March 21, 1:00 p.m. ET on ABC.
Visit http://www.monsterenergy.com for exclusive updates from X Games Norway 2020 including photos, videos, and contest results as they happen. Follow Monster Energy on Youtube, Facebook, Instagram, Twitter for exclusive behind-the-scenes looks in Oslo.
For interview or photo requests contact Kim Dresser.
About Monster Energy
Based in Corona, California, Monster Energy is the leading marketer and distributor of energy drinks and alternative beverages. Refusing to acknowledge the traditional, Monster Energy supports the scene and sport. Whether motocross, off-road, NASCAR, MMA, BMX, surf, snowboard, ski, skateboard, or the rock and roll lifestyle, Monster Energy is a brand that believes in authenticity and the core of what its sports, athletes and musicians represent. More than a drink, it's the way of life lived by athletes, sports, bands, believers and fans. See more about Monster Energy including all of its drinks at http://www.monsterenergy.com