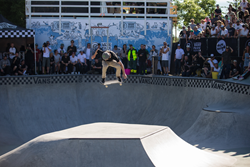 Malmö, Sweden (PRWEB) May 30, 2017
Monster Energy congratulates team rider Tom Schaar for taking 2nd place at the Vans Park Series Men's Pro Tour competition at Kroksbäck Skatepark in Malmö, Sweden. In a no-holds-barred Final session against the world's best park terrain riders, the 17-year-old from Malibu, California, landed a perfect run – ceding the victory to reigning champion Alex Sorgente – for a 2nd place finish and the top spot in current Vans Skate Park Series rankings.
Rounding out a successful weekend, Schaar's Monster Energy teammates Rune Glifberg and Sam Beckett took 1st and 2nd place, respectively, in the Vans Park Series European Continental Championships in Malmö yesterday.
For the second consecutive year, the Vans Park Series (VPS) attracts hundreds of riders from all over the globe to compete in ranked events at skate parks in places like Brazil, Canada, Europe, and the United States. On September 23, the season's top-ranking skateboarders will battle it out in the Vans Pro Skate Park Series World Championship in Shanghai, China.
Today's event took place on the Dreamland Skateparks-designed Kroksbäck Skatepark in Malmö, Sweden, known as one of the world's most skateboard-friendly cities with a vibrant scene. Schaar came in as a strong contender, fresh off winning the 13th annual Vans Pool Party contest in Orange, California, as well as the Vans Skate Park Series season opener in Manly Beach, Australia, in March.
But past achievements held little weight in Malmö today, as the heavily contested Semi Final saw some of the most competitive skateboarders on the circuit eliminated early. Only eight skaters advanced into the Final today, and with four runs at only 40 seconds each to cover the enormous Kroksbäck Skatepark, the winning formula consisted of stacking big tricks at high speeds without ever losing momentum.
Schaar put together the perfect line on his first Final run, starting with an alley-oop backside 360 air from the deck into the tall bank, followed by an alley-oop backside 360 ollie from quarterpipe to bank, backside tailslide, backside 360 ollie over the kicker straight into a huge backside 540 in the deep end, huge backside ollie to backside disaster, frontside nosegrind pop-out in the deep end and frontside ollie blunt after the buzzer for an 88.11-point score and 2nd place. Schaar stepped up trick difficulty on his remaining Final runs – including a technical alley-oop kickflip varial Indy air into the tall bank and high-speed front feeble through the corner – but could not string together another flawless run.
Also skating hard today, Schaar's Monster Energy teammate Ben Hatchell made his way into the finals, battling heavy competition and a dislocated knuckle, but could not repeat his standout Semi Final run. Hatchell's highlights included a fast-footed backside ollie to pop off on the "tombstone" wallride, backside air transfer from deck to bank, huge frontside 360 air over the kicker, backside 360 air over the love seat, half Cab to frontside ollie blunt, and frontside air pop-off the wallride.
Skating his first-ever Vans Park Series event, Monster Energy's Ishod Wair found creative lines in Malmö, his trick highlights including frontside air transfer from the deck into the tall bank, backside tailslide through the deep end corner and massive backside airs. His teammate Trey Wood stacked his strong Semi Final runs with high-flying alley-oop Indy airs into the tall bank, backside 540s in the deep end and frontside nosepicks on the massive "tombstone" – the same obstacle on which Monster's Raven Tershey stoked the crowd with an ollie out to back tail.
Yesterday saw Europe's top deep bowl skateboarders go head-to-head in the Vans European Continental Championships, also held at Kroksbäck Skatepark. When the dust cleared, Glifberg claimed the top spot – and a ticket to the Vans Pro Skate Park Series World Championship in Shanghai, China – with an 80.76-point score. Facing a field of young upstarts, the 42-year-old vertical skateboarding legend from Copenhagen, Denmark, edged ahead with high-speed frontside Smith grind through the corner, frontside tailslide over the love seat, backside lipslide, and a huge heelflip frontside air in the deep end. Closely on his heels, his teammate Beckett from the UK came in 2nd place with 78.73 points.
Today's 2nd place Vans Park Series finish earns Schaar the lead in the 2017 Vans Park Series Men's Tour Challenger Rankings with 30,000 points. When he was only 12 years old, Schaar made history in 2012 as the first skateboarder to ever land a 1080 aerial. He has since emerged as a successful competitor in the vertical and deep bowl riding circuits. So far, his 2017 track record marks his strongest season start to date.
Schaar and his Monster Energy teammates will be competing at upcoming global tour stops, including the Vans Park Series events in Vancouver, Canada, from July 7-8, and Huntington Beach on July 30, 2017 and X Games Minneapolis, Minnesota from July 13-16, 2017.
For more information visit http://www.monsterenergy.com and make sure to follow Monster Energy's Facebook, Instagram & Twitter for exclusive updates from the 2017 Vans Park Series.
###
About Monster Energy
Based in Corona, California, Monster Energy is the leading marketer and distributor of energy drinks and alternative beverages. Refusing to acknowledge the traditional, Monster Energy supports the scene and sport. Whether motocross, off-road, NASCAR, MMA, BMX, surf, snowboard, ski, skateboard, or the rock and roll lifestyle, Monster Energy is a brand that believes in authenticity and the core of what its sports, athletes and musicians represent. More than a drink, it's the way of life lived by athletes, sports, bands, believers and fans. See more about Monster Energy including all of its drinks at http://www.monsterenergy.com.