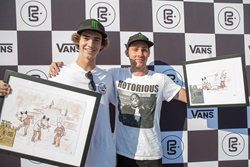 I'm just really happy and glad I was able to put my run down. My knee actually hurts a lot more if I run out of a trick. - Tom Schaar
Huntington Beach, California (PRWEB) August 07, 2017
Monster Energy congratulates team riders Tom Schaar and Ben Hatchell on a double-podium finish – taking first and second place, respectively – in front of a huge crowd at the Vans Park Series Men's Pro Tour competition in Huntington Beach, California. Battling a knee injury and the world's best park terrain riders, 17-year-old Schaar put together a perfect finals run for first place and $20,000 prize money. He advances as the top qualifier to the 2017 Men's World Championships in September, where he will be joined by Hatchell, who took home $15,000 for second place today.
For the second consecutive year, the Vans Park Series (VPS) brings together hundreds of riders from all over the globe at competitions in locations such as Brazil, Canada, China, Europe, and the United States. As part of the world's largest action sports festival, the Vans U.S. Open of Surfing, today's contest offered riders the last chance to qualify for the upcoming Vans Park Series (VPS) World Championships in Shanghai on September 23.
Schaar came to Huntington Beach as a top competitor: With a solid lead in the 2017 Vans Skate Park Series rankings, he recently made history as the first skateboarder to win X Games medals in both the Big Air and Skate Park events at X Games Minneapolis with two silver medals. Earlier this year, Schaar also took first place in the 13th annual Vans Pool Party contest in Orange, California, and won the 2017 Vans Park Series Pro Tour season opener in Manly Beach, Australia.
Although battling pain from tendonitis in his knee all weekend, Schaar advanced into the finals in second place. After securing an early lead with a perfect first run, he increased the difficulty and put down one of the highest scores in VPS history on his third attempt: Frontside tailslide over the love seat straight into a high-flying backside 540 in the deep end, followed by an alley-oop backside ollie into the bank, backside 5-0 grind, kickflip Indy transfer into the bank, frontside stalefish tweak in the deep end, ollie up to frontside lipslide on the extension, backside bigspin to disaster on the bank and frontside ollie blunt earned Schaar 91.69 points for the win.
"I'm just really happy and glad I was able to put my run down," said Schaar upon taking first place in Huntington Beach today, adding that his injury made him try to stay on his board as much as possible. "My knee actually hurts a lot more if I run out of a trick."
Tom was joined on the podium by 27-year old Hatchell from Manassas, Virginia, who took his signature blend of technical lip tricks and contorted airs to the Huntington Beach course today. On his final run, Hatchell managed to string together highly difficult moves like a backside 540 tailgrab and backside tailslide over the love seat, frontside stalefish, alley-oop frontside air into the bank, half Cab to frontside ollie blunt, frontside feeble grind to fakie in the deep end, fakie nosegrind to pop-out over the hip, and blunt kickflip to fakie on the extension for 86.98 points and second place.
Also stoking out the crowd in Huntington Beach during the Semi-Finals, Monster Energy's Ishod Wair – winner of last month's CPH Open street contest in Copenhagen, Denmark – once again showed his park riding skills. Despite also battling a knee injury, Wair covered the park with high-flying alley-oop frontside airs over the hip, frontside nosebone, judo air, and Indy tweak in the deep end, as well as step-off to ollie blunt fakie on the wall and frontside 5-0 to fakie with a grab. Although he missed the podium today, Wair will be back for more at the World Championships in Shanghai.
Speaking of the World Championship, today's first place makes Schaar the season's top qualifier on the 2017 Vans Park Series Pro Tour Challenger standings. Make sure to tune in on September 23, when Schaar, Hatchell, and Wair compete for the world championship title in Shanghai.
Download photos here for editorial use only.
For more information visit http://www.monsterenergy.com and make sure to follow Monster Energy's Facebook, Instagram & Twitter for exclusive updates from the 2017 Vans Park Series.
###
About Monster Energy
Based in Corona, California, Monster Energy is the leading marketer and distributor of energy drinks and alternative beverages. Refusing to acknowledge the traditional, Monster Energy supports the scene and sport. Whether motocross, off-road, NASCAR, MMA, BMX, surf, snowboard, ski, skateboard, or the rock and roll lifestyle, Monster Energy is a brand that believes in authenticity and the core of what its sports, athletes and musicians represent. More than a drink, it's the way of life lived by athletes, sports, bands, believers and fans. See more about Monster Energy including all of its drinks at http://www.monsterenergy.com.