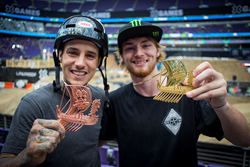 To me, this one is everything. Dave showed me what it was to fall down and get back up the next day and try again — he is THE guy for me - Kyle Baldock
Minneapolis, MN (PRWEB) July 17, 2017
Monster Energy congratulates BMX athletes Colton Walker and Kyle Baldock on their respective gold-medal victories in BMX Dirt and BMX Best Trick on the final day of X Games Minneapolis 2017. Walker took gold in the BMX Dirt competition, and Baldock won bronze. Just an hour later Baldock also won gold in the Dave Mirra's BMX Best Trick final — his second.
Wrapping up competitions at the inaugural X Games Minneapolis fans were treated to a spectacle as Monster Energy athletes dominated the day on their bikes. First up was the BMX Dirt Finals in which riders link up three consecutive jumps ranging in size from 17 to 25 feet before hitting a new addition to this year's contest, a 10-foot quarterpipe at the end of the course.
Though Walker may live in Wisconsin now, he grew up in Minneapolis, a fact the crowd embraced as he eyed the course. Known for his smooth style and progressive skill set, the 20-year-old will no doubt remember his X Games debut for the rest of his life.
With the pressure on and sitting in 8th place after his first attempt, Walker dropped in and put together a run to remember. Setting up with a backflip barspin-to-tailwhip followed by a 360 tailwhip-to-baspin, Walker displayed supreme bike control as he pulled his back tire up and over the transition to land smooth and pump towards the last jump. He then blasted a 360 downside whip with a late barspin before throwing the most technical trick anyone had done all day on the quarterpipe, a flair whip-to-bar spin.
"The level of riding out here was incredible," said Walker after the contest. "And, having to wait all of the final run to see if my score would hold up I thought I was going to go insane."
But his 93.00 did hold up and the crowd of 27,000 fans erupted as the hometown boy won his first X Games medal, a gold one at that.
"All of the people here giving me this energy and supporting me – I just want to thank them all from the bottom of my heart."
Meanwhile, three-time X Games BMX Dirt gold medalist, the man himself, Baldock threw down his best for bronze. Starting with a backflip double bar spin, followed by a front flip tuck no hander before finishing up the dirt jumps with a massive tail whip 720, he then raced towards the quarterpipe and sent a 540 flair with that Baldock style we all love so much.
Up next, in tribute to the legendary Dave Mirra was the BMX Best Trick final which bears his name it was Baldock again who laid it all on the line for his hero.
"To me, this one is everything," said Baldock. "Dave showed me what it was to fall down and get back up the next day and try again — he is THE guy for me."
With the crowd behind him he dropped in and after a few pumps around the park course to gain speed the BMX superstar pointed it transfer style over the stern of the Viking ship sending a 720 double tail whip for the win. Landing as clean as possible, Baldock rode away from X Games the way he rode in, on top of the sport.
"I just wanted to do something outside the box," said Baldock, before laughing, "And not to do that trick kind of bums me out."
All said and done, the Monster BMX team took gold in four of the six BMX disciplines this weekend — with a silver and bronze thrown in for good measure. With the inaugural X Games Minneapolis in the books the Monster Energy team looks forward to pushing the progression across the always-evolving sport of freestyle BMX.
Download photos for editorial use only.
To score all the exclusive updates from X Games Minneapolis 2017 including photos and contest results as they happen visit http://www.monsterenergy.com. Follow Monster Energy on YouTube, Facebook, Instagram & Twitter.
###
About Monster Energy
Based in Corona, California, Monster Energy is the leading marketer and distributor of energy drinks and alternative beverages. Refusing to acknowledge the traditional, Monster Energy supports the scene and sport. Whether motocross, off-road, NASCAR, MMA, BMX, surf, snowboard, ski, skateboard, or the rock and roll lifestyle, Monster Energy is a brand that believes in authenticity and the core of what its sports, athletes and musicians represent. More than a drink, it's the way of life lived by athletes, sports, bands, believers and fans. See more about Monster Energy including all of its drinks at http://www.monsterenergy.com.