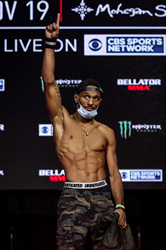 "Man, that's the beginning of the beginning. Childhood dream, I wrote myself at 12 years old a $1 million check. I'm looking forward to cashing it in, conquering a title." AJ McKee
UNCASVILLE, Conn. (PRWEB) November 22, 2020
Monster Energy congratulates A.J. McKee on his first-round submission victory over Darrion Caldwell in the main event fight at Bellator 253 inside Mohegan Sun Arena in Uncasville, Connecticut on Thursday night. In the first semifinal match of the Bellator Featherweight World Grand Prix tournament, the 25-year-old from Long Beach, California, continued his perfect fight record with a dominant win to advance to the tournament finals for a chance to win the Bellator Featherweight World Championship.
Also taking home a victory tonight, newly signed Monster Energy MMA athlete Joey Davis from Compton, California, defeated Bobby Lee via unanimous decision in the welterweight division bout on Bellator 253's Main Card.
Bellator 253 was contested as a closed-to-the-public event inside the main home of Bellator MMA since the onset of the global coronavirus pandemic: The Mohegan Sun Resort and Casino in Uncasville, Connecticut. With the bout between McKee and Caldwell as the headline event, the fight night happened amid extensive COVID-19 safety protocols for staff, officials and fighters. The Main Card was broadcast on DAZN and the CBS Sports Network, the Monster Energy Prelims streamed on YouTube.
The anticipation was off the charts for the main event battle between McKee (17-0) and Darrion Caldwell (15-4). Both fighters had earned their place in tonight's Bellator Featherweight World Grand Prix semifinal with spectacular performances: McKee barged into the tournament with a stunning knockout victory over Georgi Karakhanyan within 8 seconds of Round 1, followed by an armbar submission of Derek Campos in the quarterfinals.
McKee's opponent, former Bellator Bantamweight Champion Darrion Caldwell, qualified into the semifinal of the 16-man tournament with a decision win over Henry Corrales and a quarterfinal submission victory over Adam Borics. Would Caldwell's supreme skills as a former NCAA champion wrestler break McKee's undefeated fight record at Bellator 253?
The answer arrived swiftly and without warning. Straight after the opening bell, McKee threw a heavy cartwheel kick, but missed, before Caldwell used the first chance for a takedown to pin McKee on his back. Looking to draw on his dominant wrestling skills, Caldwell controlled the pressure from the top and pummeled McKee with elbows. But not for long! In a shocking turn of events, McKee found an opening to trap Caldwell's head in a neck crank. Building torque from below, McKee's jiu-jitsu chokehold constantly intensified in pressure, ultimately forcing Caldwell to submit at 1:11 minutes of Round 1.
In the post-fight interview, McKee detailed the neck crank that finished Caldwell: "I like to play a lot of leverage. Ever since I was a child, it's all about the angles. If you have the right angle, you can make anything work!" said Monster Energy's McKee upon winning the Bellator Featherweight Grand Prix semifinal fight at Bellator 253. "He popped his head off to the side a little bit, so I locked up the body triangle. From there, under hooks deep and that's all she wrote."
Tonight's win at Bellator 253 continues McKee's undefeated Bellator MMA career record and expands his record for most consecutive wins in Bellator history to 17. It also marks the ninth first-round finish and third submission victory for the young fighter who trains out of BodyShop Fitness Team in Lakewood, California. McKee joined the professional Bellator MMA ranks in 2015 and trains with expert coaching from his father, MMA icon Antonio McKee, who already mentored certified legends like Rampage Jackson and Chuck Liddell.
Next up, McKee will take his long-awaited shot at joining the ranks of MMA greats: He has now qualified into the Bellator Featherweight World Grand Prix tournament finals. McKee will be facing the winner of the upcoming match-up between Patricio "Pitbull" Freire and Emmanuel Sanchez for the organization's 145-pound belt and $1 million grand prize.
"Man, that's the beginning of the beginning. Childhood dream, I wrote myself at 12 years old a $1 million check. I'm looking forward to cashing it in, conquering a title," said McKee about earning his shot at the Bellator Featherweight title.
Earlier tonight at Bellator 253, Monster Energy's Davis (8-0) faced off against Bobby Lee (12-5) in a welterweight division bout on the Main Card. Training out of Team Bodyshop MMA in California, 26-year-old Davis came into the fight with a perfect Bellator career record. But his opponent was no other than CFFC champion Bobby Lee in his Bellator debut, so the outcome was wide open.
Bobby Lee started the fight swinging wildly, but Davis retained his composure and landed a takedown early on in the round. While Lee tried to take the fight back to standing, Davis keeps the upper hand in guard on top and deals damage with heavy ground and pound. The domination continued in rounds two and three, with Davis scoring leg kicks and elbows in between controlling Lee on the ground. A hard left to the head bloodied Davis late in Round 3, before the judges hand the victory to the clear winner, Davis, via unanimous decision (30-26, 30-27, 30-27).
Download photos for editorial use.
Thank you to Bellator MMA and Mohegan Sun for showcasing a world-class fighting event amidst the adversities of the global coronavirus pandemic.
A.J. McKee and Joey Davis count amongst Monster Energy's elite MMA athletes along with Juan "The Spaniard" Archuleta, Phil Davis, Dominick "Dominator" Cruz, Sergio "The Phenom" Pettis, Michael Chandler, Valerie Loureda, Quinton "Rampage" Jackson, Aaron Pico, James Gallagher, Gaston Bolanos, Rose Namajunas, Jon "Bones" Jones, Donald "Cowboy" Cerrone, Jorge "Gamebred" Masvidal, Chris "The All American" Weidman, Daniel Cormier, Tyron "The Chosen One" Woodley, Yair Rodriquez, Tony Ferguson, Mike LeMaire, Joanna Jędrzejczyk, Jessica-Rose Clark and Valentina Shevchenko.
For more on Monster Energy's MMA athletes visit http://www.monsterenergy.com. Follow Monster Energy on YouTube, Facebook, Instagram and Twitter.
About Monster Energy
Based in Corona, California, Monster Energy is the leading marketer of energy drinks and alternative beverages. Refusing to acknowledge the traditional, Monster Energy supports the scene and sport. Whether motocross, off-road, NASCAR, MMA, BMX, surf, snowboard, ski, skateboard, or the rock and roll lifestyle, Monster Energy is a brand that believes in authenticity and the core of what its sports, athletes and musicians represent. More than a drink, it's the way of life lived by athletes, sports, bands, believers and fans. See more about Monster Energy including all of its drinks at http://www.monsterenergy.com.