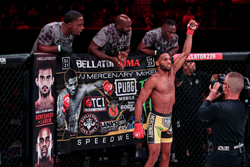 I want my belt, but I don't think he's going for that," McKee said after the fight on Saturday night in Inglewood. Duck and dodge - I think it's coming sooner than later. AJ McKee
Inglewood, California (PRWEB) October 01, 2019
Blink and you missed it! Monster Energy congratulates MMA athlete Antonio De Carlo McKee Junior, better known by his ring name A.J. McKee, on his eight-second knockout victory against Georgi Karakhanyan at Bellator 228. In front of an enthusiastic crowd at The Forum in Inglewood, California, the 24-year-old mixed martial artist from Long Beach secured his 15th pro career victory to advance to the quarterfinal in Bellator's Featherweight Grand Prix.
Considered a rising star on the MMA circuit, A.J. McKee came to Inglewood on the strength of an unbroken streak of 14 back-to-back victories. The son of MMA legend Antonio De Carlo McKee, who also stepped into the octagon on Saturday night, had three full rounds to take down jiujitsu black belt Georgi Karakhanyan – but ended up using only eight seconds.
After taking a few distance-measuring jabs at the Russian-American's gloves, McKee came in for the fight-winning one-two combo: A quick right-hand upper into a show-stopping overhand left punch knocked Karakhanyan straight to the canvas, where McKee sealed his lightning-fast victory with rapid ground-and-pound until the ref called the fight.
With Karakhanyan reeling on the ground McKee proceeded to hoist a backflip off the side of the Bellator cage and pound his chest in celebration of his victory. After throwing his gumshield into the crowd, McKee climbed on top of the octagon's top rail, chanting: "Where's my belt?"
Following Saturday night's impressive showing – the second-fastest knockout in Bellator history – the young MMA star is well on his way for a shot at the title. McKee now advances to the quarterfinal of Bellator's Featherweight Grand Prix tournament and is set to fight Derek Campos in December 2019. Ultimately, McKee has his sights on reigning champ Patricio "Pitbull" Freire, who stopped Juan Archuleta to defend his featherweight championship on Saturday night.
"I want my belt, but I don't think he's going for that," McKee said after the fight on Saturday night in Inglewood. "Duck and dodge - I think it's coming sooner than later."
Rounding out a memorable night for the MMA rookie, his father and coach Antonio De Carlo McKee staged a successful comeback at 49 years of age – after spending five years in retirement – with a TKO victory against Williams Sriyapai. A quick piece of MMA trivia: This marked the very first time that a father and son have won fights on the same card in a major MMA event in the U.S.
"It was phenomenal," said McKee at the Bellator 228 post-fight news conference. "Him going in there and doing what he had to do, it set the tone right for me. I knew I had a job to do. He constantly said it. Go in there, you win, set the night off, finish with a bang."
While Saturday's fight was over in eight seconds, the long-term buzz around McKee continues to build. His lightning-fast knockout victory against Georgi Karakhanyan brings McKee's flawless MMA track record to 15 wins, zero losses. As a recent addition to Monster Energy's roster of MMA athletes, McKee has scored an impressive six of these wins by knockouts, four by submissions.
Download photos for editorial use.
A.J. McKee is amongst Monster Energy's elite UFC team along with Donald "Cowboy" Cerrone, Conor "The Notorious" McGregor, Jorge Masvidal, Jon Jones, Daniel Cormier, Dominick "Dominator" Cruz, Chris "The All American" Weidman, Tyron "The Chosen One" Woodley, Max Holloway, Yair Rodriquez, Jessica-Rose Clark, Li Jingliang, and Cris Cyborg.
For more on Monster Energy's MMA team visit http://www.monsterenergy.com. Follow Monster Energy on YouTube, Facebook, Instagram and Twitter.
###
About Monster Energy
Based in Corona, California, Monster Energy is the leading marketer and distributor of energy drinks and alternative beverages. Refusing to acknowledge the traditional, Monster Energy supports the scene and sport. Whether motocross, off-road, NASCAR, MMA, BMX, surf, snowboard, ski, skateboard, or the rock and roll lifestyle, Monster Energy is a brand that believes in authenticity and the core of what its sports, athletes and musicians represent. More than a drink, it's the way of life lived by athletes, sports, bands, believers and fans. See more about Monster Energy including all of its drinks at http://www.monsterenergy.com.