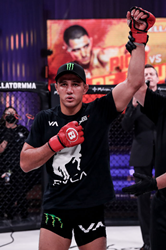 "When I went to Albuquerque, I was really broken, man. They rebuilt me. I had three rude awakenings and I'm happy I lost, because now I'm with the right coaches," said Pico upon winning his prelims fight at Bellator 252.
UNCASVILLE, Conn. (PRWEB) November 13, 2020
Three in a row! Monster Energy congratulates Aaron Pico on his spectacular knockout victory over John de Jesus in the prelims card fight at Bellator 252 inside Mohegan Sun Arena in Uncasville, Connecticut. In the featherweight division bout on Thursday, the 24-year-old from Whittier, California, continued his winning streak with the third finish in a row.
Bellator 252 was contested as a closed-to-the-public event inside the main home of Bellator MMA since the onset of the global coronavirus pandemic: The Mohegan Sun resort and casino in Uncasville, Connecticut. Headlined by a featherweight title fight between Patricio "Pitbull" Freire against Pedro Carvalho, the fight night happened amid extensive COVID-19 safety protocols for staff, officials and fighters. The Main Card was broadcast on DAZN and the CBS Sports Network, the Monster Energy Prelims streamed on YouTube.
In the most anticipated prelims fight, Pico (7-3) stepped into the Octagon after two consecutive victories. The MMA upstart, who was initially tracked for an Olympics wrestling career before focusing on mixed martial arts had previously stopped Daniel "Scary" Carey at Bellator 238 and earned a submission victory against Solo Hatley Jr. at Bellator 242. But he was in for a challenge: Tonight's opponent, John de Jesus (13-9), had never been stopped by knockout or TKO and came into the fight at the Mohegan Sun on a three-win streak.
Right out the gate, John de Jesus charged with aggressive kicks and strikes, but Pico held his ground. As soon as he found an opening, Pico took de Jesus to the mat and proceeded to dominate from the top with ground and pound. Constantly improving his position and looking for a finish, Pico continued landing heavy elbows and fists to the head that echoed through the arena.
As the fight continued into round two, Pico landed an early takedown and nearly locked into a head-and-arm choke. De Jesus managed to bring the fight back to standing, only to be floored by a body shot followed by more punishment from the top. With only a minute left on the clock, both fighters were back on their feet for the fight's pivotal scene: As De Jesus attacked with a flying knee, Pico anticipated the move and responded with a heavy overhand right that sent his opponent crashing on his back, nearly knocking him off his feet. Pico swooped in for some final ground and pound until the referee ended the fight at 4:12 minutes into the second round.
Thursday's victory marks the third consecutive finish for Pico and sixth career knockout. He now totals seven career wins, all of them finishes with one submission on the record. Pico made his Bellator debut in 2017 as one of most critically acclaimed prospects in the history of the franchise. After drawing attention with a series of spectacular knockouts, Pico had to face two losses in 2019 and refocused before the 2020 season.
Now officially back in the winner's circle, Pico credited his team at Jackson Wink MMA Academy in Albuquerque, New Mexico, for Thursday's win. "When I went to Albuquerque, I was really broken, man. They rebuilt me. I had three rude awakenings and I'm happy I lost, because now I'm with the right coaches," said Pico upon winning his prelims fight at Bellator 252.
What's next for Pico? With a focus on training and the right coaches in his corner, the sky's the limit for the 24-year-old MMA hopeful. After tonight's vicious knockout, Pico's next fight will most likely no longer happen on a prelims card.
Download High Res Photos for Editorial Use.
Once again thank you to Bellator MMA and Mohegan Sun for showcasing a world-class fighting event amidst the adversities of the global coronavirus pandemic.
Aaron Pico counts amongst Monster Energy's elite MMA athletes along with Juan "The Spaniard" Archuleta, Phil Davis, Dominick "Dominator" Cruz, Sergio "The Phenom" Pettis, Michael Chandler, Valerie Loureda, Quinton "Rampage" Jackson, A.J. McKee, James Gallagher, Gaston Bolanos, Rose Namajunas, Jon "Bones" Jones, Donald "Cowboy" Cerrone, Jorge "Gamebred" Masvidal, Chris "The All American" Weidman, Daniel Cormier, Tyron "The Chosen One" Woodley, Yair Rodriquez, Tony Ferguson, Joanna Jędrzejczyk, and Jessica-Rose Clark.
For more on Monster Energy's MMA athletes visit http://www.monsterenergy.com. Follow Monster Energy on YouTube, Facebook, Instagram and Twitter.
###
About Monster Energy
Based in Corona, California, Monster Energy is the leading marketer of energy drinks and alternative beverages. Refusing to acknowledge the traditional, Monster Energy supports the scene and sport. Whether motocross, off-road, NASCAR, MMA, BMX, surf, snowboard, ski, skateboard, or the rock and roll lifestyle, Monster Energy is a brand that believes in authenticity and the core of what its sports, athletes and musicians represent. More than a drink, it's the way of life lived by athletes, sports, bands, believers and fans. See more about Monster Energy including all of its drinks at http://www.monsterenergy.com.