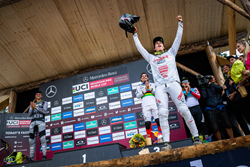 "I'm just so happy! My weekend started out so bad with three big crashes on the first day. I did a clean qualifier so I was happy with that. I knew the win would be possible after the qualifying so I just did what I needed to do to win." - Amaury Pierron
Lenzerheide, Switzerland (PRWEB) August 11, 2019
Monster Energy's Amaury Pierron (FRA) has taken home his third win of the 2019 World Cup downhill season in Lenzerheide, Switzerland at the UCI Mountain Bike Downhill Word Cup. Pierron's Monster Energy teammates Troy Brosnan and Danny Hart took fourth and fifth place, and Loris Vergier landed eighth place.
After qualifying fifth on Saturday, Pierron knew what he had to do, "pin it to win it," and that is just what he did to land himself onto the top podium spot. Pierron let loose on a run filled with crafty lines, made minimal mistakes, and carried high speeds bringing him across the finish line in first place.
The picturesque track in Lenzerheide winds its way 1742m down the mountain, and drops 402m. Filled with dozens of berms, it's one of the only World Cup tracks to be almost completely out in the open on the ski run, and visible the entire way from the gondola. With loose rocks over hard pack dirt, conditions are usually extremely slippery, rain or shine. This year was a mixed bag of weather with torrential rains on course walk day and then sun for practice. Race day was misty and wet in the morning, but the skies cleared up in time for racing and the rain stayed away despite threatening clouds.
Pierron was thrilled with his win. "I'm just so happy! My weekend started out so bad with three big crashes on the first day," said Pierron. "I did a clean qualifier so I was happy with that. I knew the win would be possible after the qualifying so I just did what I needed to do to win. I made some mistakes, but it was a solid run so I am so happy. I heard the crowd and speakers, and the louder they got the more fired up I became."
Joining the flying Frenchman on the extended World Cup (Top 5) podium was Brosnan (AUS) in fourth and Hart (GBR) in fifth place. Brosnan was happy with his result, despite not being able to crack the top three.
"This was a great bounce back weekend for me," said Brosnan. "Last week didn't go as planned. We changed something on the bike and it just didn't work out as expected so we went back to what we knew and it really worked here. I'm pretty happy. Fourth place is nothing to be upset about. It's a good building block towards Worlds in two weeks. I'm keen to go do some testing in Whistler and have some fun."
Hart secured yet another podium finish with fifth place, and moved up to fourth place overall after this weekend.
"I moved up from fifth place to fourth place in the overall, so that's positive," said Hart. "I rode really well today, but my time was a bit off of what I liked. The top guys went really fast and that is really it. I made a few small mistakes, but I had a good run. Maybe I just need to push a little harder."
With today's win the points in the overall series title hunt are closer than ever. With just 90 points separating Pierron from the leader, and 250 points up for grabs at the World Cup finals in September the heat is on. With World Championships just two weeks away in Canada, the season is winding down and there's plenty of hardware to be distributed with Monster Energy athletes within reach for both World Cup and World Championship titles.
Download photos for editorial use.
Up next is the UCI Mountain Bike World Championships in Mont-Sainte-Anne, Quebec, Canada from August 28 – September 1.
For more on Pierron, Brosnan, Hart, Vergier and the rest of the Monster Energy Mountain Bike team visit monsterenergy.com, and make sure to follow Monster Energy's YouTube, Facebook, Instagram & Twitter for exclusive updates.
About Monster Energy: Based in Corona, California, Monster Energy is the leading marketer and distributor of energy drinks and alternative beverages. Refusing to acknowledge the traditional, Monster Energy supports the scene and sport. Whether motocross, off-road, NASCAR, MMA, BMX, surf, snowboard, ski, skateboard, or the rock and roll lifestyle, Monster Energy is a brand that believes in authenticity and the core of what its sports, athletes and musicians represent. More than a drink, it's the way of life lived by athletes, sports, bands, believers and fans. See more about Monster Energy including all of its drinks at http://www.monsterenergy.com.