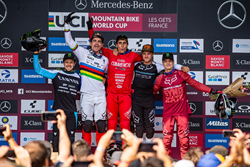 This is so good! I really wanted to show that I can win, plus this was in France. I was so keen to win in France in front of my home crowd. Amaury Pierron
LES GETS, France (PRWEB) July 14, 2019
Monster Energy's Amaury Pierron (FRA) takes home the victory at his home world cup this weekend in Les Gets, France at the UCI Mountain Bike World Cup Downhill.
In front of thousands of rabid French fans, Pierron stormed to victory by an astonishing margin of over 2.3 seconds. The 2.3-kilometer track storms its way down Mont Chery with high speeds exceeding 64km/h and limited line choice overlooking the picturesque mountain town of Les Gets. The old-school track (last raced here at 2004 World Championships) was in fine form this weekend. Its grassy corners daring those with the will to win to get off the brakes, let it slide and just see how far they can push the limits was more cut throat than ever. With no rain for weeks, the middle treed section of track was loose and full of holes as riders attempted to maintain their speed into the lower high-speed meadows and road gaps.
Pierron was ecstatic with the win on French soil and could barely contain himself in the finish corral. "This is so good! I really wanted to show that I can win, plus this was in France," said Pierron. I was so keen to win in France in front of my home crowd. This is insane. All the way down it was fire. I was so loose; it was just good. I was on the limit!"
Pierron's Monster Energy teammates had solid results today with Troy Brosnan (AUS) in 4th, Loris Vergier (FRA) in 5th and Brendan Fairclough (UK) in 6th
Brosnan was racing for the win on his 26th birthday, but would come up short to the wild Frenchman. "I was really hoping for the win, but I just didn't have the pace," said Brosnan. I don't really have any excuse or anything. I just didn't have it. Super stoked with 4th though and it keeps me great in the overall series points chase. I just have to figure out how to beat these guys! They are riding so fast. Honestly, Amaury just put down a phenomenal display of how to ride a bike. Props to him and hopefully we go home for a rest and come back firing."
Vergier kept his top 10 finishes alive even after a big crash this morning before the finals.
Special mention goes to Fairclough, who after a long drought ends up back in the single digits this week in 6th place, just a hair off the podium. "I was inspired by having a bit of time off, said Fairclough." I love riding here and I was feeling good so I thought maybe I could do something. It's good to be back in the mix. I was on the hot seat like top 20 yeah! Top 15, cool yeah! Top 10 AHH! It's great to be back up there again in the mix."
Canada's Mark Wallace took 12th, Connor Fearon (AUS) landed in 13th and Luca Shaw took 17th.
The next round of the World Cup will be in three weeks August 2-4 in Val Di Sole, Italy. With three rounds left, Amaury and Brosnan are now tied up 2nd overall for the World Cup Series chase.
Download photos for editorial use.
For more on Pierron, Brosnan, Vergier, and Fairclough and the rest of the Monster Energy team visit monsterenergy.com and make sure to follow Monster Energy's YouTube, Facebook, Instagram & Twitter for exclusive updates.
About Monster Energy: Based in Corona, California, Monster Energy is the leading marketer and distributor of energy drinks and alternative beverages. Refusing to acknowledge the traditional, Monster Energy supports the scene and sport. Whether motocross, off-road, NASCAR, MMA, BMX, surf, snowboard, ski, skateboard, or the rock and roll lifestyle, Monster Energy is a brand that believes in authenticity and the core of what its sports, athletes and musicians represent. More than a drink, it's the way of life lived by athletes, sports, bands, believers and fans. See more about Monster Energy including all of its drinks at http://www.monsterenergy.com.