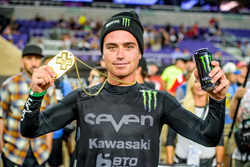 All these riders are so gnarly! It was tough to not be able to do this event last time and have to wait an entire year, but all the hard work paid off - Axell Hodges
MINNEAPOLIS (PRWEB) July 21, 2018
The motocross action was off the charts tonight at X Games Minneapolis 2018, the world's premier action sports event supported by Monster Energy as the official drink sponsor for the fifth consecutive year. The capacity crowd at U.S. Bank Stadium was on its feet as an international field of elite motocross athletes battled for X Games medals in two disciplines.
When the dust settled, Monster Energy's Axell Hodges from Encinitas, California claimed gold in Moto X QuarterPipe High Air, and his teammate Jackson Strong from Lockhart, Australia walked away with the silver medal in Moto X Freestyle (FMX).
Now in its second year in the Twin Cities, X Games Minneapolis brings motocross to an indoor setting at U.S. Bank Stadium. This eliminates distractions such as heavy wind and rain that impacted athletes at previous events and lets them focus on the world-class stunts X Games is known for.
Starting off Friday night's events, Moto X QuarterPipe High Air saw competitors attack an 18-foot high quarterpipe with an 85-degree incline looking to land the highest possible air into a 24-foot dirt track bank.
After missing last year's event due to an injury, Hodges went big right out the gate: Blasting a huge air on his first attempt – launching out the quarter pipe in a straight arch, landing low and compressed on the bank – netted Hodges an early lead at 32' 3". In his next attempt, tonight's youngest High Air competitor pushed his lead to 33' 2", only to seal the deal on round three with a monstrous 34' 3" aerial for the win.
"All these riders are so gnarly! It was tough to not be able to do this event last time and have to wait an entire year, but all the hard work paid off," said Hodges upon winning gold.
Tonight's Moto X QuarterPipe High Air gold medal – his first career X Games gold – brings Hodges medal count to three. The 21-year-old rookie previously claimed Best Whip silver at X Games Austin 2016 and last year's Real Moto silver medal. Considered one of the sport's most promising all-round talents, the star of Monster Energy's "Slayground" video recently competed in the first-ever Snow BikeCross at X Games Aspen 2017. He will also be back tomorrow as a top contender in the Moto X Best Whip Final.
When the action moved into Moto X Freestyle (FMX), the field of eight riders cranked up the difficulty level right from the start with double backflips and highly technical moves across the board. Monster Energy's Strong came into the Freestyle competition with a personal score to settle: Although a three-time X Games gold medalist and winner of last year's Best Trick silver medal, "Jacko" had never finished a Moto X Freestyle run without crashing – until tonight.
On his first of two 75-second runs, Strong put together a perfect routine using every angle of the course. Moves like a Hart Attack flip, highly technical frontflip and double backflip over the big gap, Rock Solid flip, and a spectacular one-handed frontflip earned the 27-year-old 90.00 points and an early lead.
Strong looked like a shoe-in for the top spot, but had to abandon his second run due to goggle problems and was bumped by France's Tom Pages into second place.
Closely missing the podium by fractions of a point, Australian Monster Energy rider Josh Sheehan displayed his technical ability tonight with a double grab flip, Flair Indy flip, 360 seat grab Indy, 360 Heel Clicker, and no-handed double flip for 88.33 points and fourth place.
Also putting on a spectacular show in Minneapolis tonight, his teammate and fellow Australian Harry Bink dislocated his shoulder while putting together a strong first run, but still came back to nail a perfect routine on run two: Standouts like Rock Solid flip, Hart Attack flip, heel clicker flip and one-handed double backflip netted the 24-year-old an 86.66-point score and fifth place. Rounding out a strong showing, his teammate and three-time FMX gold medalist Taka Higashino landed back-to-back technical variations such as Cordova flip, Dead Body flip, Kiss of Death flip, and a massive Cali Roll for 86.33 points and a sixth place finish.
Download photos for editorial use.
Make sure to tune in on Saturday when Harry Bink, Strong, Josh Sheehan and Taka Higashino return for the Monster Energy Moto X Best Trick Final.
ESPN and ABC will televise a combined 19 hours of live X Games Minneapolis 2018 coverage, reaching more than 500 million homes and viewers in 192 countries and territories. X Games Minneapolis coverage will also be accessible via the ESPN App to viewers who receive their video subscription from an affiliated provider.
Don't miss out on what's happening next in the Twin Cities. Score all the exclusive updates from X Games Minneapolis 2018 including photos and contest results as they happen visit http://www.monsterenergy.com. Follow Monster Energy on YouTube, Facebook, Instagram & Twitter and watch the official Monster Energy hashtag #unleashedatx on social media.
###
About Monster Energy
Based in Corona, California, Monster Energy is the leading marketer and distributor of energy drinks and alternative beverages. Refusing to acknowledge the traditional, Monster Energy supports the scene and sport. Whether motocross, off-road, NASCAR, MMA, BMX, surf, snowboard, ski, skateboard, or the rock and roll lifestyle, Monster Energy is a brand that believes in authenticity and the core of what its sports, athletes and musicians represent. More than a drink, it's the way of life lived by athletes, sports, bands, believers and fans. See more about Monster Energy including all of its drinks at http://www.monsterenergy.com.