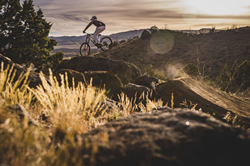 "I never thought I would be 34 still riding a bike for a living, let alone still getting better. Better is a key word for my everyday life, just as in my career; every time I was hurt and people said I should quit or take up something else, it just kept getting better." Cam Zink
RENO, Nev. (PRWEB) February 02, 2021
Welcome to the ultimate mountain bike playground! Monster Energy's Cam Zink is providing unprecedented access to his private training facility in a high-energy video released to global audiences today across Monster Energy's social media channels.'Cam Zink's Sandbox' captures the 34-year-old MTB icon from Carson City, Nevada, in an eight-minute-long video edited by Clay Porter and featuring music by Matt Large and NBHD Nick.
Viewers can go online and watch mountain bike stunts in a natural setting on an entirely new scale in the brand-new 'Cam Zink's Sandbox' video, live now on YouTube.
Expect high-speed trail runs and burly airs over natural dirt gaps, all filmed in high-definition video at the professional MTB athlete's dreamland for mountain bikes. Cinematographers Clay Porter, Dustin Lindgren, and JP Preston captured the action via follow-up cameras, aerial drones, and stunning panoramic shots that contrast the rugged wilderness and Zink's high-speed MTB moves over natural terrain.
The Sandbox fulfills a lifelong dream for the pro mountain biker. Letting his imagination run freely, Zink dreamed up and built the challenging dirt track on the grounds of his 169-acre property outside of Reno, Nevada. Like a child playing freely with sand, but with bigger toys in the mix, Zink conceptualized the Sandbox to drive his own progression, and that of the entire sport.
"I never thought I would be 34 still riding a bike for a living, let alone still getting better. Better is a key word for my everyday life, just as in my career; every time I was hurt and people said I should quit or take up something else, it just kept getting better," said Zink.
The Sandbox facility boasts 1,000 feet of elevation loaded with winding trails, as well as features like dirt gaps, kickers, and quarter pipes. The facility is also home to the world's biggest MTB jump where Zink set out to expand on a personal landmark achievement: His Guinness World Record for the farthest backflip on a bicycle with a 100-foot, 3-inch flip, set at the Mammoth Mountain X Games in 2014.
For the new video, Zink pushed himself to the limit. And even a harsh slam in late 2019 could not hold him back. "This is what I have worked for since I was a kid. Including breaking my own backflip world record, which now stands at 110 feet, as seen in the last clip of the video! Persevering through loss of blood and contracts has not only made me appreciate what I have, it's given me the drive to work relentlessly to create my own destiny."
His destiny has unfolded on a unique path: Known as one of the most prolific mountain bike athletes of all time, Zink has evolved with the sport since he started racing XC and DH at the age of 9. When he was only 16 years old, he won the junior national championship in dual slalom and pursued a milestone-heavy professional freeride mountain bike career, in which the Sandbox edit marks the latest chapter.
"I can't believe what we've been able to create, and this is just the beginning," said Zink about the video. But don't take anyone's word for it, better see for yourself!
'Cam Zink's Sandbox' was produced by Monster Energy with support from Five Ten/Adidas, Sensus Grips, and Remote Threads.
Catch all the action in the brand-new 'Cam Zink's Sandbox' video clip, live now on Monster Energy's YouTube channel. Also visit http://www.monsterenergy.com and follow Monster Energy on Facebook, Instagram, and Twitter for exclusive updates on Zink and our team of MTB athletes.
Download Photos for Editorial Use.
###
About Monster Energy
Based in Corona, California, Monster Energy is the leading marketer of energy drinks and alternative beverages. Refusing to acknowledge the traditional, Monster Energy supports the scene and sport. Whether motocross, off-road, NASCAR, MMA, BMX, surf, snowboard, ski, skateboard, or the rock and roll lifestyle, Monster Energy is a brand that believes in authenticity and the core of what its sports, athletes and musicians represent. More than a drink, it's the way of life lived by athletes, sports, bands, believers and fans. See more about Monster Energy including all of its drinks at http://www.monsterenergy.com.