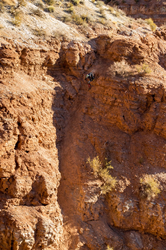 "I have had a plus seventeen-year career, and I've been very fortunate to accomplish every goal I've ever had, win every contest I ever strived for – except for X Games. This is it! I'm very proud to be a part of this." - Cam Zink
CORONA, Calif. (PRWEB) April 28, 2021
He finally got his first X Games medal! Monster Energy congratulates team rider Cam Zink on winning X Games bronze in this year's X Games Real Mountain Bike contest. In the brand-new video competition judged by an expert jury, the 35-year-old freeride MTB icon from Carson City, Nevada, took third place with a 90-second video part created in cooperation with filmer/editor Dustin Lindgren.
"I have had a plus seventeen-year career, and I've been very fortunate to accomplish every goal I've ever had, win every contest I ever strived for – except for X Games. This is it! I'm very proud to be a part of this," said Zink after being selected for the X Games Real Mountain Bike competition. "We were going for a win but obtaining an X Games medal is the missing piece of the puzzle," added Zink. "It gives me a sense of a complete career, but only leaves me more motivated for the years to come!"
Viewers can go online and watch Zink's bronze medal video from X Games Real Mountain Bike 2021 on the X Games YouTube Channel.
The X Games Real series was launched in 2010 to capture the progression in action sports outside of the contest arena. Now in its twelfth year, the series awards full-fledged X Games medals for outstanding videos by invited teams of athletes and filmers. The video competition features BMX, motocross, skateboard, freeski, and snowboard disciplines, and just welcomed mountain bike as the newest format. Same as in other sports, the participants are free to decide on the tricks, spots, and music featured in their 90-second video segments.
Winners of the inaugural X Games Real Mountain Bike competition were officially announced on Saturday, April 24, in a special World of X Games episode hosted by pro mountain biker Tyler McCaul that aired on ABC. The one-hour show featured all six video parts together with behind-the-scenes footage, athlete interviews, judge feedback and medal ceremonies.
When the judges announced their decision, Monster Energy's Zink and filmer/editor Dustin Lindgren received the bronze medal in a stacked field of the world's best freeride MTB athletes. Set to the tunes of "The Fire Inside Me" by Main Event, Zink's high-energy segment starts with a spectacular backflip from a building into a concrete bank below – and continues to up the ante.
"This is exactly the recipe you want to see from Zink. Big, big moves landed bolted. Top marks from me!" said X Games judge and decorated pro MTB rider Geoff Gulevich about the decision.
Filmed in the Utah desert, on wood trails, stair sets, and concrete school yards, Zink's video entry covers vastly different terrain with a unique selection of tricks. Highlights include a massive stair set gap and a cliff jump ender that must be seen to be believed. But no spoilers! Make sure to watch Zink's X Games Real Mountain Bike bronze medal video in HD here.
Claiming bronze in X Games Real Mountain Bike marks the very first X Games medal of Zink's storied career. Known as one of the most prolific mountain bike athletes of all time, he started racing XC and DH at the age of 9 – and has pushed the boundaries of the sport ever since. At age 16, Zink won the Junior National Championship in dual slalom and pursued a milestone-heavy professional freeride mountain bike career. Standouts include a 100-foot backflip on Mammoth Mountain for an official Guinness Book World Record, as well as the innovative 'Cam Zink's Sandbox' video filmed on his private MTB wonderland in February 2021.
Download photos for editorial use.
Viewers who missed Saturday night's World of X Games episode can watch the full X Games Real Mountain Bike broadcast on the official X Games YouTube channel.
For more from Cam Zink and the Monster Energy MTB team, visit http://www.monsterenergy.com. Follow Monster Energy on YouTube, Facebook, Instagram, Twitter for exclusive behind-the-scenes from the 2021 snow season.
###
About Monster Energy
Based in Corona, California, Monster Energy is the leading marketer of energy drinks and alternative beverages. Refusing to acknowledge the traditional, Monster Energy supports the scene and sport. Whether motocross, off-road, NASCAR, MMA, BMX, surf, snowboard, ski, skateboard, or the rock and roll lifestyle, Monster Energy is a brand that believes in authenticity and the core of what its sports, athletes and musicians represent. More than a drink, it's the way of life lived by athletes, sports, bands, believers and fans. See more about Monster Energy including all of its drinks at http://www.monsterenergy.com.