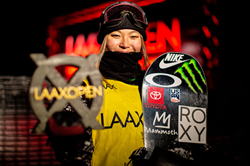 "I'm so happy I was able to land something today and just really stoked to be competing again. It's been almost two years. I was so nervous coming into this competition, but super happy to be back!" Chloe Kim
LAAX, Switzerland (PRWEB) January 24, 2021
Monster Energy's Chloe Kim Returns to Competition with 1st Place Performance in Women's Snowboard Halfpipe at Laax Open 2021 Jamie Anderson Dominates Women's Snowboard Slopestyle / Yuto Totsuka Wins Men's Snowboard Halfpipe
Monster Energy congratulates its team of snowboard athletes on a strong performance at Laax Open 2021 on Crap Sogn Gion mountain in Switzerland this weekend. On Saturday, the Women's Snowboard Halfpipe final saw the return to competition of 20-year-old snowboard phenom Chloe Kim with a dominant victory. In the heated Men's Snowboard Halfpipe final, 19-year-old Yuto Totsuka from Yokohama, Japan, claimed the win with a technical run for the history books.
On Friday, two-time Olympic gold medalist Jamie Anderson from Lake Tahoe, California, kicked off her 2021 season by winning the Women's Snowboard Slopestyle final against an elite field of international riders. Anderson was joined on the podium by her teammate, upcoming New Zealand ripper Zoi Sadowski-Synnott in second place.
Considered one of the most important snowboard events on the calendar, Laax Open kicks off the FIS Snowboard Tour 2021 season for Slopestyle and Halfpipe. Over 200 riders from 25 countries competed at the Open between January 19-23. Upping the ante, Laax Open provided a rare chance to score points toward Olympic qualification, because few events are expected before Beijing 2022 due to the ongoing pandemic.
This year's edition of Laax Open was contested without the usual crowds and musical performances amid full Covid-19 safety precautions. Fans and spectators watched the action via television broadcasts and online channels, while access to competition sites was limited to athletes, trainers, and event staff. The threat of the pandemic became apparent when large parts of the U.S. and Canadian Slopestyle teams – including Monster Energy rider and certified podium threat Max Parrot – were forced to withdraw from competition after several athletes had tested positive for Covid-19.
Nevertheless, the full level of snowboard progression was on display and all disciplines were able to crown winners in final competitions. Here's how the action unfolded this weekend at Laax Open 2021.
Women's Snowboard Slopestyle: Monster Energy's Jamie Anderson Takes First Place, Zoi Sadowski-Synnott Finishes in Second Place
In the Women's Snowboard Slopestyle event, Monster Energy team riders pulled off a clean podium sweep in Wednesday's semifinals: Anderson, Zoi Sadowski-Synnott and Japanese snowboard wunderkind Kokomo Murase qualified in first, second, and third place, respectively. The eight-rider final on Friday featured elite snowboarders from Austria, Australia, Canada, Japan, New Zealand, and the United States on a challenging course peppered with six features that tested air and rail skills.
In the two-run final session, all eyes were on 30-year-old snowboard icon and Monster Energy athlete Anderson from California. Amid stormy weather and overcast skies on Crap Sogn Gion mountain, Anderson opened with a solid run for a 74.66-point score but found herself trailing Sadowski-Synnott, who took an early lead.
Digging deep into her unique bag of tricks, Anderson showed the field of rookie competitors why she's still the most decorated woman in snow sports. On her second run, Anderson finessed the rail section with a half Cab tail bonk, backside bluntslide 270 off, and frontside bluntslide 270 on the up rail. In the jump section, she pulled an alley-oop backside 540 stalefish over the hip, followed by a huge Cab double 900 Weddle, frontside 720 Weddle, and frontside 180 butter to switch backside 540 Indy on the table obstacle for 84.35 points and the win.
"I'm really happy! I decided I was just going to send it and try to go as big and stylish as I can. I'm just ecstatic!" said Anderson upon taking first place in Women's Snowboard Slopestyle in Laax this weekend. Speaking on the significance for Olympic qualifiers, she said: "This is super important! I am only doing a couple of events [this year], maybe this and X Games. I am so proud of myself riding with all these youngsters."
Friday's victory marks Anderson's fifth Slopestyle win at Laax Open. She previously claimed the title in 2008, 2011, 2012 and 2016. Anderson has earned ten FIS World Cup wins, with two coming from Big Air contests. She heads into next week's X Games Aspen event as the most decorated woman in X Games history. Having claimed 17 X Games medals total (6 Gold, 7 Silver, 4 Bronze), Anderson has surpassed Shaun White and Mark McMorris for the record of holding the most Snowboard Slopestyle gold in X Games history at six medals.
Also taking a podium spot in Laax this weekend, 19-year-old Sadowski-Synnott from Wanaka, New Zealand, stepped into the Women's Slopestyle final with confidence and a powerful first run full of heavy hitters.
Approaching the course in her signature technical style, Sadowski-Synnott put down a spine transfer 270 out on the double-barrel, 50-50 to frontside boardslide, and backside boardslide 450 underflip on the up rail. She blasted into the jump section with a Cab backside 540 underflip before launching a frontside 720 Weddle, backside 720 melon, and frontside 180 up to switch backside 540 stalefish on the table obstacle for 82.96 points and a strong second-place finish.
During her breakout 2020 season, Sadowski-Synnott earned gold in Women's Snowboard Slopestyle at X Games Norway 2020. She currently owns three X Games medals (2 gold, 1 silver) and was recognized as 'Rookie of the Year' in the 2020 Snowboarder Magazine Awards. Sadowski-Synnott made history as the first athlete from New Zealand in 26 years to win a Winter Olympics medal when she earned Slopestyle bronze at PyeongChang 2018.
Women's Snowboard Halfpipe: Monster Energy's Chloe Kim Returns with Dominant Victory
On Saturday night under the spotlights, the snowboard action culminated in the Laax Superpipe. Revered as the world's largest snow halfpipe, the Olympic-sized superpipe at over 22.5 feet in height and 650 feet in length provided the perfect backdrop for a spectacular show. As a special treat, the Women's Snowboard Halfpipe event saw Monster Energy's Chloe Kim return to competition. In 2019, the 20-year-old from Long Beach, California, had decided to take a two-season hiatus to focus on her academic studies at Princeton.
But making a comeback at Laax was no walk in the park for the Olympic gold medalist. After qualifying into the final in first place, Kim was in for a harsh awakening in the six-rider contest. On her first run, she lost her momentum after a botched landing and found herself trailing behind in fifth place at 30.25 points as Japan's Mitsuki Ono took the lead.
When it all came down to Run 2, the 'Queen of the Superpipe' once again proved her grace under pressure. Opening her run with a huge method air, Kim put down a frontside 1080 tailgrab, switch 720 Weddle, frontside 900 tailgrab and a classic McTwist with a slight alley-oop angle for a score of 89.75 points, taking the win more than 13 points ahead of the next competitor.
"I'm so happy I was able to land something today and just really stoked to be competing again. It's been almost two years. I was so nervous coming into this competition, but super happy to be back!" said Kim upon claiming the Women's Snowboard Halfpipe Win at Laax Open 2021.
Saturday night's victory brings Kim back into the winner's circle after ending her 2019 season with a second-place finish at the Burton U.S. Open. The Team USA winter sports athlete officially holds all of snowboarding's major titles: Kim took gold at the 2018 Winter Olympics as well as X Games Aspen 2019 and the 2019 FIS Snowboarding World Championships. She won her first U.S. Open halfpipe title in 2016 at age 15 and was listed among the 'Most Influential People of 2018' by TIME Magazine. Welcome back!
Men's Snowboard Halfpipe: Monster Energy's Yuto Totsuka Takes 1st Place with Epic Run
In the Men's Snowboard Halfpipe event, a field of twelve international top athletes took on the Laax Superpipe. As riders from Canada, Germany, Switzerland, Japan, Australia, and the United States went head-to-head in the night session, one thing became apparent: Even the global pandemic can't hold back the rapid evolution of halfpipe snowboarding that manifested in ultra-technical runs replete with 1440-degree rotations, technical switch tricks and never-been-done moves.
But as the action progressed in the final session, it all boiled down to a storied rivalry: Monster Energy's Totsuka against Australian halfpipe phenom Scotty James. On their last encounter at the 2020 U.S. Open, it was Totsuka who gained the upper hand after trailing James for several seasons. But straight out the gate, James was back to dominant form at Laax Open 2021. A flawless run propelled James to the top of the leaderboard with a 93.25-point score, leaving Totsuka in close second place at 90.25 points.
When it all came down to his second run, next-generation ripper Totsuka needed to show the judges something they had never seen before. And he did: Dropping into the Laax Superpipe, Totsuka started his run with a massive frontside double cork 1440 right into a never-been-done combo of switch frontside double cork 1260 into a switch backside double cork 1080, followed by a backside 1260 and frontside 1260 for the weekend's highest score of 95.25 points and first place.
"I'm super happy to make the double cork into the 1080 for the very first time in my life and take the win today," said Totsuka upon taking first place in the Men's Snowboard Halfpipe final at Laax Open 2021 on Saturday.
Known as one of the pacesetters of halfpipe snowboarding's evolution, Totsuka has already earned FIS World Cup Crystal Globe wins in 2018 and 2019, as well as the coveted 2020 U.S. Open title. Looking ahead, the reigning Japanese national halfpipe champion is set to return to competition at X Games Aspen next weekend. The rookie already owns two X Games silver medals – will this be the year for Totsuka to claim his first X Games gold? Stay tuned!
Download Photos for Editorial Use.
Speaking of X Games, prepare for the greatest winter sports spectacle kicking off in less than one week from now. X Games Aspen 2021 will bring together elite athletes across ski and snowboard disciplines on Buttermilk Mountain in the heart of the Rocky Mountains for the 20th-consecutive year from January 29-31, 2021. Expect the world's best performances across Big Air, Slopestyle, Halfpipe, and Knuckle Huck disciplines. For the first time, the live action will be supplemented by the virtual X Fest fan experience for a chance to win prizes, enjoy exclusive content, and connect with X Games sponsors including Monster Energy.
For more on X Games Aspen 2021 and the Monster Energy snowboard team, visit http://www.monsterenergy.com. Follow Monster Energy on YouTube, Facebook, Instagram, Twitter for exclusive behind-the-scenes looks from the 2021 snowboard season.
###
About Monster Energy
Based in Corona, California, Monster Energy is the leading marketer of energy drinks and alternative beverages. Refusing to acknowledge the traditional, Monster Energy supports the scene and sport. Whether motocross, off-road, NASCAR, MMA, BMX, surf, snowboard, ski, skateboard, or the rock and roll lifestyle, Monster Energy is a brand that believes in authenticity and the core of what its sports, athletes and musicians represent. More than a drink, it's the way of life lived by athletes, sports, bands, believers and fans. See more about Monster Energy including all of its drinks at http://www.monsterenergy.com.