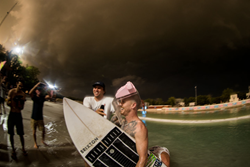 WACO, Texas (PRWEB) July 02, 2019
Monster Energy congratulates team rider Christopher 'Chippa' Wilson on taking first place at the second annual Stab High invitational surf competition on Saturday, June 29. Supported by Monster Energy as the official drink sponsor in cooperation with Stab international surf magazine, the contest in an artificial wave pool is dedicated to pushing the progression of aerial-focused freestyle surfing.
In front of a festival crowd by the pool and thousands of viewers connected via live stream, the 31-year-old from Cabarita Beach, Australia pulled the weekend's most stylish and progressive aerial stunts during a highly contested final session to walk away with first place in the winner-takes-all contest.
In the world of surfing, aerial moves present the next level of progression. But perfect wave conditions for aerials – consistent enough to host a fair contest – are difficult to find in the wild. This is where artificial wave facilities like BSR come in: Built by American Wave Machines and designed by professional surfers Jamie O'Brien and Cheyne Magnusson, the machine in Waco consistently delivers ideal waves in a 240-feet wave-generating area for next-level airs courtesy of the world's leading freestyle surfers.
Stab High made its debut in 2018 to a phenomenal response from the core surf scene. This weekend, the innovative contest returned with a field of 24 freestyle surfers – and the introduction of the all-female Ladybirds surf competition – to Barefoot Ski Ranch (BSR) in Waco, Texas. The invited riders included last year's champion Noa Deane, runner-up Wilson, plus Big Air winner and Monster Energy rider Eithan Osborne next to an elite crew of aerial specialists. Their mission: Throw down the highest and most difficult aerial tricks on the world's largest air section in a man-made wave facility.
Saturday's heated qualifier session gave riders a chance to hit four right-side and four left-side waves, plus one bonus wave of their directional preference. The panel of five judges scored aerial moves based on height, speed, style, distance, progression, creativity and clean landing. Each judge awarded successful aerials with a score from 1–10, creating a maximum score of 50 points for each attempt. Overall scores were computed by adding together the best attempt on each side for a possible 100 points in total.
With only the top six riders advancing to the finals, the motto was 'go big, or stay home' right from the start. After taking home second place last year, Wilson returned to Texas ready to battle and blazed into the final six with a deep bag of tricks, joined by last year's Big Air event winner and Monster Energy teammate Osborne. As an incoming tornado darkened the skies above the wave pool, there was no time to lose and riders began stacking scores on their final round waves.
Wilson found himself in choppy waters in the finals and missed his first two right-side wave attempts. Rookie pro Kevin Schulz nailed a McTwist for 40 points on his opening run, so Wilson needed a massive score to get back in the mix.
He found it with a perfect varial shuv-it that netted a 38-point score, before teammate Osborne pulled a huge frontside Madonna air. When it all came down to left-side waves, Wilson unleashed a high-flying lien full rotation above the lip for the day's highest score at 42 points. Taking the lead, Wilson followed up with a stalefish full rotation, poked-out slob air and technical frontside shuv-it and finished in first place with 80 points overall.
The contest wrapped up just in time before the incoming storm shut down the rest of the event, including the Freak Peak best trick contest. Undeterred by the blustering winds, the crowd in Waco proceeded to celebrate Wilson as the new Stab High 2.0 champion long into the night.
Download photos for editorial use.
For more Monster Energy surf action visit http://www.monsterenergy.com and follow Monster Energy on Facebook, Instagram, Twitter and YouTube for exclusive updates.
About Monster Energy
Based in Corona, California, Monster Energy is the leading marketer and distributor of energy drinks and alternative beverages. Refusing to acknowledge the traditional, Monster Energy supports the scene and sport. Whether motocross, off-road, NASCAR, MMA, BMX, surf, snowboard, ski, skateboard, or the rock and roll lifestyle, Monster Energy is a brand that believes in authenticity and the core of what its sports, athletes and musicians represent. More than a drink, it's the way of life lived by athletes, sports, bands, believers and fans. See more about Monster Energy including all of its drinks at http://www.monsterenergy.com.