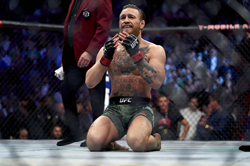 "I'm excited about the future. I'm not going to dwell on this victory. It's back in the gym and back to work. Who is next doesn't matter, the 'when' is more interesting." Conor McGregor
LAS VEGAS (PRWEB) January 19, 2020
He is back! Monster Energy congratulates Conor "The Notorious" McGregor on his first-round TKO victory against Donald "Cowboy" Cerrone at UFC 246 in Las Vegas on Saturday night. In the main event fight at sold-out T-Mobile Arena, the 31-year-old mixed martial arts icon from Dublin, Ireland, demolished his opponent within only 40 seconds for a successful comeback to UFC fighting after a 15-month hiatus.
As one of the most anticipated fights in recent history, UFC 246 drew an audience of over 19,000 spectators at T-Mobile arena and millions watching via pay-per-view across the globe. The stakes were high for former two-division champion McGregor, who was looking to make a fresh start in the UFC after his lightweight title bout loss to Khabib Nurmagomedov in October 2018.
McGregor chose a certified UFC legend as the opponent in his comeback bout: Donald "Cowboy" Cerrone is part of Monster Energy's roster of elite UFC athletes and holds the records for most wins (23), most finishes (16), and post-fight bonuses (18) in UFC history. Plus, the 36-year-old who trains at his legendary BMF Ranch in New Mexico had taken on every fight offered over the last years and stepped into the Octagon ten times since 2016.
Adding to the challenge, McGregor made his return in a new weight class. He was last seen fighting at 155 pounds and was now facing Cowboy in the welterweight division. This had UFC pundits asking what McGregor at 170 pounds would look like?
Fast, aggressive and extremely dangerous is what it looked like. Starting off the fight, McGregor exploded out of his corner and attacked Cerrone with a winging left hand. Cerrone managed to duck the blow and the two fighters locked into a clinch, during which McGregor surprised Cowboy with punishing shoulder blows that bloodied his nose.
Already bleeding a few seconds into the fight, Cerrone stepped back, only to be caught by a brutal left kick to the chin that dropped him to the ground. It only took a few more seconds for McGregor to finish Cowboy off with punches on the ground before referee Herb Dean ruled the fight a TKO at the 00:40 mark.
It was over so fast, Cerrone (36-14, 1 NC) did not land a single strike. Draped in the flag of his native Ireland, McGregor celebrated the victory – his first since taking the lightweight title from Eddie Alvarez at UFC 205 – in front of the capacity crowd at T-Mobile Arena.
"I like this division. I feel really good. But I came out of here unscathed. I'm in shape. We've got work to do to get back to where I was," said McGregor upon winning the main event fight at UFC 246 in Las Vegas on Saturday. He also found words of respect for his opponent. "Thank you Cowboy, I appreciate you. You are a legend in this game."
Saturday night's victory brings McGregor's professional career record to 22-4 and adds another milestone achievement. "I made history here tonight. I set another record. I'm the first fighter in UFC history to get knockout victories at featherweight, at lightweight and now welterweight," said McGregor in his post-fight interview inside the Octagon.
Stopping Cowboy in 40 seconds marks the second-fastest win of McGregor's career, right behind his 13-second knockout of Jose Aldo at UFC 194 in December 2015. In his storied career, McGregor has set new pay-per-view records in combat sports, including the boxing match against eleven-time five-division boxing world champion Floyd Mayweather Jr. watched by 5 million viewers in August 2017. Decorated with multiple Fighter of the Year awards, McGregor became the first UFC fighter to simultaneously hold championships in two weight divisions (lightweight and featherweight).
So what's next for McGregor? In his ringside interview on Saturday night, McGregor said he will be keeping his options open in the welterweight division, where reigning UFC Welterweight Champion Kamaru Usman and BMF Belt holder Jorge "Gamebred" Masvidal are high-profile targets. "Any one of these fools can get it," said McGregor. "All of them. Every single one. It does not matter."
At the same time, MMA experts including UFC President Dana White predict a rematch between McGregor and Khabib Nurmagomedov for the 155-pound title after their last bout broke pay-per-view records for the sport. Whatever happens, the game has changed now that Notorious is back.
"I'm excited about the future. I'm not going to dwell on this victory. It's back in the gym and back to work. Who is next doesn't matter, the 'when' is more interesting," McGregor said in Las Vegas on Saturday night, adding: "The whole world lights up when I fight, so I want to get back out there again. Soon enough, we'll see what happens."
Conor "The Notorious" McGregor and Donald "Cowboy" Cerrone are amongst Monster Energy's elite UFC team along with Jorge "Gamebred" Masvidal, Jon Jones, Donald "Cowboy" Cerrone, Daniel Cormier, Dominick "Dominator" Cruz, Chris 'The All American' Weidman, Tyron "The Chosen One" Woodley, Max Holloway, Yair Rodriquez, T.J. Dillashaw, Jessica-Rose Clark, Li Jingliang and Gökhan Saki.
For more on Conor "The Notorious" McGregor and Monster Energy's MMA athletes visit http://www.monsterenergy.com Follow Monster Energy on YouTube, Facebook, Instagram and Twitter.
###
About Monster Energy:
Based in Corona, California, Monster Energy is the leading marketer and distributor of energy drinks and alternative beverages. Refusing to acknowledge the traditional, Monster Energy supports the scene and sport. Whether motocross, off-road, NASCAR, MMA, BMX, surf, snowboard, ski, skateboard, or the rock and roll lifestyle, Monster Energy is a brand that believes in authenticity and the core of what its sports, athletes and musicians represent. More than a drink, it's the way of life lived by athletes, sports, bands, believers and fans. See more about Monster Energy including all of its drinks at http://www.monsterenergy.com.