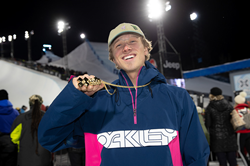 ASPEN, Colo. (PRWEB) January 25, 2020
Way to start the world's biggest snow sports spectacle! Monster Energy congratulates its team of freeski and snowboard athletes on a strong performance on day one of X Games Aspen 2020. Monster Energy riders claimed podium spots in all three events contested on Thursday night at Buttermilk Mountain in Aspen, Colorado.
In the first-ever Ski Knuckle Huck at a Winter X Games, 22-year-old Colby Stevenson from Park City, Utah, took home the gold medal in his X Games debut. Next, the spectacular Monster Energy Men's Snowboard SuperPipe final ended with Yuto Totsuka from Yokohama, Japan, claiming his second silver medal in the event. And capping off an amazing first day at X Games Aspen 2020, 15-year-old Kokomo Murase from Japan rose finished in second place in the Pacifico Women's Snowboard Big Air.
The 19th consecutive X Games in the heart of the Rocky Mountains is here to stoke fans with premium action sports and musical performances in a festival atmosphere from Thursday to Sunday. Presented by Monster Energy as the long-time energy drink partner, X Games Aspen 2020 will award 59 medals in 21 disciplines over the course of four days. Televised live to global audiences, the event features 166 athletes from 21 countries as well as music performances by acclaimed urban and electronic artists.
With energy levels riding high on day one of X Games Aspen 2020, here's how the action unfolded across ski and snowboard disciplines:
Ski Knuckle Huck: Colby Stevenson Takes Gold in X Games Debut Monster Energy Teammates Henrik Harlaut and Quinn Wolferman Take Second and Third For a Full Sweep
Kicking off Thursday night's competitions at X Games Aspen, the brand-new Ski Knuckle Huck event showcased creative freestyle moves off the Big Air ramp's roll-over, also called the 'knuckle' where Monster Energy's Colby Stevenson Took Gold and Henrik Harlaut and Quinn Wolferman took second and third in what would have been a full podium medal sweep except Knuckle Huck only awards one gold medal. Contested as a 20-minute jam session, the event attracted a diverse field of riders including Big Air experts next to park skiers and urban terrain specialists.
Monster Energy's Henrik Harlaut from Sweden came into the event as a crowd favorite, known for his stylish and spontaneous approach to freestyle skiing. The five-time Big Air gold medalist started with a spectacular trick creation; a nose press into a switch frontflip/540, which he dubbed the 'Griselda Flip'.
But Harlaut suddenly faced heat from his Monster Energy teammate, 22-year-old Colby Stevenson from Park City, Utah, who clinched the lead with a technical left 540 into a switch butter 720 Japan out in his first start at an X Games.
Harlaut fired back with switch left 180 to nose butter cork 1080, but Stevenson retained the upper hand with a switch left 360 into 180 into tail butter 900 stalefish.
On the last attempt of the session, Harlaut had one more chance to claim the win and make history by claiming what would have been his 12th medal at X Games, the most ski medals in history. Digging deep into his bag of tricks, Harlaut pulled out a switch left 180 to nose butter double cork 1080 – potentially the trick of the night – but lost the handle on the landing. This sealed the victory for Colby Stevenson in the winner-takes-all event and he received the brass knuckle gold chain as the official Ski Knuckle Huck winner in front of the high-energy crowd on Buttermilk Mountain.
"This feels unreal! I have been dreaming of this since I was a kid. To be out here with all of my best friends sending it over the knuckle is too good to be true," said Colby Stevenson upon winning gold in his X Games debut at Aspen 2020 on Thursday night. Stay tuned when the US Ski Team member, who one week ago finished third in Slopestyle at the Ski Slopestyle World Cup in Seiser Alm, Italy, returns in Men's Ski Big Air and Men's Ski Slopestyle this weekend.
Men's Snowboard SuperPipe: Monster Energy's Yuto Totsuka Battles into Second Place
Keeping the snow action going, the capacity crowd in Aspen witnessed the highly contested Monster Energy Men's Snowboard SuperPipe final. Eight of the world's best freestyle snowboarders battled it out in the 600-foot long halfpipe with its 22-foot high walls. As a major change this year, riders were no longer scored on their best run of the final, but on overall impressions in a new 35-minute jam session format.
The biggest rivalry of the night, however, was not new. Monster Energy's Yuto Totsuka from Yokohama, Japan, again went head-to-head against Australia's Scotty James. The two riders had just finished a close showdown at the 2020 Laax Open in Switzerland with James taking the win, Totsuka coming in second.
Rising to the challenge as the youngest rider in tonight's final, Totsuka took an early lead with a perfect run featuring frontside double cork 1260 mute, backside 900 mute, frontside 1080, Cab 1080 mute, and frontside 1080 tail grab. But straight out the gate, Scotty James reclaimed the top spot.
Staying close on the Australian's heels, Yuto Totsuka cranked up the level of trick difficulty by opening his run with a high-flying frontside double cork 1440 mute followed by a Cab 1080 nose/tail grab combo. As Scotty James kept rifling off difficult tricks in the final, Totsuka inched closer by adding technical bangers like Cab 1260 double grab and switch backside 1080 to his flawless runs with airs topping out at 15'9" in the air. But ultimately, James maintained his winning streak, as Yuto Totsuka walked away with a strong silver-medal finish.
Thursday night's second-place podium marks Yuto Totsuka's second X Games silver after his successful X Games debut in Aspen last year. Despite his young age, the 18-year-old is a now certified podium threat: Totsuka took home snowboard halfpipe wins at the FIS Snowboard World Cups in Calgary and Mammoth Mountain in Spring 2019 and third place at the 2019 Burton U.S. Open Snowboarding Championships. After the recent 2020 Laax Open, the reigning Japanese national halfpipe champion now ranks second on the FIS Snowboard Halfpipe World Cup leaderboards.
Women's Snowboard Big Air: Monster Energy's Kokomo Murase Takes Home X Games Silver
Rounding out a big first day at X Games Aspen 2020, the Pacifico Women's Snowboard Big Air final saw eight of the world's best freestyle snowboarders sending their most technical aerials over the massive 70-foot long snow jump. With riders hailing from Japan, Canada, Austria, New Zealand, and the United States, Big Air also moved to a 35-minute jam format scored on overall impression for the first time this year.
As the youngest snowboard competitor at this edition of X Games Aspen, 15-year-old Kokomo Murase came into the new jam format with the right mixture of strategy and diverse tricks. As her opening trick, the rookie pro popped a backside 900 tailgrab over the gap, followed by a technical backside 1080 mute on her next attempt. Showing her versatile trick repertoire, Murase landed a double underflip before putting down a perfect backside double cork 1260 mute, a trick she landed as the first girl ever in a competition at X Games Norway 2018.
For her last trick, Kokomo Murase chose a frontside double cork 1080 to earn a strong silver-medal finish, her third X Games Big Air medal (1 gold, 2 silver) in just as many starts. Murase finished closely behind fellow Japanese snowboarder Miyabi Onitsuka taking the win and ahead of Reira Iwabuchi in third for the first all-Japanese podium in Winter X Games history. Right before X Games Aspen 2020, Kokomo Murase claimed second place at the recent Big Air Atlanta event and counts among the upcoming riders to watch on the international snowboard big air circuit.
Also stoking the crowd in Aspen tonight, 18-year-old Zoi Sadowski-Synnott from Wanaka, New Zealand, brought her A-game to the big jump: backside 900 mute, switch backside 900 double cork, and a fast-spinning frontside 900 brought the newcomer within inches of a podium spot and earned her a fourth-place finish.
As the latest addition to the Monster Energy snowboarding team, Sadowski-Synnott already took Slopestyle gold and Big Air silver at X Games Aspen 2019. She also claimed Big Air bronze at the 2018 Winter Olympics, the first Winter Olympics medal for New Zealand since 1992. Watch out for the rookie as she returns alongside Kokomo Murase and teammate Jamie Anderson in Women's Snowboard Slopestyle on Saturday.
Download Ski Knuckle Huck Photos for Editorial Use
Download Men's Snowboard SuperPipe Photos for Editorial Use
Download Women's Snowboard Big Air Photos for Editorial Use
Stay tuned as ESPN, ESPN2, ESPNEWS and ABC will televise a combined 15.5 hours of live X Games Aspen competition, which will also be accessible via the ESPN App and WatchABC to viewers who receive their video subscription from an affiliated provider. In addition, all 15.5 hours of live content, plus exclusive competitions, musical performances and X Games Extra shows will be streamed on the @XGames YouTube, Facebook and Twitter pages.
Also visit http://www.monsterenergy.com for exclusive updates from X Games Aspen 2020 including photos, videos, and contest results as they happen. Follow Monster Energy on Facebook, Instagram, Twitter for exclusive behind-the-scenes looks in Aspen 2020.
###
About Monster Energy
Based in Corona, California, Monster Energy is the leading marketer and distributor of energy drinks and alternative beverages. Refusing to acknowledge the traditional, Monster Energy supports the scene and sport. Whether motocross, off-road, NASCAR, MMA, BMX, surf, snowboard, ski, skateboard, or the rock and roll lifestyle, Monster Energy is a brand that believes in authenticity and the core of what its sports, athletes and musicians represent. More than a drink, it's the way of life lived by athletes, sports, bands, believers and fans. See more about Monster Energy including all of its drinks at http://www.monsterenergy.com