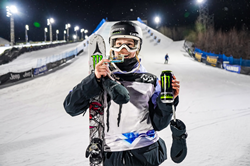 It's so cool how much women's sports, and skiing in particular, have progressed in the last year. The jump here is so good every year; it's just awesome to have something where we can push our limits." - Megan Oldham
ASPEN, Colorado (PRWEB) January 28, 2023
The biggest spectacle in winter action sports is back in full force! Monster Energy congratulates its team of freeski and snowboard athletes on a strong performance on the first day of X Games Aspen 2023. On Friday, Monster Energy riders claimed a total of seven medals (three gold, one silver, and three bronze) across four contest events at Buttermilk Mountain in Aspen Snowmass, Colorado.
X Games started on a high note with Monster Energy riders sweeping the podium in Jeep Women's Snowboard Slopestyle and ended with a historical moment. The down-to-the-wire session saw 21-year-old Zoi Sadowski-Synnott defending her gold medal on the very last run of the competition. The New Zealand ripper was joined on the podium by 22-year-old Tess Coady with a sliver and the first Australian woman to earn a Women's Snowboard Slopestyle medal. Rounding out the sweep, 18-year-old Kokomo Murase from Gifu, Japan, clinched bronze.
In Women's Ski Big Air, 21-year-old Megan Oldham from Newmarket, Canada, makes history by becoming the first woman ever to land a triple cork in competition. Monster Energy's Oldham stomped a leftside triple cork 1440 to earn a perfect score of 50 and the gold medal in front of the high-energy crowd.
In the creative Chipotle Ski Knuckle Huck contest, 25-year-old Colby Stevenson from Park City, Utah, finessed his way to a bronze medal.
In the third edition of the Special Olympics Unified Skiing racing event at X Games, Monster Energy's Hanna Faulhaber teamed up with 33-year-old Special Olympics athlete Haldan Pranger to win the gold medal with the fastest combined time on the course. Monster Energy rider David Wise from Reno, Nevada, once again teamed up with Tanner Jadwin, from Glenwood Springs, Colorado, for the second consecutive bronze in the discipline.
Here are the highlights for team Monster Energy on day one of X Games Aspen 2023:
Women's Snowboard Slopestyle: Monster Energy's Zoi Sadowski-Synnott Claims Gold, Tess Coady Silver, and Kokomo Murase Bronze
Earning the first gold medal of the day was Zoi Sadowski-Synnott from Wanaka, New Zealand, who found herself in second place but was able to clinch first in an intense final, making her the winner for two consecutive years in a row. Dropping in as the final rider of the day, the Olympic gold medalist from Beijing 2022 showed her grit and strategy by landing a perfect run on her fourth and final run amid adverse conditions.
Heading into the rail section, Sadowski-Synnott started with a 50-50 gap to boardslide the rainbow rail, frontside lipslide pretzel the down rail, and gap to Cab 270 to fakie the long rail. In the jumps, she landed a Cab underflip mute over the shark fin, followed by frontside 720 mute, backside 900 tailgrab, and switch backside 900 Indy off the money booter for the walk-off victory.
"Honestly, I can't really believe it! This could have gone any way today. Everyone is absolutely ripping," said Sadowski-Synnott upon winning Women's Snowboard Slopestyle gold at X Games Aspen 2023, adding: "Stoked for Tess and Kokomo and proud of what we were able to do under these conditions."
Friday's victory marks the fifth X Games gold medal and fourth Slopestyle gold for Sadowski-Synnott, bringing her overall count to eight X Games medals (five gold, two silver, one bronze). And she's not even done: Watch for the Kiwi ripper defending last year's gold in the Women's Snowboard Big Air final on Saturday night!
Also rising to the podium, Australia's Tess Coady put together a perfect run on her third attempt: Starting off with a 50-50 to boardlide fakie on the kink rail, she followed up with a Cab 180 180 off, and switch boardslide 270 on the final rail. In the jumps, she landed Cab underflip Indy, frontside underflip Indy, switch backside 900 mute, and a backside double cork 1080 Indy grab for a strong silver-medal finish at her second X Games.
Silver marks the first X Games medal for Coady and the first medal in the Women's Snowboard Slopestyle discipline for an Australian rider. Last year, she earned the slopestyle bronze medal at the 2022 Beijing Olympics.
Completing the full podium sweep for team Monster Energy, 18-year-old Kokomo Murase from Gifu, Japan, also adapted to the challenging conditions to stomp a clean run: In the rail section, she posted 50-50 revert, Cab 180 on backside 360 off, and 50-50 to lipslide pretzel. She then hit the shark fins by way of switch backside 180 Indy into a huge backflip melon, followed by a truck driver 1080 and backside 900 mute grab for the bronze medal.
Murase now owns six X Games medals (1 gold, 3 silver, 2 bronze). She made history as the youngest rider to ever medal at Winter X Games when she took Big Air gold at X Games Norway 2018. She will be competing in Saturday's Big Air, so stay tuned!
Women's Ski Big Air: Monster Energy's Megan Oldham Makes History By Becoming the First Woman to Land a Triple Cork in Competition
Monster Energy's Megan Oldham from Newmarket, Canada, made history despite having a tough time finding her groove in the final. The back-to-back Big Air silver medalist from X Games Aspen 2021 and 2022 was facing difficulties when it came to sticking a clean landing.
But right when it counted, Oldham fired back by not just posting a perfect trick, but a historic never-been-landed-before trick: On her third attempt, the 21-year-old made history by landing a leftside triple cork 1440 mute grab to earn a perfect score of 50. This marks the first triple cork ever performed in a women's ski or snowboard contest, a huge moment in action sports history!
For her second trick, Oldham 'toned it down' for a huge rightside double cork 1260 safety grab to bring her overall score to 91 points. She took the win one point ahead of defending champion Ledeux at 90 points.
"I'm just so happy to be here and be able to put on a show for you guys. It's so cool how much women's sports, and skiing in particular, have progressed in the last year. The jump here is so good every year, it's just awesome to have something where we can push our limits," said Monster Energy's Oldham upon taking gold in Women's Ski Big Air on Friday. "I've been feeling really good this week and trying to stay healthy and keep in a good place so I can do this trick. So, I'm really happy it all came together!" said Oldham.
Friday night's gold marks the sixth X Games medal for Oldham (two gold, two silver, two bronze). She scored surprise gold at X Games Norway 2020, followed by two silvers at Aspen 2021 and 2022. Also, watch out for her in Women's Ski Slopestyle this weekend!
Chipotle Ski Knuckle Huck: Monster Energy's Colby Stevenson Earns Bronze Medal
The capacity crowd's energy boiled to new heights as the creative Chipotle Ski Knuckle Huck contest got underway. In a 20-minute jam session, eight riders took turns 'hucking' their most stylish and technical maneuvers off the Big Air ramp's roll-over, also called the 'knuckle'.
Winners were decided on overall impression in a stacked field, including last year's Golden Knuckle winner Quinn Wolferman from Missoula, Montana. Also in the mix, freeski icon and 2021 Knuckle Huck gold medalist Henrik Harlaut came to throw down despite nursing a broken thumb. And not to be counted out, Park City's Colby Stevenson returned for more after winning Knuckle Huck in his rookie debut at X Games Aspen 2020.
As the session got underway, the crowd celebrated every trick in a high-energy festival atmosphere. Performances soon left no doubt: This was the most progressive Knuckle Huck ever contested at X Games Aspen. Why? Because of tricks like certified Olympic gold medalist Alex Hall hucking 360 butter to misty flip fakie out and a new sideways body slide to backside 180 out.
Or, how about Harlaut sending it deep with a nosebutter double cork 1260 and a switch tailbutter to 360 Cuban grab? The progression was on full display, including defending champion Wolferman throwing down a
360 tail butter to switch overflip with so much control. And when it came to sending it big off the knuckle, Monster Energy's Stevenson brought moves like left switch tailbutter 180 to nosebutter 900 leading Japan, right switch tailbutter 180 to nosebutter 900 Japan, and nose butter double cork 1260.
Ultimately, Stevenson walked away with the bronze medal in this elite field. This brings Stevenson's X Games count to three medals after winning double gold (Slopestyle and Knuckle Huck) in his 2020 rookie debut. Now stay tuned for Stevenson to bring the heat in Men's Ski Slopestyle this weekend!
Special Olympics Unified Skiing: Haldan Pranger and Hanna Faulhaber Take Gold
Continuing the action on Buttermilk Mountain, the Special Olympics Unified Skiing competition returned for the third year at Winter X Games. In the downhill racing event, teams were each composed of one professional action sports athlete, including X Games and Olympic medalists, and one Special Olympics action sports athlete.
Battling for X Games medals, each of the team members took one run on each of the two competition courses, with the professional athletes racing against one another and the Special Olympics athletes racing one another. The combined best times of each team determined the final results.
When all was said and done, the winning Special Olympics Unified Skiing team consisted of 33-year-old Haldan Pranger from Lakewood, Colorado, and Monster Energy rider Hanna Faulhaber from Basalt, Colorado. While Faulhaber stepped into this ski racing competition for the first time, Pranger ranges as a top contender since Special Olympics Unified Skiing was first introduced at X Games Aspen and earned silver medals in 2021 and 2022.
This year, Pranger wanted to improve on silver and rallied Faulhaber to a gold-medal performance. When all was said and done, the Pranger-Faulhaber team clocked the fastest combined time of the day at 26.305 seconds for the X Games gold medal.
"Third time's the charm for sure," said Pranger, who competes in 13 different sports with Special Olympics, but is most passionate about alpine skiing.
"Yeah, I think I'll stick to the SuperPipe and dabble here and there in ski racing," said Monster Energy's Faulhaber, who took bronze in Women's Ski Superpipe at Aspen 2022 and will be competing in the discipline this year. Speaking on the recipe for victory, she praised her teammate: "I don't think I could have done it without him. He gave me so many pointers I never knew about; it was all him!"
Also claiming a podium spot, Monster Energy rider David Wise from Reno, Nevada, once again teamed up with Tanner Jadwin, from Glenwood Springs, Colorado. Last year, the duo took home bronze in the Special Olympics Unified Skiing event. Maintaining the momentum, the Jadwin-Wise team finished the course in a combined time of 27.649 seconds to take their second consecutive bronze medal in the event.
Monster Energy's Wise is a two-time Olympic gold medalist and will be competing in Monster Energy's Men's Ski Superpipe on Sunday.
X Games Aspen 2023 is the 66th edition of X Games and the 22nd consecutive winter games on Buttermilk Mountain in Aspen Snowmass. Supported by Monster Energy as the official energy drink partner of X Games, this year's event includes almost 90 of the world's best action sports athletes from 19 countries, competing for a total of 42 medals across 14 disciplines.
Stay tuned for more X Games Aspen 2023! Over the course of three action-packed days, 13.5 hours of competitions from X Games Aspen 2023 will be broadcast live on ESPN and ABC, supplemented by live coverage and behind-the-scenes content across digital X Games properties @xgames.
For the first time this year, all events will stream live for free on YouTube and Twitch. The event will also be broadcast internationally by ESPN's syndication partners. Last winter, X Games Aspen 2022 was televised globally in 192 countries and territories to more than 500 million homes.
Visit http://www.monsterenergy.com for exclusive updates from X Games Aspen 2023, including photos, videos, and contest results as they happen. Follow Monster Energy on YouTube, Facebook, Instagram, Twitter and TikTok for exclusive behind-the-scenes looks at Buttermilk Mountain.
###
About Monster Energy
Based in Corona, California, Monster Energy is the leading marketer of energy drinks and alternative beverages. Refusing to acknowledge the traditional, Monster Energy supports the scene and sport. Whether motocross, off-road, NASCAR, MMA, BMX, surf, snowboard, ski, skateboard, or the rock and roll lifestyle, Monster Energy is a brand that believes in authenticity and the core of what its sports, athletes, and musicians represent. More than a drink, it's the way of life lived by athletes, sports, bands, believers, and fans. See more about Monster Energy including all of its drinks at http://www.monsterenergy.com.