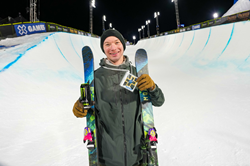 "Honestly, I just wouldn't still be out here if I didn't think I had a chance. I'm playing the game because I love it." - David Wise
ASPEN, Colo. (PRWEB) January 30, 2023
Way to wrap up X Games Aspen 2023! Monster Energy congratulates its team of freeski and snowboard athletes on gold-medal performances and boundary-pushing tricks on the third and final day of X Games Aspen 2023. On Sunday, Monster Energy riders claimed a total of five medals (two gold, one silver, and two bronze) across four contest events at Buttermilk Mountain in Aspen Snowmass, Colorado.
Monster Energy clinched gold in the first event of the day when Megan Oldham from Newmarket, Canada, took the win in Jeep Women's Ski Slopestyle. Proving that age is just a number, 32-year-old David Wise from Reno, Nevada, took the gold medal in Monster Energy Men's Ski SuperPipe, despite entering X Games Aspen 2023 as the oldest competitor.
This wraps up a history-making edition of the Winter X Games in Aspen! Ultimately, the Monster Energy team took home 18 X Games Medals (seven gold, three silver, and eight bronze) during three action-packed days in the world's biggest winter action sports showcase.
Here are the highlights for Team Monster Energy on the final day of X Games Aspen 2023:
Jeep Women's Ski Slopestyle: Monster Energy's Megan Oldham Goes Double-Gold
Monster Energy claimed the first gold medal of the day in Sunday's opening event: Jeep Women's Ski Slopestyle unfolded under bluebird skies and pristine riding conditions. And when all was said and done, no rider was able to knock Megan Oldham from Newmarket, Canada, from the top spot.
After already making history and winning gold in Big Air on Friday with a never-been-done triple cork, Oldham dropped into the Slopestyle course with impeccable rail game and double cork rotations in the jumps. Rail highlights included 270 on pretzel and 270 on the down rail. Her jump section mixed rotations and difficult tricks on the shark fin obstacles, including alley-oop rodeo and left cork 900, before hitting the jumps with switch double cork 900 and a thundering rightside double cork 1260 as the final trick for the undisputed win.
"I think having a good night in Big Air put me in a good mindset going into Slopestyle. I had good energy, and my body has been feeling pretty good this week. I'm glad to put a run together here and get the double gold!" said Oldham upon taking the win in Jeep Women's Ski Slopestyle at X Games Aspen 2023.
Oldham claimed Slopestyle gold as her second gold medal at X Games Aspen 2023. It's a rare feat: Previously, only one woman had won Ski Big Air and Slopestyle at the same X Games, namely Tess Ledeux at Aspen 2022. Oldham now owns seven X Games medals (three gold, two silver, and two bronze) and has medaled in each of her last six X Games starts.
Chipotle Snowboard Knuckle Huck: Monster Energy's Halldor Helgason Takes Silver, Dusty Henricksen Claims Bronze
The final night of X Games Aspen 2023 started with a display of pure snowboard innovation in the Chipotle Snowboard Knuckle Huck contest. In the 30-minute jam session, eight of the world's best snowboarders 'hucked' their most progressive moves off the Big Air jump ramp's roll-over, also called the 'knuckle'. The field of riders featured young guns, Olympic medalists, as well as legends of freestyle snowboarding.
Speaking of legends, the roster included 32-year-old style icon Halldor Helgason from Akureyri, Iceland, who proceeded to huck it with signature style for a spot on the podium. The judges enjoyed Helgason's creative moves like 540 handstand drag and a burly nollie double front flip, plus a frontside millerflip 720 sent deep down the landing. That's why the Icelander with the signature mustache walked away with the silver medal. Legendary!
Helgason made X Games history in 2010 by winning Snowboard Big Air with a perfect score of 100, making him the first rider from Iceland to medal at X Games. The proprietor of Lobster Snowboards, Helgason now owns two X Games medals (one gold and one silver).
Also flexing his Knuckle Huck skills, 19-year-old Dusty Henricksen from Mammoth Lakes, California, made his presence felt in the session. Braving the nighttime mountain air in just a t-shirt, the Team USA athlete put down technical moves with explosive pop, such as 360 butter to 540 cork and back noseblunt butter to switch rodeo 720. For his final trick, Henricksen soared through the air upside down, trying to high-five his younger brother, splayed on the knuckle. The judges liked the creativity and gave Henricksen the bronze medal.
In 2021, Henricksen made his X Games debut by claiming gold in Snowboard Slopestyle and Knuckle Huck. He followed up with bronze in Knuckle Huck in 2022 and now owns four X Games medals (2 gold, 2 bronze).
Men's Ski Big Air: Monster Energy's Birk Ruud Claims Bronze
As the sun set over Buttermilk Mountain, the Men's Ski Big Air final stoked the crowd with the most innovative aerials ever showcased at a Winter X Games. Stepping into the elite field of riders, Norwegian Monster Energy rider Birk Ruud from Oslo dropped in as the reigning Olympic gold medalist in the Big Air discipline. But the 22-year-old had not competed in an X Games in three years, and the competition this year was off the charts.
Charging the 70-foot jump, Ruud made a strong entry by landing a forward left double bio 1980 on his first attempt for 44 points. Boosting his score, he put down a flawless switch triple cork 1980 on Run 2 for 46 points and a total score of 90 points.
But as the rest of the field commenced to throw down boundary-pushing airs with 2160-degree rotations, Ruud found himself sitting in third place despite the high score. Putting it all on the line, he landed his brand-new switch triple 2160 on his last attempt for 48 points. The fact that 92 points still earned Ruud third place is a testament to the high level of riding in this historic Ski Big Air final. It was wild!
Sunday's Ski Big Air bronze marks the fifth X Games medal for Ruud (two gold, two silver, and one bronze).
Monster Energy Men's Ski SuperPipe: Monster Energy's David Wise Claims 5th Career Gold
They say age is just a number, and 32-year-old David Wise from Reno, Nevada, just made that point in the Monster Energy Men's Ski SuperPipe final. Despite entering X Games Aspen 2023 as the oldest competitor, the two-time Olympic gold medalist posted the highest airs and most versatile rotations to claim his fifth gold medal at X Games.
For the final event of this year's X Games Aspen, the weather finally calmed down, and the enormous SuperPipe with its 22-foot walls was running smoothly. A new generation of SuperPipe skiers was gunning for the podium in the 30-minute jam session, with winners decided on the best single run. But at the end of the day, Wise, as the most accomplished rider in the field, posted the most stacked run of the night.
On his second attempt, Wise put together a flawless run featuring rotations in all four directions executed at high amplitude well above 15 feet for the win. Dropping into the SuperPipe backward at full speed, Wise landed switch right 900 lead tail, switch left double cork 1080 taipan, right cork 900 lead tail, left double cork 1260 mute, and right double cork 1260 mute for the gold medal, his fifth in the discipline.
"Honestly, I just wouldn't still be out here if I didn't think I had a chance. I'm playing the game because I love it. I couldn't be more proud to take home the medal here tonight," said Wise upon taking gold in Men's Ski SuperPipe on Sunday.
Wise now owns eight X Games medals: five gold, two silver, and one bronze. He also earned three Olympic medals in the SuperPipe discipline, two gold, and one silver.
Download Day 3 X Games Aspen 2023 High Res Photos here.
And that's a wrap for X Games Aspen 2023. Missed the action from Buttermilk Mountain this weekend? No worries! For the first time this year, all events streamed live and can be rewatched for free on the official X Games YouTube channel and Twitch.
Visit http://www.monsterenergy.com for exclusive content from X Games Aspen 2023, including photos, videos, and contest results as they happen. Follow Monster Energy on YouTube, Facebook, Instagram, Twitter and TikTok for exclusive behind-the-scenes looks at Buttermilk Mountain.
###
About Monster Energy
Based in Corona, California, Monster Energy is the leading marketer of energy drinks and alternative beverages. Refusing to acknowledge the traditional, Monster Energy supports the scene and sport. Whether motocross, off-road, NASCAR, MMA, BMX, surf, snowboard, ski, skateboard, or the rock and roll lifestyle, Monster Energy is a brand that believes in authenticity and the core of what its sports, athletes, and musicians represent. More than a drink, it's the way of life lived by athletes, sports, bands, believers, and fans. See more about Monster Energy including all of its drinks at http://www.monsterenergy.com.