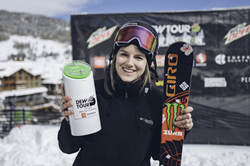 "I stayed on my feet in the first run. I'm just happy to be out here skiing and doing my thing. I like this course better than last year's. It's fun and it's different!" Cassie Sharpe
COPPER MOUNTAIN, Colo. (PRWEB) February 10, 2020
Monster Energy congratulates its team of freeski athletes on a solid performance at the 2020 Winter Dew Tour competition at Copper Mountain, Colorado, this weekend. At the premium resort in the heart of the Rocky Mountains, a total of 150 athletes representing 20 different countries showcased the level of progression in modern-day freeski.
Download photos for editorial use.
In the Women's Ski Modified Superpipe, Canadian Monster Energy team rider Cassie Sharpe took first place in an elite field of riders. When the action moved into the Men's Ski Modified Superpipe final, British-American athlete Gus Kenworthy earned a strong second-place finish. In the progressive Men's Ski Streetstyle event on Saturday night, rookie pro Colby Stevenson sent a banger down the rail to claim the coveted Best Trick medal.
In the Women's Ski Slopestyle final on Sunday, Maggie Voisin from Montana faced inclement weather and the world's top freeskiers to emerge in third place. Monster Energy team riders also took home top honors at the Newschoolers Skier of the Year Awards, including Ferdinand Dahl (Comp Jock of the Year), Tom Wallisch (Hall of Fame Award), as well as the duo of Sarah Hoefflin and Giulia Tanno (Best Female Edit).
Contested for the first time at Copper Mountain resort, the 2020 Winter Dew Tour brought together the world's best male and female skiers and snowboarders. Broadcast live across the globe, the four-day event featured competitions in Modified Superpipe, Slopestyle, and Streetstyle along with Para Snowboard and Team Challenge events. The action-packed weekend also featured brand activations in the fan village as well as concerts including acts such as Phantogram.
Here's how the action unfolded this weekend in Freeski disciplines on Copper Mountain:
Women's Ski Modified Superpipe: Monster Energy's Cassie Sharpe Soars into First Place
In the Women's Ski Modified Superpipe final on Saturday, eight of the world's best halfpipe freeskiers took on an innovative obstacle course under blue skies. Designed by Snow Park Technologies and Woodward Copper, the 'modified' superpipe offered two slopestyle jump obstacles at the top that flowed into a 300-foot traditional halfpipe with 22-foot high walls.
The tightly stacked course required quick reflexes and a deep bag of technical tricks. As it turned out, Monster Energy's Cassie Sharpe had the right formula for the progressive event format. Coming into the final fresh off a win at last weekend's FIS Grand Prix in Mammoth, the 27-year-old from Comox, Canada, sealed her victory on her first run of the day.
Starting her run with technical difficulty, Cassie Sharpe sent a perfectly executed flair over the quarterpipe channel. Keeping her momentum, the 2018 Olympic gold medalist pulled a left 360 off the 22-foot-tall quarterpipe before attacking the superpipe with a backside slash on the lip, huge backside Japan straight air, rightside cork 900 and a massive leftside cork 1080 to switch landing on her last wall for 85.00 points and the win.
"I stayed on my feet in the first run. I'm just happy to be out here skiing and doing my thing. I like this course better than last year's. It's fun and it's different!" said Cassie Sharpe upon winning the Women's Ski Modified Superpipe final at Dew Tour Copper Mountain on Saturday.
With this latest win, Cassie Sharpe is back on victory road after a difficult season start. The sister of freestyle snowboarder Darcy Sharpe suffered a concussion at the season opener in Cardrona in September 2019 and missed the first two World Cup contests. Sharpe returned to competition with a Superpipe bronze medal at X Games Aspen 2020 and followed up with a first-place finish at the 2020 Mammoth Grand Prix, her third time winning the event. A dominant force in vertical freeski, Cassie Sharpe has won back-to-back Crystal Globe titles in Ski Halfpipe in 2018 and 2019 and now owns four X Games medals (2 gold, 2 bronze).
Men's Ski Streetstyle: Monster Energy's Colby Stevenson Wins Best Trick Competition
The most difficult park moves took center stage after the sun set over Copper Mountain in the Men's Ski Streetstyle final. Under the floodlights at Copper Center Village, the progression-oriented event saw a stacked field of riders tackle the tight obstacle course built by Woodward Copper.
Ten of the world's best freeskiers – a mixture of contest skiers, film skiers, rookies and icons – worked the many rails, wall rides, and jib obstacles in a 45-minute jam session. The high-energy crowd witnessed the state of progression in the sport, as riders put down big stunts such as gap-out transfers, k-feds and whirlybirds.
Still buzzing from his double gold medal performance at X Games Aspen 2020, Monster Energy's Colby Stevenson stepped into the session with confidence and a big bag of technical tricks. Right on his first run, the 22-year-old rookie turned heads with a technical front 270 on to switch-up on the transfer rail.
As the streetstyle final intensified, Colby Stevenson kept putting down bangers all over the course and ended up landing what judges would crown the trick of the night: A backslide backswap to backslide into a front 270 out on the Jersey barrier waterfall earned Stevenson the medal for Best Trick in Men's Ski Streetstyle.
Hailing from Park City, Utah, Colby Stevenson is having a breakout 2020 season so far. In his X Games debut at Aspen 2020, he made history as the first X Games rookie to win slopestyle gold and also took top honors in the new Ski Knuckle Huck event. A panel of X Games experts awarded Stevenson the "Best in Snow" award at X Games Aspen 2020 for his stellar performance, which he followed up with a third place at the Ski Slopestyle World Cup in Seiser Alm, Italy, and second place at the Mammoth Mountain Grand Prix last weekend.
Men's Ski Modified Superpipe: Monster Energy's Gus Kenworthy Takes Strong Second Place
The freeski action continued under overcast skies with fresh snow blanketing Copper Mountain on Sunday morning in the Men's Ski Modified Superpipe final. Ten of the most talented skiers from across the world took three runs each down the one-of-a-kind superpipe designed by Snow Park Technologies and Woodward Copper.
Known as one of the best all-around skiers in the world, Monster Energy's Gus Kenworthy came into the final as a two-time Winter Dew Tour champion.
Hailing from Telluride, Colorado, the 29-year-old who competes in ski superpipe, slopestyle and Big Air disciplines brought just the right diverse selection of tricks for the unique superpipe course on Copper Mountain.
On his first run, Kenworthy worked the quarterpipe obstacles at the top of the course with technical aerials and blasted high spins out of the superpipe for a strong 84.66-point score. On his second run, the British-American freeski superstar upped the ante by sending alley-oop 360 over the channel, double cork 1080 over the quarterpipe hip, leftside 360 into the superpipe, massive rightside 1080 tailgrab and a huge switch double cork 1260 on his last wall for 92.66 points and second place behind Noah Bowman in first.
At the recent X Games Aspen 2020, Gus Kenworthy teamed up with Special Olympic athlete Palmer Lyons to win gold in the first ever Special Olympics Unified Skiing event. Kenworthy also owns two silver and three bronze medals from slopestyle, superpipe and Big Air starts at X Games. Outside the snow sports arena, the 2014 Olympic silver medalist has also appeared as an actor in the hit television series 'American Horror Story: 1984'.
Women's Ski Slopestyle: Monster Energy's Maggie Voisin Edges into 3rd Place
As the final snow sports event of the action-packed weekend, Women's Ski Slopestyle was overshadowed by adverse weather conditions. A heaping of fresh snow blanketed Copper Mountain with several inches of fresh powder, creating dangerous conditions on the slopestyle course, especially the jump elements.
Deciding on how to proceed, the ten qualified finalists voted to limit the competition only to the rails section at the top of the course. The fresh snow limited top speeds on the lower part of the course, rendering the jump obstacles too unsafe to continue. Without the spectacular aerial acrobatics factoring into the score, this shifted the focus towards technical prowess and versatility with the winners decided by the best score out of three runs.
Known for her technical rail tricks, Monster Energy's Maggie Voisin from Whitefish, Montana, rose to the challenge. As rail grinds went from appetizers to main course, the 21-year-old served up a perfect first run, including k-fed on the kink rail followed by a 270 out and a 270 on, switch 360 out on the butter box and a switch on to 630 off on the cannon rail for a strong 89.33-point score. Although she upped the difficulty on her third and final run, Voisin could not clinch the landing on the final 630 out and had to settle for third place, with Switzerland's Mathilde Gremaud taking the win.
Maggie Voisin is officially back to competition after undergoing left knee surgery in 2019. One week ago, the U.S. Freeski Pro Team member claimed third place in Women's Ski Slopestyle at the Land Rover U.S. Grand Prix at Mammoth Mountain. She also earned bronze at X Games Aspen 2020 and now holds five X Games medals (1 gold, 1 silver, 3 bronze). In 2018, Maggie Voisin turned heads as the first American rider in history to win Women's Ski Slopestyle gold at X Games.
Monster Energy's Giulia Tanno from Lenzerheide, Switzerland, looked poised for a podium finish at Copper Mountain today, but found herself bumped into fourth place on last attempts. On her third run, Tanno posted a variety of difficult rail tricks, including k-fed switch up, 270 out on the down rail, pretzel out on the butter box and grind 630 off on the cannon rail for 87.00 points and fourth place.
Newschoolers Awards: Monster Energy Athletes Recognized in Key Categories
Monster Energy athletes also took top honors at the 20th Annual Skier of the Year Awards presented by freeski online platform Newschoolers in a ceremony inside Copper's Grand Hall in East Village on Friday night. The awards, which were custom-made ski trophies by Gilson Skis, were voted on by a judge's panel including freeski mainstays such as Will Wesson, Tall T Dan, and Steve Stepp.
Presented to outstanding male and female skiers, the Newschoolers Skier of the Year awards recognized those riders who had made the biggest impact on the ski scene in 2019. Top honorees included Monster Energy's Ferdinand Dahl who took home the Comp Jock of the Year award for an epic 2019-contest season full of podiums. Dahl had freshly joined the Monster Energy freeski team in 2019 and put down a milestone-heavy season. Competitive highlights included slopestyle bronze at X Games Aspen and second place at the 2019 Mammoth Mountain World Cup event.
The price for Ladies' Choice award for Best Female Edit in a video feature included the duo of Sarah Hoefflin and Giulia Tanno for their work in the Faction Team movie titled "The Collective".
Rounding out a night full of epic achievements, Monster Energy's Tom Wallisch was presented the Newschoolers Hall of Fame Award. Wallisch started his career by uploading his unpolished video edits to Facebook and Newschoolers, ultimately generating millions of views. The Pittsburgh-native turned Park City-resident has also won Slopestyle gold at X Games Aspen 2012 and set a world record with a 424-foot rail grind in 2016. Wallisch received the Newschoolers Hall Of Fame/Legacy Award with gratitude as the final trophy of the night.
Thanks again to the entire team and congratulations on a strong showing at Dew Tour Copper Mountain 2020!
Stay connected and visit http://www.monsterenergy.com for exclusive updates during the 2020 snow sports season, including photos, videos, and contest results as they happen. Follow Monster Energy on Facebook, Instagram, Twitter for exclusive behind-the-scenes looks featuring our athlete team.
About Monster Energy
Based in Corona, California, Monster Energy is the leading marketer and distributor of energy drinks and alternative beverages. Refusing to acknowledge the traditional, Monster Energy supports the scene and sport. Whether motocross, off-road, NASCAR, MMA, BMX, surf, snowboard, ski, skateboard, or the rock and roll lifestyle, Monster Energy is a brand that believes in authenticity and the core of what its sports, athletes and musicians represent. More than a drink, it's the way of life lived by athletes, sports, bands, believers and fans. See more about Monster Energy including all of its drinks at http://www.monsterenergy.com.