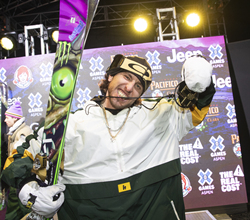 "Tanner is the greatest of all time and for sure the best. Thank you for the inspiration!" Henrik Harlaut
ASPEN, Colo. (PRWEB) January 25, 2020
The crowd witnessed history in the making on day two of X Games Aspen 2020 on Friday. In front of a capacity crowd at Buttermilk Mountain, Monster Energy's Henrik Harlaut claimed gold in the competitive The Real Cost Men's Ski Big Air final. The 28-year-old from Åre, Sweden, thereby set a new all-time record for most X Games medals held by a ski athlete at 12.
In the Women's Ski Big Air final, 29-year-old Sarah Hoefflin from Geneva, Switzerland, battled injury and a stacked field of riders to claim the bronze medal. This marks the third career X Games podium for the Olympic freeski gold medalist.
The 19th consecutive X Games in the heart of the Rocky Mountains is here to stoke fans with premium action sports and musical performances in a festival atmosphere from Thursday to Sunday. Presented by Monster Energy as the long-time energy drink partner, X Games Aspen 2020 will award 59 medals in 21 disciplines over the course of four days. Televised live to global audiences, the event features 166 athletes from 21 countries as well as music performances by acclaimed urban and electronic artists.
Here's how the action unfolded across ski and snowboard disciplines on day two of X Games Aspen 2020:
Women's Ski Big Air: Monster Energy's Sarah Hoefflin Claims Bronze in Epic Final
The crowd at Buttermilk Mountain experienced one of the most spectacular freeski finals of all time in Women's Ski Big Air. Eight of the world's foremost athletes in the sport came to send their best aerial tricks over the 70-foot gap. Countries represented on Friday night included France, Canada, Switzerland, Estonia, United Kingdom and the United States.
Going into the final, Women's Ski Big Air was scored on a new competition format for the first time this year. Whereas winners were previously determined by adding scores for the best right-turning and left-turning trick, judges now looked for the best overall impression in a 25-minute jam session. Due to the change, riders now had about six runs each to send their most difficult aerials and demonstrate their versatile trick repertoire.
Monster Energy's Sarah Hoefflin is no stranger to showcasing a mixed bag of tricks and winning contests. But the winner of Women's Ski Big Air gold at Aspen 2018 came into the contest at a disadvantage: The 29-year-old from Geneva, Switzerland, is currently suffering from plantar fasciitis in both heels. Plus, Hoefflin had also injured her left leg in December 2019 at the World Cup in Atlanta and battled pain throughout practice in Aspen.
But once the pressure was on, Sarah Hoefflin was ready to shine with difficult tricks and strategy. Straight out the gate, she landed a switch leftside double cork 900 safety grab; one of the moves that won X Games gold in 2018. Hoefflin followed up with a rightside double cork 900 mute, followed by a leftside cork 900.
For her last trick of the night, she needed something big and pulled a switch rightside double cork 1080 over the gap. A slightly sketchy landing cost Hoefflin some points, but she still clinched a podium spot with a bronze medal finish.
Friday night's bronze brings Sarah Hoefflin's X Games record to three medals (1 gold, 1 silver, 1 bronze). The Swiss native came into professional skiing relatively late in her career after earning her neuroscience degree in 2013. But he has since built an impressive competitive record: Hoefflin shook up the freeski elite by winning Women's Ski Big Air at Aspen 2018 and that same year claimed the gold medal in slopestyle at the Winter Olympics in Pyeongchang, South Korea. In 2019, she took home Slopestyle silver at X Games Aspen and is looking for another medal in Women's Ski Slopestyle final at Aspen 2020 on Saturday.
Also stoking the crowd in Aspen on Friday night, Monster Energy's Maggie Voisin looked destined for a podium spot after putting down a strong opening. On her first trick, the 21-year-old Montana native unleashed a double cork 1260 safety grab over the gap to take the lead. Voisin followed up with a rodeo 900, and double cork 1260, but ultimately had to settle for sixth place. Her Aspen 2020 journey is far from finished, as she will be battling for a podium spot in Slopestyle, which she won in 2018 as the first American rider in X Games history.
Men's Ski Big Air: Monster Energy's Henrik Harlaut Takes Gold, Sets Medal Record
Keeping the snow action going, The Real Cost Men's Ski Big Air final revolved around one central storyline: Monster Energy's Henrik Harlaut had a chance to make history this year by setting a new record for most X Games ski medals in history. Going into the competition, Harlaut tied his mentor, American freeski icon Tanner Hall, at eleven total X Games medals (6 gold, 5 silver). Could this be the night?
Standing between Harlaut and the historic feat was a stacked field of finalists, including heavy hitters like defending Big Air gold medalist Birk Ruud. What's more, the Men's Ski Big Air event had also shifted to a 25-minute jam format this year, putting an emphasis on trick selection and creativity.
Fortunately, creativity is Henrik Harlaut's middle name. The Swedish freeski icon approached the challenge with his signature big smile and positive energy, as he commenced to send next-level tricks over the 70-foot gap. On his first run, Harlaut unveiled a forward left double bio 1620 safety to clinch an early lead.
As the rest of the field fired back with state-of-the art aerials, Harlaut kept defending the number one spot with fast-spinning rotations on different axes, including a switch left double bio 1620 safety, left triple 1620 mute, and a Switch left triple orbital 1260 mute grab. When it was time for final attempts, Harlaut was suddenly leapfrogged by Swiss skier Andri Ragettli, who pulled a never-been-done switch triple misty to take over the lead.
Determined to set the new record on not just any medal, but gold, Harlaut responded with a massive left double cork 1620 blunt taking him right back to the top. After high-fiving fans in the crowd, Henrik Harlaut received the Ski Big Air gold medal as the winner of one of the most epic finals Buttermilk Mountain had ever seen. Plus, he is now officially the most decorated ski athlete in X Games history with twelve medals to his name (7 gold, 5 silver).
"For sure this was the best jumping I've ever done in my life. I did two or three jumps I'd never done before and landed every jump. I had so much fun. It was crazy. It was awesome. Thank you so, so much for the opportunity!" said Henrik Harlaut upon claiming Men's Ski Big Air gold at X Games Aspen 2020 on Friday night.
Harlaut also found words of gratitude and respect for his mentor Tanner Hall, whose record he surpassed:
"Tanner is the greatest of all time and for sure the best. Thank you for the inspiration!" said the 28-year-old from Åre, Sweden.
Download Men's Ski Big Air Photos for Editorial Use.
Download Women's Ski Big Air Photos for Editorial Use.
Stay tuned as ESPN, ESPN2, ESPNEWS and ABC will televise a combined 15.5 hours of live X Games Aspen competition, which will also be accessible via the ESPN App and WatchABC to viewers who receive their video subscription from an affiliated provider. In addition, all 15.5 hours of live content, plus exclusive competitions, musical performances and X Games Extra shows will be streamed on the @XGames YouTube, Facebook and Twitter pages.
Also make sure to visit http://www.monsterenergy.com for exclusive updates from X Games Aspen 2020 including photos, videos, and contest results as they happen. Follow Monster Energy on Facebook, Instagram, Twitter for exclusive behind-the-scenes looks in Aspen 2020.
###
About Monster Energy
Based in Corona, California, Monster Energy is the leading marketer and distributor of energy drinks and alternative beverages. Refusing to acknowledge the traditional, Monster Energy supports the scene and sport. Whether motocross, off-road, NASCAR, MMA, BMX, surf, snowboard, ski, skateboard, or the rock and roll lifestyle, Monster Energy is a brand that believes in authenticity and the core of what its sports, athletes and musicians represent. More than a drink, it's the way of life lived by athletes, sports, bands, believers and fans. See more about Monster Energy including all of its drinks at http://www.monsterenergy.com.