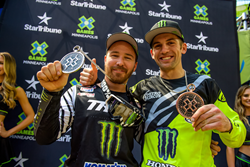 MINNEAPOLIS (PRWEB) August 04, 2019
Another massive day at X Games Minneapolis 2019 is in the books! Monster Energy congratulates motocross team riders Jackson Strong and Josh Sheehan on taking silver and bronze medals, respectively, in Moto X Best Trick on Saturday. And Saturday night's Moto X Best Whip final saw Jarryd McNeil take a bronze medal with powerful whip variations.
Supported by Monster Energy as the official drink sponsor for the sixth consecutive year, Summer X Games presents the world's best riders across BMX, skateboard, and motocross disciplines. Rounding out an epic weekend, fans enjoyed immersive experiences in the X Fest village as well as musical performances including Wu-Tang Clan on Friday night and three-time Grammy Award winner Diplo on Saturday at The Armory music venue.
Saturday's motocross action started with the Monster Energy Moto X Best Trick competition featuring six of the world's top motocross freestyle riders. Each rider received two attempts to send the most advanced aerial move over the 75-foot gap and the difficulty level was through the roof straight out of the gate.
Coming in hot off the previous night's Moto X Freestyle silver medal, Sheehan posted an extended double backflip no-hander over the gap, earning him 90.00 points and the bronze medal. The 33-year-old from Donnybrook, Australia, now owns 10 X Games medals (1 gold, 5 silver, 4 bronze), and made history in 2015 as the first (and only) rider to ever land a triple backflip on a motocross bike.
Sheehan's teammate and fellow Australian motocross trailblazer Strong had also earned a podium spot with bronze in Moto X Freestyle the previous night. What's more, Jacko came to Minneapolis as the most successful competitor in Moto X Best Trick history, boasting six medals (5 gold, 1 silver) in just as many starts.
Right off the bat, Strong sent a highly technical frontflip no-hander over the gap, earning him 91.33 points and the silver medal, as David Rinaldo from France took the win. Second place in Moto X Best Trick brings Jackson Strong's overall count to ten X Games medals (5 gold, 4 silver, 1 bronze). The 27-year-old from Lockhart, Australia, also continues his perfect streak of earning a podium spot in every single Moto X Best Trick start.
Download Moto X Best Trick Photos for Editorial Use.
In Moto X Best Whip McNeil finished with a bronze medal. As the final motocross event of the weekend, Moto X Best Whip showcased the ultimate mixture of style and aerial skills on Saturday night. In the four-minute final session, riders attempted to land the most contorted 'Whip' aerials – throwing their bike sideways in the air – over the massive dirt gap.
The Whip is a fundamental move in freestyle motocross. But each rider does whips in his or her own unique style, with variations including seat-bounce whips and turndown whips. The world's best riders – including female motocross trailblazer and Monster Army member Vicki Golden – showcased their unique whip styles. But only four riders advanced into the finals, including Monster Energy riders Sheehan and McNeil.
Previously, McNeil had dominated Best Whip at X Games Minneapolis 2018 and X Games Sydney 2018, and looked destined for a threepeat victory at X Games Shanghai 2019. Then came the wake-up call, as McNeil found himself bumped into second place by Tom Pages from France.
Adding to the challenge, the Best Whip final introduced a rule change: Instead of awarding medals based on the single most stylish whip, the judges were looking for the best overall impression. This meant switching up styles and serving several variations, which McNeil did by sending fully contorted turndown-style whips and his signature seat-bounce whips – practically flying upside down – in the final session. When all was said and done, the 28-year-old from Yarrawonga, Australia, finished in third place, followed by teammate Sheehan in fourth.
Download Moto X Best Whip Photos for Editorial Use.
ESPN and ABC will televise a combined 18 hours of live X Games Minneapolis 2019 coverage. Eight-and-a-half additional hours of event coverage will be streamed live on the X Games Facebook, YouTube and Twitter pages to fans in the United States. X Games Minneapolis coverage will also be accessible via the ESPN App to viewers who receive their video subscription from an affiliated provider.
Following X Games Minneapolis 2019, ABC will show four hours of programming on Saturday, August 10, as part of the World of X Games series as well as a one-hour Best of Show featuring athletic and musical highlights on Saturday, August 17.
Don't miss out on the action in the Twin Cities. Score all the exclusive updates from X Games Minneapolis 2019 including photos and contest results as they happen visit http://www.monsterenergy.com. Follow Monster Energy on YouTube, Facebook, Instagram & Twitter and watch the official Monster Energy hashtag #unleashedatx on social media.
About Monster Energy
Based in Corona, California, Monster Energy is the leading marketer and distributor of energy drinks and alternative beverages. Refusing to acknowledge the traditional, Monster Energy supports the scene and sport. Whether motocross, off-road, NASCAR, MMA, BMX, surf, snowboard, ski, skateboard, or the rock and roll lifestyle, Monster Energy is a brand that believes in authenticity and the core of what its sports, athletes and musicians represent. More than a drink, it's the way of life lived by athletes, sports, bands, believers and fans. See more about Monster Energy including all of its drinks at http://www.monsterenergy.com.