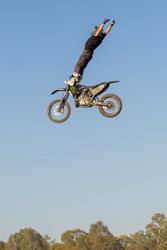 I daydream about building cool jump lines all year, so when my schedule gets a break its go time! I spend my year jumping onto hard clay and portable landings so it's a breath of fresh air to have the security of nice soft sand under me. Jackson Strong
CORONA, Calif. (PRWEB) December 19, 2019
The season for massive stadium events is over, but Monster Energy's Jackson 'Jacko' Strong is ending the year with a heavy dose of freestyle motocross progression. The 28-year-old FMX icon headlines an elite cast of riders in a high-energy video released to global audiences today across Monster Energy's social media channels: 'Jackson Strong's Sand Quarry' captures a boundary-pushing progression session on a custom dirt track in a seven-minute-long edit by Headstrong Films.
Viewers can now go online and watch dirt track FMX tricks on an unprecedented level in the brand-new 'Jackson Strong's Sand Quarry' video, live now on YouTube. Expect innovative tricks, jumps of epic proportions and a line-up of riders looking to make history.
Filmed in late 2019 on the banks of the Murrumbidgee River in New South Wales, Australia, the high-definition video showcases eleven-time X Games medalist Jackson Strong pushing the sport's progression alongside a select crew of Monster Energy teammates. Featured riders include a mix of FMX icons such as Josh Sheehan, Harry Bink, and Josh Hill next to upcoming Monster Army recruits Tom Richards (16 years old) and Ben Richards (18 years old).
Jackson Strong himself dreamed up and built the challenging dirt track on the grounds of a 30-acre sand quarry near his hometown of Lockhart, Australia. "I used to ride there as a kid. One of my friends lived next door and we would jump the fence and do shovel jumps," said Jackson Strong. Over the course of two weeks, 'Jacko' moved and shaped about 3000 cubic meters of sand into a never-seen-before freestyle motocross course.
The motivation behind Jacko's sand quarry: Evolve the sport by building a line of back-to-back dirt jumps – known in mountain biking as a 'line' – on the enormous scale of freestyle motocross obstacles. The resulting line starts with a 50-foot Superkicker jump, followed by a competition ramp across a 75-foot gap into a 100-foot dirt jump.
"The super kicker, comp ramp, dirt hit line is a first for FMX. It's so fun jumping these ramps in a row and they flowed really nicely together," said Jackson Strong about his course. With minimal set-up time between obstacles, Jacko's sand quarry is the ultimate test of reflexes and aerial ability.
"I daydream about building cool jump lines all year, so when my schedule gets a break its go time!" said Jackson Strong about the project. "I spend my year jumping onto hard clay and portable landings so it's a breath of fresh air to have the security of nice soft sand under me."
'Jackson Strong's Sand Quarry' was filmed and produced by Australian full-service studio Headstrong Films, also known for Monster Energy features including 'Jackson Strong - The Fire Within'.
Combining remote control drone footage with high-definition long lens shots and first-person body camera recordings, 'Jackson Strong's Sand Quarry' provides viewers with a front-row experience of some of the burliest tricks ever performed on dirt bikes.
"When Jacko makes dirt jumps, he makes them proper. This was sick!" said Monster Army recruit Ben Richards about the session. "It was great to get together and throw it down with the boys to have some fun and throw some whips," said 33-year-old FMX icon and eleven-time X Games medalist Josh Sheehan, who sent one of the most epic flat-turning 360 airs over the chasm at the quarry.
Jackson Strong and crew spent several days filming and dialing in their aerials at the sand quarry. On the last day of the shoot, the action escalated as Josh Sheehan and Jackson Strong decide to turn it up a few notches and send some of the heaviest tricks in their arsenal down the line in a final blaze of glory. But no spoilers! The only way to find out is to watch the high-energy edit right now.
Download photos for editorial use.
Catch all the action in the brand-new 'Jackson Strong's Sand Quarry' video clip, live now on YouTube. Also visit http://www.monsterenergy.com and follow Monster Energy on Facebook, Instagram, Twitter for exclusive updates on Jackson Strong, Josh Sheehan and our team of FMX athletes.
###
About Monster Energy
Based in Corona, California, Monster Energy is the leading marketer and distributor of energy drinks and alternative beverages. Refusing to acknowledge the traditional, Monster Energy supports the scene and sport. Whether motocross, off-road, NASCAR, MMA, BMX, surf, snowboard, ski, skateboard, or the rock and roll lifestyle, Monster Energy is a brand that believes in authenticity and the core of what its sports, athletes and musicians represent. More than a drink, it's the way of life lived by athletes, sports, bands, believers and fans. See more about Monster Energy including all of its drinks at http://www.monsterenergy.com