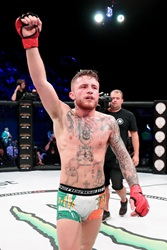 I didn't perform at my best. I was about 25 percent of my ability. James Gallagher
LONDON (PRWEB) June 24, 2019
Monster Energy congratulates crowd favorite James Gallagher on his victory against Jeremiah Labiano by unanimous decision on Saturday night at Bellator 223 at SSE Arena in London, England. In the night's main card event, the 22-year-old premier fighter from Strabane, Ireland achieved a hard-earned victory after a three-round test of endurance against the 32-year-old Californian.
Also known as 'The Strabanimal' by his fans, Gallagher (9-1 MMA, 6-1 BMMA) came into Saturday's fight after a victory against Steven Graham in Dublin in February at Bellator 217. Gallagher was supported by a huge pack of travelling fans chanting his name throughout the bout, but it was no walk in the park.
Following some tension at the pre-fight press conference, both opponents entered the cage ready to battle in their 140-pound catchweight bout. After Labiano refused Gallagher's glove touch, the two launched into round one swinging with Gallagher taking control and landing an early takedown backed by his signature ground game. The round was clearly Gallagher's, who connected several left fists and elbows while maintaining control in the side position.
Round two saw Labiano bounce back with strikes that forced Gallagher on his back foot. After landing a few surprise hits, the Brazilian jiu-jitsu black belt managed to drop the Irishman and win the positional battle on the ground. Maintaining control until the bell, Labiano finished the round in his favor.
It all came down to the final round as the crowd heated up at SSE Arena. Gallagher brought back his stellar grappling game in round three, taking Labiano down and gaining mount position while trapping one of the American's arms in his legs. Although Labiano managed to regain control with a clutch transition, Gallagher had done enough damage to win the fight by unanimous decision. With three cageside judges scores of 29-28, Gallagher took home his second back-to-back win of the year.
"I didn't perform at my best. About 25 percent of my ability," said Gallagher upon winning at Bellator 223 in London on Saturday.
James Gallagher's record stands at 9-1 after Saturday night's victory. He's officially back on his path to dominating the Bellator MMA scene after a loss against Ricky Bandejas broke his winning streak in August 2018. The young protégé of SBG Ireland's Conor McGregor and Jon Kavanagh is one of MMA's rising stars and ready to headline more Bellator fight nights.
What's next for Gallagher? The Strabanimal is ready to hit the gym to prepare for the next MMA main event in his homeland: Bellator Dublin has been confirmed as the fourth installment of the promotion's European Series for September 27, 2019, at 3Arena in the Irish capital.
James Gallagher is amongst Monster Energy's elite MMA athletes along with Conor "The Notorious" McGregor, Rory MacDonald, Jon Jones, Michael Chandler, Daniel Cormier, Donald "Cowboy" Cerrone, Dominick "Dominator" Cruz, Chris 'The All American' Weidman, Tyron "The Chosen One" Woodley, Max Holloway, Yair Rodriquez, Jessica-Rose Clark, Li Jingliang, Gökhan Saki, Rose Namajunas, Cris Cyborg,T.J. Dillashaw, Quinton Rampage Jackson, Joe Schilling, Phil Davis, Gaston Bolanos, Juan "The Spaniard" Archuleta, and Valerie Loureda.
For more on Monster Energy's MMA team visit http://www.monsterenergy.com. Follow Monster Energy on YouTube, Facebook, Instagram and Twitter.
Download photos for editorial use.
About Monster Energy
Based in Corona, California, Monster Energy is the leading marketer and distributor of energy drinks and alternative beverages. Refusing to acknowledge the traditional, Monster Energy supports the scene and sport. Whether motocross, off-road, NASCAR, MMA, BMX, surf, snowboard, ski, skateboard, or the rock and roll lifestyle, Monster Energy is a brand that believes in authenticity and the core of what its sports, athletes and musicians represent. More than a drink, it's the way of life lived by athletes, sports, bands, believers and fans. See more about Monster Energy including all of its drinks at http://www.monsterenergy.com.