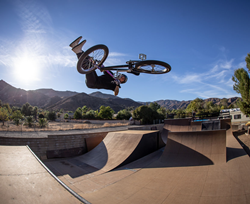 "Coming up through Monster Army in my BMX career was truly a blessing to be able to share the same brand as the top riders in the world. Now being moved up to the Monster Energy team, I feel honored to represent the company further and continue to grow with this new family." - Jeremy Malott
CORONA, Calif. (PRWEB) May 17, 2021
Welcome to the pro ranks! Monster Energy congratulates long-time Monster Army amateur rider Jeremy Malott on joining the professional BMX team. As the company announced today, the 24-year-old from Lake Havasu, Arizona, is making his pro debut today with a heavy-hitting BMX video, live now on Monster Energy's social media channels. After earning his stripes as a General in the Monster Army, Malott now joins the Monster Energy pro team
Viewers can go online and watch Jeremy Malott's 'Breakthrough' video part on Monster Energy's official YouTube Channel.
Before joining Monster Energy's pro BMX team, Jeremy Malott traveled the world and shook up the amateur ranks as part of the Monster Army. Growing up in the high desert town of Lancaster, California, he was already competing in motocross and BMX track races at age 10. Once he turned 17, he discovered freestyle BMX as his true passion.
With a full focus on expanding his trick repertoire, Malott soon evolved into a fierce competitor. In 2016, Malott won the freestyle BMX championship at the Monster Recon Tour. He had moved to Lake Havasu, Arizona, one year earlier for the vibrant BMX scene and one of the largest skateparks in the U.S.
Jeremy Malott's diverse bag of tricks has earned him several wins at international competitions, including first place in Best Trick at FISE events Montpellier, France and in Hiroshima, Japan, where he landed the world's first 360 Triple Whip to Bar Spin. He also took second place overall at Barcelona Xtreme, and third place at the Toronto Jam.
"Coming up through Monster Army in my BMX career was truly a blessing to be able to share the same brand as the top riders in the world. Now being moved up to the Monster Energy team, I feel honored to represent the company further and continue to grow with this new family," said Jeremy Malott upon joining the Monster Energy pro BMX team.
For his 'Breakthrough' video part, Jeremy Malott levels up his trick repertoire. Expect technical bar spins, wheelie combos, and creative lip tricks in a stacked video part filmed at concrete skateparks and the legendary Dreamyard ramp compound built by Monster team rider Pat Casey.
But better see for yourself! Watch Jeremy Malott send it like a pro in 'Breakthrough', live now on Monster Energy's official YouTube Channel.
Download photos for editorial use here.
For more on Jeremy Malott and the Monster Energy BMX team, visit http://www.monsterenergy.com. Follow Monster Energy on YouTube, Facebook, Instagram, Twitter for exclusive behind-the-scenes looks from the 2021 snowboard season.
###
About Monster Energy
Based in Corona, California, Monster Energy is the leading marketer of energy drinks and alternative beverages. Refusing to acknowledge the traditional, Monster Energy supports the scene and sport. Whether motocross, off-road, NASCAR, MMA, BMX, surf, snowboard, ski, skateboard, or the rock and roll lifestyle, Monster Energy is a brand that believes in authenticity and the core of what its sports, athletes and musicians represent. More than a drink, it's the way of life lived by athletes, sports, bands, believers and fans. See more about Monster Energy including all of its drinks at http://www.monsterenergy.com.