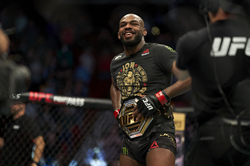 "I felt like he hit me once out of every six times I hit him. That fifth round won me the fight. Those takedowns won me the fight, I believe in my whole heart I won that fight, but it was close." - Jon Jones
HOUSTON (PRWEB) February 10, 2020
The champ remains undefeated! Monster Energy congratulates Jon "Bones" Jones on defending his UFC Light Heavyweight Championship title at UFC 247 in Houston, Texas, on Saturday night. In the main event fight at Toyota Center, the 32-year-old mixed martial arts icon from Rochester, New York, dealt challenger Dominick Reyes his first UFC career defeat and set a new record for most UFC championship fight victories at 14 wins.
Anticipation was at an all-time for the 205-pound championship fight, the biggest UFC event ever contested in the Lone Star State. As the UFC's pound-for-pound king, Jones stepped into the Octagon to defend his title for the third time in his current reign after taking the belt from Alexander Gustafsson in December 2018 and stopping Anthony Smith and Thiago Santos in 2019.
Jones, who trains at Jackson Wink MMA Academy in New Mexico, came into the fight holding the record for most victories in UFC light heavyweight history, but Saturday night's opponent would prove one of the hardest tests of his career.
Nicknamed "The Devastator" for his fierce leg kicks, 30-year-old Reyes made his UFC debut in June 2017 and quickly climbed the UFC light heavyweight ranks. Reyes made a name for himself by stopping several MMA heavyweights with first-round knockouts and came to challenge Jones in Houston on an unbroken twelve-fight victory streak.
As the two collided in the Octagon, the pace was cranked up to high intensity from the opening bell. Jones felt the challenger's striking power with a left to the chin that rocked him early in round one, but fired back with a textbook left high kick to put Reyes on notice. The challenger maintained the pressure in round two, but Jones evaded damage with swift head movements and pushed back with leg kicks.
When the fight moved into round three, Jones put Reyes on the mat with a takedown and relied on his fast footwork to retain control. In the final two rounds, which were new territory to the challenger, Reyes slowed down while Jones landed another takedown and connected a damaging head kick. The fifth round was all Jones, who had retained his cardio strength and put the pressure on Reyes.
When the grueling five-round bout was over, Jones emerged as the winner via unanimous decision (48-47, 48-47, 49-46), a result that sparked controversy among UFC pundits. The close finish proved one of the hardest tests of Jones' reign as the undisputed UFC Light Heavyweight Champion and he found words of respect for his opponent.
"Dom did a tremendous job," said Jones in his post-fight interview in Houston on Saturday night. "Between the takedowns and the fact I completely dominated the fifth round, I felt like he hit me once out of every six times I hit him. That fifth round won me the fight. Those takedowns won me the fight, I believe in my whole heart I won that fight, but it was close."
Before claiming his current UFC Light Heavyweight Championship in December 2018, Jones became the youngest-ever UFC champion in 2011and defended his belt eight times until 2015. With Saturday night's victory, Jones ends Reyes' twelve-fight professional victory streak and brings his own record to 26-1 (one no contest). Jones has now won the most championship fights in UFC history with 14 victories to his name.
Speaking on the milestone achievement, Jones said: "To break a record, to become a part of UFC history in this way, I wouldn't want it easy," Jones added. "If this stuff was easy, everybody out there in the audience would be doing it. It's an incredibly hard thing I did tonight. Reyes is tall, he's big, he's strong. He was well coached."
What's next for Jones? While some MMA commentators called for a rematch against Reyes in the aftermath of UFC 247, others expect Jones making a move up to the UFC's heavyweight division to face champion Stipe Miocic. Others float the idea of facing middleweight champion Israel Adesanya, in case he defeats the 185-pound belt against Yoel Romero in March. But amidst all that speculation, the fact remains that Jones emerged from UFC 247 as the undisputed champion with the most victories in UFC light heavyweight history under his belt.
Jon "Bones" Jones counts amongst Monster Energy's elite UFC team along with Donald "Cowboy" Cerrone, Jorge "Gamebred" Masvidal, Daniel Cormier, Dominick "Dominator" Cruz, Chris 'The All American' Weidman, Tyron "The Chosen One" Woodley, Max Holloway, Yair Rodriquez, T.J. Dillashaw, Jessica-Rose Clark, Li Jingliang and Gökhan Saki.
For more on Jon "Bones" Jones and Monster Energy's MMA athletes visit http://www.monsterenergy.com Follow Monster Energy on YouTube, Facebook, Instagram and Twitter.
About Monster Energy:
Based in Corona, California, Monster Energy is the leading marketer and distributor of energy drinks and alternative beverages. Refusing to acknowledge the traditional, Monster Energy supports the scene and sport. Whether motocross, off-road, NASCAR, MMA, BMX, surf, snowboard, ski, skateboard, or the rock and roll lifestyle, Monster Energy is a brand that believes in authenticity and the core of what its sports, athletes and musicians represent. More than a drink, it's the way of life lived by athletes, sports, bands, believers and fans. See more about Monster Energy including all of its drinks at http://www.monsterenergy.com.