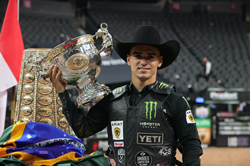 "Everything is going great in Las Vegas, happy with the results, blessed to be riding well and very confident in pursuit of my goals." Jose Vitor Leme
LAS VEGAS (PRWEB) November 08, 2021
Way to end a history-making season! Monster Energy congratulates Monster Energy rider Jose Vitor Leme on winning the 2021 Professional Bull Riders (PBR) World Finals: Unleash the Beast at T Mobile Arena in Las Vegas, Nevada, on Sunday as well as the 2021 PBR World Championship. In the season finale of the world's largest bull riding competition series, the 25-year-old from Ribas do Rio Prado, Brazil, expanded his legacy by becoming the second rider in the 28-year history of the PBR to win back-to-back championships.
As the exclamation point to a history-making season, Leme broke the PBR's record for highest scored ride in the championship round on Sunday by scoring 98.75 points on the world's No. 1 bull Woopaa. After conquering the year's YETI World Champion Bull with the highest-marked ride of all time, Leme was crowned the 2021 PBR World Champion and PBR World Finals Event Winner.
In front of a high-energy crowd of more than 13,000 spectators at T Mobile Arena on Sunday, Leme received the gold buckle trophy and $1 million bonus. "This is so special for me, especially this year, I've been doing a lot of good things," said Monster Energy's Leme on winning the 2021 Professional Bull Riders (PBR) World Championship.
The accomplishment for the 2020 and 2021 PBR World Champion comes at the end of what is being called the greatest season ever for a professional bull rider. In 2021, Leme set the single-season mark for the most 90-point rides in PBR history (24), achieved the most round wins in a season (21), and tied the record with eight Unleash The Beast event wins. He had also set a 97.75-point ride-score record on Woopaa in July in Tulsa, Oklahoma.
Leme broke new ground on Sunday by breaking that record for highest score ever in PBR through earning the first perfect 50-point ride in PBR history.
The Professional Bull Riders (PBR) circuit is the world's biggest stage in professional bull riding featuring over 500 bull riders in more than 200 events annually. Presented by Monster Energy, the Unleash the Beast Series (UTB) is the elite series of the Professional Bull Riders with the world's top 35 bull riders.
After suffering a strained core muscle in September, Leme returned to full form for the 2021 PBR World Championship finals and entered as the #1 seeded rider. In Round 1 of the 2021 PBR World Finals on Wednesday, Leme scored 86.75 points on Little Voodoo Jacket. "I expect a lot of things," said Leme, "a lot of good things."
Good things followed indeed, as Leme followed up with an 88 and a second 86.75-point effort. These first three round scores placed the Brazilian second in average and a full bull score ahead of his most likely challenger midway through the Finals.
"Everything is going great in Las Vegas, happy with the results, blessed to be riding well and very confident in pursuit of my goals," said Leme, adding: "I am so confident for this."
Leme's Las Vegas streak continued in Round 4 on Saturday when he set the PBR's season record for most round wins at 20 victories. He thereby surpassed the 2013 record of 19 wins set by fellow Monster Energy teammate and fellow two-time World Champion J.B. Mauney. In Round 4, Leme rode WSM's Jive Turkey for 92.5 points. This also marked his record-setting 24th 90-point ride of the season. Leme covered 49 bulls throughout 2021, with 48.97% of those qualified rides earning 90 points or more.
The massive score kept Leme two spots ahead of the only rider with an opportunity to catch him, Kaique Pacheco. More importantly, he remained a full bull scores ahead in the average with only two remaining outs for the top two riders in the world.
Leme then capped off a magical season on Sunday afternoon at T-Mobile Arena with a perfect performance, earning 91.25 points in Round 5 on WSM's Jive Turkey. He then pushed his record for highest-scoring ride even further: Riding Woopaa, the bull on which Leme earned the 2020 championship, he clinched 98.75 points in Round 6 for a new record and 544-point aggregate score and 849 total points. The score also earned the coveted 2021 Lane Frost/Brent Thurman Award.
As the Event Winner and PBR World Champion, Leme celebrated by hoisting the trophy above his head. Leme earned a combined $1,401,800 for his second PBR World Championship and World Finals event win.
"Get on your feet Las Vegas, that was awesome," proclaimed two-time champion-turned-broadcaster Justin McBride. "This is an amazing, amazing once-in-a-lifetime talent that we're getting to watch."
Leme was initially slated for a career in professional soccer in his native Brazil. He only discovered bull riding at age 18, but already achieved his competitive breakthrough at age 21 when he became the second Brazilian rider to win the PBR Brazil national title. He also earned Brazilian Rookie of the Year honors that year. Leme began competing in the United States in 2018 and instantly won the PBR Velocity Tour Finals, PBR Finals event and became the PBR Rookie of the Year. His iconic rise continued by winning the 2020 and 2021 Professional Bull Riders (PBR) World Championship.
Download photos for editorial use.
The final round of the PBR World Finals was broadcast live on CBS Television Network on Sunday. Missed the live broadcast? PBR RidePass on PlutoTV will offer re-airs and on-demand replays of PBR PWVT events. PBR RidePass is available on desktops, laptops, and mobile devices via http://www.pluto.tv.
For more on Jose Vitor Leme and Monster Energy's team of bull riding athletes visit http://www.monsterenergy.com. Also follow Monster Energy on YouTube, Facebook, Instagram, Twitter and TikTok.
###
About Monster Energy
Based in Corona, California, Monster Energy is the leading marketer of energy drinks and alternative beverages. Refusing to acknowledge the traditional, Monster Energy supports the scene and sport. Whether motocross, off-road, NASCAR, MMA, BMX, surf, snowboard, ski, skateboard, or the rock and roll lifestyle, Monster Energy is a brand that believes in authenticity and the core of what its sports, athletes and musicians represent. More than a drink, it's the way of life lived by athletes, sports, bands, believers, and fans. See more about Monster Energy including all of its drinks at http://www.monsterenergy.com.
About PBR (Professional Bull Riders)
PBR is the world's premier bull riding organization. More than 500 bull riders compete in more than 200 events annually across the televised PBR Unleash the Beast Tour (UTB), which features the top 35 bull riders in the world; the PBR Pendleton Whisky Velocity Tour (PWVT); the PBR Touring Pro Division (TPD); and the PBR's international circuits in Australia, Brazil, Canada, and Mexico. PBR's digital assets include RidePass, which is home to Western sports. PBR is a subsidiary of IMG, a global leader in sports, fashion, events, and media. For more information, visit PBR.com, or follow on Facebook at Facebook.com/PBR, Twitter at Twitter.com/PBR, and YouTube at YouTube.com/PBR.