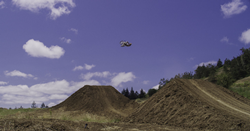 "The thing I like most about our edit is the energy and enthusiasm it brings. We had planes in it and blew a fire cannon off! We just had too much fun with it, I think! We really just wanted to show that FMX is still alive." - Jackson Strong
CORONA, Calif. (PRWEB) September 25, 2020
Monster Energy congratulates freestyle motocross team rider Josh Hill on earning X Games silver in this year's X Games Real Moto contest. Competing against five of the world's best freestyle motocross riders in an online video contest judged by an expert jury, the 31-year-old from Portland, Oregon, claimed second place with an explosive edit created with filmer and editor Mike Wood.
Hill already made history as the youngest rider to win a 450 Supercross Championship, but Real Moto holds a special place: "Ever since the first time I saw Real Moto, I always hoped to one day get invited. This is one of those personal things," said Hill about the competition, adding: "This is my chance to showcase in 90 seconds what my whole life's about. Why I ride dirt bikes, what I love, just my style of it!"
Hill was joined on the podium by Monster Energy teammate Jackson Strong from Lockhart, Australia, who took X Games bronze for the groundbreaking 'Dirt Rider' video filmed and edited by Ben Heidrich. Strong's X Games Real Moto 2020 video also won the fan-decided Fan Favorite award, ahead of gold medal winner Colby Raha.
Real Moto 2020 was once again contested in two parts: X Games medals judged by a panel of motocross professionals and industry insiders, as well as the crowd-voted Fan Favorite decided via online poll. Strong, secured 29.46% of the vote with a stunning video part peppered with several moves that had never-been-done (NBD) on dirt.
"The thing I like most about our edit is the energy and enthusiasm it brings. We had planes in it and blew a fire cannon off! We just had too much fun with it, I think," said Strong, adding: "We really just wanted to show that FMX is still alive."
Originally launched with the X Games Real Street competition in 2010, the main goal of the X Games Real series is to showcase the essence of a rider's unique talent in a 90-second video, created with a filmer of the rider's choosing. The 2020 edition also featured Real BMX, Real Snow and Real Street (skateboarding) competitions. Real Moto riders select their own tricks, spots, and music – thereby providing a "real" experience of FMX via premium video content outside of big stadium events.
A panel of industry experts decided the winning athlete-and-filmer teams, announced on Sunday's World of X Games episode aired on ABC, supplemented by behind-the-scenes footage from this year's video shoots.
When all votes were counted, Hill clinched the silver medal with a heavy-hitting video part. Filmed mostly on urban obstacles, dirt tracks and backwoods trails – all locations scouted together with filmer Wood – the edit shows Hill pushing his Yamaha YZ450 and Alta to the limits. Highlights include massive transfer aerials at concrete skateparks alongside technical nose wheelies, wall rides, and a burly sand pit backflip that must be seen to be believed.
The medal is a special milestone for Hill, who retired from professional AMA Supercross and Motocross in 2015 due to injuries, and only recently made his return as a pro motocross rider. Josh's Real Moto 2020 award joins silver from X Games Los Angeles 2013. Make sure to watch the silver medal-winning Real Moto video from Josh Hill on YouTube.
Download High Res Photos of Josh Hill for Editorial Use.
Hill's Monster Energy teammate, 28-year-old Australian Strong even built a brand-new, custom dirt track in New South Wales as the backdrop for his ambitious video part. Ambitious, because "Jacko" set out to land several tricks previously never put down on dirt track before: A world's first dirt-to-dirt front flip and double backflip are supplemented by nighttime pyrotechnics and a double-decker airplane in a highly re-watchable cinematic edit.
Download High Res Photos of Jackson Strong for Editorial Use.
Caught in crisp high-definition video by filmer Heidrich of Headstrong Films, the 'Dirt Rider' video brought home a medal and the coveted Fan Favorite award. Find out what the praise is about in the bronze medal Real Moto video from Jackson Strong on YouTube. A driving force of motocross freestyle progression for years, Strong now owns 13 X Games medals (6 gold 45 silver 2 bronze).
Winners of the judge-awarded X Games gold, silver and bronze medals were announced at the conclusion of the hour-long, behind-the-scenes "World of X Games: Real Moto 2020" show that aired on ESPN2 on Sunday, September 20. Fan Favorite winner Strong was announced online on September 21.
Viewers can also watch the 'behind-the-scenes' edits, in which the rider/filmer teams detail the making of their videos, online now: Find Josh Hill and filmer Mike Wood's video here and Jackson Strong and Ben Heidrich here.
Congratulations to our winning team riders and filmers. Also thanks to Jack Mitrani and the team at ESPN for keeping the stoke alive with this video competition.
For more on Josh Hill, Jackson Strong and Monster Energy's motocross athletes visit http://www.monsterenergy.com. Follow Monster Energy on YouTube, Facebook, Instagram and Twitter.
About Monster Energy
Based in Corona, California, Monster Energy is the leading marketer of energy drinks and alternative beverages. Refusing to acknowledge the traditional, Monster Energy supports the scene and sport. Whether motocross, off-road, NASCAR, MMA, BMX, surf, snowboard, ski, skateboard, or the rock and roll lifestyle, Monster Energy is a brand that believes in authenticity and the core of what its sports, athletes and musicians represent. More than a drink, it's the way of life lived by athletes, sports, bands, believers and fans. See more about Monster Energy including all of its drinks at http://www.monsterenergy.com.