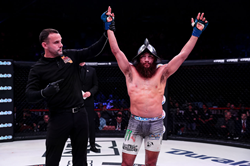 "He hit me harder than Pitbull, and I feel like I took Pitbull's hardest hit. And I think Corrales hits a lot harder," said Juan "The Spaniard Archuleta.
INGLEWOOD, Calif. (PRWEB) January 27, 2020
Monster Energy congratulates Juan "The Spaniard" Archuleta on his victory over Henry Corrales at Bellator 238 inside The Forum in Inglewood, California, on Saturday night. In the main card featherweight bout, the 32-year-old from Sultana, California, was named the winner by unanimous decision.
Juan "The Spaniard" Archuleta (24-2) returned to Inglewood looking for a win after losing to Patricio "Pitbull" Freire in the first-round contest of the Featherweight Grand Prix at Bellator 228 in September 2019. Previous to challenging Pitbull for the featherweight title, Archuleta had been on an 18-fight winning streak and only suffered a single loss since making his MMA debut in August 2013.
In order to get back in the winner's circle, Archuleta had to take on a fighter who faced a similar situation. His opponent on Saturday night, 33-year-old Henry Corrales (17-5) from La Mirada, California, had also been ejected from the Featherweight Grand Prix in round one after losing to Darrion Caldwell.
Juan Archuleta approached the fight with strategy and patience. Staying on the outside of the cage, Archuleta let Corrales come to him, and landed shots when his opponent came within reach. At the same time, Corrales also connected a few heavy punches, which Archuleta later said 'rocked' his entire frame.
Late in round two, Archuleta lifted Corrales off the ground and executed a fierce body slam that was the highlight of the fight. Maintaining control until the end of the third round, Juan "The Spaniard" Archuleta was named the winner by unanimous decision (29-28), dealing Corrales his third career decision loss and second defeat in a row.
"He hit me harder than Pitbull, and I feel like I took Pitbull's hardest hit. And I think Corrales hits a lot harder," said Juan "The Spaniard" Archuleta after winning the main card featherweight bout at Bellator 238 in Inglewood.
Saturday night's victory marks Juan Archuleta's twelfth decision win and brings his professional MMA record to 24 wins and two losses. Asked about his next steps now that he's back in the winning column, The Spaniard remained cautious.
"I want to go out there and cause chaos, cause ruckus, but I just came off a world title loss, honestly. I have to put that behind me, and start the baby steps going forward again," said Archuleta in the post-fight interview. He expressed hope that the victory would earn him an alternate spot in the Featherweight Grand Prix, adding: "Now going forward, it's all comers are welcome."
In the night's preliminary featherweight fight, Monster Energy's Aaron Pico stopped his opponent Daniel Carey via knockout at the 15-second mark of round two. This puts the 23-year-old from Whittier, California, back in the winner's circle after suffering two consecutive knockout losses in previous fights.
Aaron Pico had prepared for his fight against Daniel "Scary" Carey in his new training camp, the Jackson Wink MMA Academy in Albuquerque, New Mexico. And it showed. In his previous fight, Carey had dealt Gaston Bolanos a harsh submission victory in round one. But in Pico, he found a versatile and aggressive opponent.
Pico displayed the wrestling chops that had tracked him for an Olympics career early on in his MMA journey. He grappled and landed shots. But most of all, he brought the knockout talent that had earned him major credentials despite his young age.
It all came to a head early in round two when Aaron Pico faked a right knee and found an opening in Carey's defense. Pico pounced with a quick left hook that connected to Carey's chin, leaving him out cold on the ground. Aaron Pico landed another hammer fist and the judge called the knockout win at the 15-second mark in round two.
"The moment feels really good. Honestly, I feel really humbled. It was a tough 2019 year, for sure. It was really hard. I have to give it up to the coaches at Jackson Wink. They brought me in and put a lot of damn time into me," said Aaron Pico after his knockout victory at Bellator 238.
With his professional record now at five wins, three losses, Pico has earned all of his career victories by knockout. This currently puts the MMA prodigy in third place for most KO wins in divisional history behind A.J. McKee (six) and Patricio Freire (six). Pico made his Bellator debut in 2017 as one of most critically acclaimed prospects in the history of the franchise. But in 2019, the upstart was humbled by back-to-back knockout losses against Adam Borics and Henry Corrales.
Asked about his prospective next fights now that he's back to dealing knockouts, Aaron Pico said in his post-fight interview that he needs time to rebuild: "There's a lot of people I'd like to fight, but I'll leave that up to the management and Bellator. Like I said, when I start getting my wins back, I'll make it known who I want to fight and stuff. Right now, I'm just going to keep chipping away every single day."
Download high res photos for editorial use.
Juan "The Spaniard" Archuleta and Aaron Pico count amongst Monster Energy's elite MMA athletes along with Jorge "Gamebred" Masvidal, Donald "Cowboy" Cerrone, Michael Chandler, Jon Jones, Daniel Cormier, Phil Davis, Dominick "Dominator" Cruz, Chris 'The All American' Weidman, Tyron "The Chosen One" Woodley, Max Holloway, Yair Rodriquez, Jessica-Rose Clark, Li Jingliang, Gökhan Saki, Rose Namajunas, T.J. Dillashaw, Quinton Rampage Jackson, Joe Schilling, Rory MacDonald, and Gaston Bolanos.
For more on Monster Energy's MMA team visit http://www.monsterenergy.com. Follow Monster Energy on YouTube, Facebook, Instagram and Twitter.
###
About Monster Energy
Based in Corona, California, Monster Energy is the leading marketer and distributor of energy drinks and alternative beverages. Refusing to acknowledge the traditional, Monster Energy supports the scene and sport. Whether motocross, off-road, NASCAR, MMA, BMX, surf, snowboard, ski, skateboard, or the rock and roll lifestyle, Monster Energy is a brand that believes in authenticity and the core of what its sports, athletes and musicians represent. More than a drink, it's the way of life lived by athletes, sports, bands, believers and fans. See more about Monster Energy including all of its drinks at http://www.monsterenergy.com.