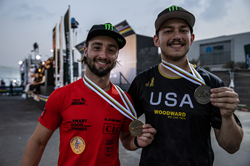 "To end up on the podium again at the World Championship for the first time since 2018 means a lot to me. I want to try for the top spot next year." - Justin Dowell
ABU DHABI, United Arab Emirates (PRWEB) November 15, 2022
Bringing the heat to Abu Dhabi! Monster Energy congratulates team riders Justin Dowell and Anthony Jeanjean on taking silver and bronze in BMX Park at the UCI World Championships.
The men's finals closed out the 2022 UCI Urban Cycling World Championships with the BMX Freestyle Park Finals. Twelve men and twelve women competed in the finals, with three men and three women from Team USA making the big show. The crowd was excited to see the world's elite BMX athletes throw down their best tricks on the world-renowned course. Monster Energy's Dowell (Virginia Beach, V.A.) and Daniel Sandoval (Corona, Cali) represented Team USA.
Dowell, USA, has been consistent at World Championships with a win in 2018, and he took 4th place in 2019 and 2021, so he was ready to get back on the podium. With a score of 91.50, he finished the day in second place.
"My run is exactly how I like to ride – a combination of tricks back-to-back to back," said Dowell. I don't like skipping ramps and pedaling around the course. That's just really not my style. I respect the big transfers and stuff, but I am more of a back-to-back type of guy. I put everything down. I think that is a really technical way to ride, and it doesn't always go right, but when it does, it is really special. To end up on the podium again at the World Championship for the first time since 2018 means a lot to me. I want to try for the top spot next year."
Monster Energy's newly signed BMX rider Anthony Jeanjean, FRA, who scored 91.20, was ecstatic to land in the bronze podium position at .30 behind his teammate Dowell.
"I am so happy about my run," said Jeanjean. I tried to do my best and crashed in the first run, but I did my best on the second run, and am so happy to do my run perfectly. It is so good to get a bronze medal."
Monster Energy's Sandoval went for broke with some big tricks he had attempted in practice but unfortunately crashed in the finals on both runs while attempting a double flair on the quarter pipe, which put him in 12th place with a score of 50.40.
Congratulations to Monster Energy's rider Moto Sasaki who secured the men's BMX Freestyle Flatland gold medal title with 93.83 points, as he led the Japanese podium sweep.
Download photos for editorial use here.
For more on Justin Dowell, Anthony Jeanjean, Moto Sasaki, Daniel Sandoval, and the Monster Energy BMX team, visit http://www.monsterenergy.com. Follow Monster Energy on YouTube, Facebook, Instagram, Twitter, and TikTok for exclusive updates as the action sports season continues.
###
About Monster Energy
Based in Corona, California, Monster Energy is the leading marketer of energy drinks and alternative beverages. Refusing to acknowledge the traditional, Monster Energy supports the scene and sport. Whether motocross, off-road, NASCAR, MMA, BMX, surf, snowboard, ski, skateboard, or the rock and roll lifestyle, Monster Energy is a brand that believes in authenticity and the core of what its sports, athletes and musicians represent. More than a drink, it's the way of life lived by athletes, sports, bands, believers, and fans. See more about Monster Energy including all of its drinks at http://www.monsterenergy.com.