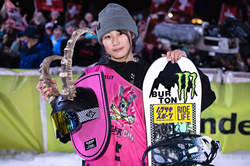 "I'm so happy. I was very, very nervous because everyone was riding so good today. I'm just looking forward to doing my best riding in every competition leading up to the Olympics and then to do my best there in Beijing." - Kokomo Murase
CHUR, Switzerland (PRWEB) October 24, 2021
Way to start the season with a bang! Monster Energy congratulates its team of freeski and snowboard athletes on a strong performance at the FIS Snowboard and Freeski World Cup season opener in Chur, Switzerland, this weekend. In the Big Air Festival Chur in front of an energetic crowd of live spectators, Monster Energy team riders claimed podium spots and FIS season ranking points in every single competition.
In the highly contested Women's Snowboard Big Air final on Saturday, 16-year-old Kokomo Murase from Gifu, Japan, put down flawless aerials to claim the win against the world elite of the sport. In the Men's Snowboard Big Air final, 22-year-old Rene Rinnekangas from Iisalmi, Finland, coasted into second place. He was joined on the podium by 27-year-old Sven Thorgren from Stockholm, Sweden, in third place.
The high stakes Women's Freeski Big Air final on Friday, saw 30-year-old Sarah Hoefflin from Switzerland take second place in front of a hometown crowd. And in the epic Men's Freeski Big Air final, 21-year-old Monster Energy team rider Birk Ruud from Oslo, Norway, finished in a strong third-place position.
Big airs and headline musical performances: From October 22-23, Big Air Festival Chur marked a return to live events with festival-sized crowds after a season of closed-to-the-public events due to the coronavirus pandemic. According to the 3G Covid-19 safety regulations, access to festival grounds was only permitted to individuals that were vaccinated, recovered, or tested for the virus.
As the official 2021/22 FIS Snowboard and Freeski World Cup season opener, the contest brought the world's best athletes across both sports to the famous Swiss resort. All weekend, festival guests were treated to musical performances by international recording artists including SIDO, Jan Delay, and Apache 207 and spectacular tricks by the best Big Air athletes on the planet. The stakes are especially high this year as riders are looking to qualify into the 2022 Winter Olympics in Beijing.
Here's how the action unfolded for Team Monster Energy at the season opener in Chur this weekend:
Snowboard Big Air: Monster Energy's Kokomo Murase Takes Home First Place in Women's
The festival atmosphere was off the charts in Chur on Saturday night. For the main event, the Snowboard Big Air finals stoked the crowd with stylish airs courtesy of world elite riders. In the women's final, eight riders hailing from Austria, Canada, Finland, Germany, and Japan were looking to post the highest scores across three runs. Winners were crowned based on the sum of their two highest-scoring Big Air attempts.
Monster Energy's Kokomo Murase came to Chur fully focused on making it count for the upcoming Olympic Games. On her first attempt, Murase stomped a clean backside double cork 1080 Weddle grab for 87.75 points. She kept her momentum on Run 2 by landing a frontside double cork 900 Weddle for 86.00 points and the lead.
As the action moved into third and last trick attempts, Murase was at risk of being bumped into second place by 2021 slopestyle and overall crystal globe winner Anna Gasser. But when Gasser missed the landing on her trick, Murase was locked in as the winner. Taking her final run as a victory lap, Murase ended her performance at Chur with a spectacular 1260 Weddle grab for the raging crowd. She finished in first place with a total score of 173.75 points.
"I'm so happy. I was very, very nervous because everyone was riding so good today. I'm just looking forward to doing my best riding in every competition leading up to the Olympics and then to do my best there in Beijing," said Monster Energy's Murase upon claiming first place at Big Air Chur Festival 2021.
Saturday's victory marks Murase's first FIS World Cup win. Despite her young age, Murase has emerged as a dominant force on the Big Air and Slopestyle circuit. She became the youngest Winter X Games athlete ever to win a gold medal at age 13 and made history at X Games Norway 2018 as the first girl to land a 1260 double cork in competition. Murase is a pacesetter for progression in freestyle snowboarding and currently owns five X Games medals (1 gold, 3 silver, 1 bronze) across Slopestyle and Big Air disciplines.
As the weekend's final event, the Men's Snowboard Big Air final ended Big Air Chur Festival with an epic showdown. Ten top riders from Finland, Germany, Japan, Sweden, Switzerland, and the United States dug deep into their bag of tricks to claim the win and valuable Olympics qualifier points.
When all was said and done, crowd favorite and Monster Energy team rider Rene Rinnekangas from Iisalmi, Finland, walked away with a strong second-place finish. Cheered on by the crowd chanting "Rene! Rene!" the 22-year-old put his creative trick selection and fluid style on full display.
On his first attempt over the Big Air jump, Rinnekangas blasted a perfect backside 1620 melon grab – landing backward after fast-spinning rotations – for 90.75 points and an early lead. On Run 2, the Finnish pro could only post 50.25 points for a frontside 1080 melon and found himself bumped from the top spot.
Rinnekangas came within reach of reclaiming first place on his third attempt with a fast-spinning 1440 lien air but could not secure a clean landing. He finished in second place with a total score of 141 points with Switzerland's Jonas Boesiger taking the win.
"It feels amazing, for sure. The jump was pretty hard to ride today, the take-off was a bit soft and I think a lot of people struggled with that and couldn't do their best tricks, so I'm really stoked I was able to land two runs. I'm stoked about the first trick. I was lucky to find a good line and land that one," said Rinnekangas upon claiming his first-ever World Cup podium finish.
Also claiming a podium spot in Men's Big Air, 27-year-old Sven Thorgren from Stockholm, Sweden, jumped into third place on his final trick. After starting his night on a solid foundation with a perfect backside 1080 on his first run, followed by a frontside double cork 1080 mute on his second attempt. Next, Thorgren pulled out a banger on Run 3: A flat-spinning backside 1440 stalefish earned standing ovations from the raucous crowd and 86.00 points to bring the Swedish ripper's overall score to 134.00 points.
Known for his video edits with the Scandinavian's crew, Thorgren is a podium favorite at A-list competitions. He currently owns seven X Games medals (1 gold, 2 silver, 4 bronze).
Freeski Big Air: Monster Energy's Sarah Hoefflin Clinches Second Place in Women's Final
The Monster Energy team's medal run started on Friday night in the Freeski Big Air final. Contested as a night session under floodlights, the big air show across the massive jump obstacle had the spirited crowd on its feet.
The eight finalists hailed from Canada, Italy, France, Norway, Russia, and Switzerland. Initially, each finalist was looking to post their best tricks across the Big Air gap in three runs. But after heavy winds saw the session postponed by two hours, riders only had two runs with one single trick counting as the high score to raise the finals' intensity.
In the highly anticipated Women's Freeski Big Air event, Swiss team rider Sarah Hoefflin came in as a top contender after a strong 2021 season. The 30-year-old from Geneva finished the previous FIS World Cup season in third place in Slopestyle and in April was crowned 'Ruler of the Week' at the Audi Nines snow sports media event.
When the finals at Big Air Chur Festival heated up, the Olympic gold medalist once again kept cool and relied on her versatile bag of tricks. On her second attempt, Hoefflin landed a perfect switch right dub 1080 Weddle grab that earned her a score of 93.25 points. She finished in second place behind Tess Ledeux from France in first.
"This is such a cool event. To be here in Switzerland on home turf in front of so many people, it means so much for me to be able to show the sport to people like this," said Monster Energy's Hoefflin.
Friday's second place finish marks Hoefflin's eleventh career World Cup podium. She discovered professional freestyle skiing relatively late in her career after earning her neuroscience degree in 2013. Since then, the Swiss native has built an impressive competitive record: Hoefflin shook up the freeski elite by winning Women's Ski Big Air at Aspen 2018 and that same year claimed the gold medal in slopestyle at the Winter Olympics in Pyeongchang, South Korea. She owns four X Games medals, including one Big Air gold from X Games Aspen 2018.
In Friday night's heated Men's Freeski Big Air final, a total of ten riders were battling for the top spot and FIS season ranking points. Countries represented in Chur include Austria, Canada, Germany, Switzerland, Norway, and the United States.
Monster Energy's Birk Ruud dropped in as the previous 2019/20 FIS Big Air World Cup champion and top competitor. In the no-holds-barred final session, the Norwegian dropped signature left double bio 1800 Weddle grab to net 97.25 points. While the score would prove high enough to claim victory in many Big Air competitions, it's testament to the high level of riding in Chur that Ruud finished in third place, with Austria's Matej Svancer in first.
Birk Ruud first barged into the international spotlight at a young age as a rookie pro. In 2016, the prodigy won Freeski Slopestyle Gold at the Winter Youth Olympics at Lillehammer. Since then, he has emerged as a top competitor and claimed the 2020 FIS World Cup Big Air Crystal Globe trophy. Ruud also has four X Games medals (2 gold, 2 silver) under his belt.
Download high resolution photos for editorial use here.
Congratulations to all athletes on their strong performance at Big Air Chur Festival and thanks to the organizers and staff in Switzerland for a world-class event.
For more on Kokomo Murase, Sarah Hoefflin, Birk Ruud, Rene Rinnekangas, Sven Thorgren and the Monster Energy snow sports team, visit http://www.monsterenergy.com. Also make sure to follow Monster Energy on YouTube, Facebook, Instagram, Twitter and TikTok for exclusive updates from the 2021/2022 Freeski and Snowboard season.
###
About Monster Energy
Based in Corona, California, Monster Energy is the leading marketer of energy drinks and alternative beverages. Refusing to acknowledge the traditional, Monster Energy supports the scene and sport. Whether motocross, off-road, NASCAR, MMA, BMX, surf, snowboard, ski, skateboard, or the rock and roll lifestyle, Monster Energy is a brand that believes in authenticity and the core of what its sports, athletes and musicians represent. More than a drink, it's the way of life lived by athletes, sports, bands, believers and fans. See more about Monster Energy including all of its drinks at http://www.monsterenergy.com.