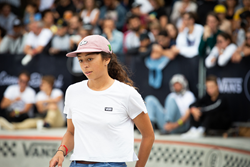 PARIS (PRWEB) August 10, 2019
The podium run continues! Monster Energy congratulates team rider Lizzie Armanto on taking second place in Women's Skate Park at the Vans Park Series event in Paris, France, today. On the freshly constructed Vans Cosanostra Skatepark de Chelles, the 26-year-old from Santa Monica, California, took her second consecutive podium spot of the season and is now a top contender in the upcoming Women's Pro Tour World Championships in September.
The Vans Park Series (VPS) is now in its fourth years as the world championship format in park terrain skateboarding for men and women with a total $800,000 prize purse. The current season saw over 700 skateboarders from 39 countries battling for qualifier points at contests in Brazil, Canada, China, and, this weekend, France. The goal: Securing a chance to compete for the men's and women's titles at the Vans Pro Skate Park Series World Championships in Salt Lake City, Utah, on September 6-7.
The level of competition in Paris this weekend was intense as the world elite of bowl riding took on the new competition-grade skatepark donated by Vans as a permanent fixture for local skateboarders. With its vertical walls, extensions, spine ramps and bowl corners, the park rewarded the kind of deep bowl skateboarding in which Armanto is known to thrive.
Armanto came to Paris as a podium favorite after taking second place at Dew Tour Long Beach in June, third place at the Montréal VPS qualifiers in July, and bronze at X Games Minneapolis 2019 the previous weekend. But the competition in Paris was on another level entirely. Armanto had to battle hard in the semifinal and scraped into the final eight in sixth place.
When the action moved into the eight-rider final, the massive crowd at the new outdoor park in Paris' Chelles neighborhood was ready for an epic showdown. Facing heat from Japan's Kokona Hiraki and Mami Tezuka, Armanto came through with a perfect run on her second attempt. Drawing on her versatile bag of tricks, Armanto covered the entire park with frontside air over the channel, backside crossbone air over hip, long frontside 50-50 through the bowl corner, Madonna, eggplant, and backside crailslide in the deep end, frontside boneless over the channel, frontside ollie to tail and lien air over the hip for 84.03 points and second place.
Today's second place at Vans Park Series Paris adds another podium finish to what is building up to become Armanto's strongest season to date. At X Games Minneapolis 2019 the previous weekend, the global ambassador for women's skateboarding earned her third career X Games medal. She is currently ranked third in the Olympic World Skateboarding Ranking, the official qualifier system maintained by World Skate for the Tokyo 2020 Olympics. Because of her dual citizenship, Lizzie Armanto will be representing Finland if she qualifies to compete in skateboarding's Olympic debut next year. She made history in 2018 as the first female skateboarder to complete the legendary 'Loop of Death' obstacle in a challenge hosted by skate icon Tony Hawk and is currently endorsing a new signature line of shoes and apparel with her long-time sponsor, Vans.
The action in Paris kicked off on Thursday with the 2019 Vans Park Series Europa Regionals for a chance to win a ticket into the World Championships and a spot in next season's VPS tour. When all was said and done, Monster Energy rider and Danish vert skateboarding icon Rune Glifberg claimed a solid fifth-place finish with huge Madonnas in the deep end, backside lipslides, and huge frontside ollies in the deep end.
Now that Vans Park Series Paris is in the books, all eyes are on the Vans Pro Skate Park Series World Championships in Salt Lake City, Utah, on September 6-7. Make sure to tune in via live feed to see Lizzie Armanto take on the season's top-ranking pros for the top spot.
Download Photos for Editorial Use.
For more Monster Energy skateboarding visit http://www.monsterenergy.com and follow Monster Energy on YouTube, Facebook, Instagram, Twitter for exclusive updates.
About Monster Energy
Based in Corona, California, Monster Energy is the leading marketer and distributor of energy drinks and alternative beverages. Refusing to acknowledge the traditional, Monster Energy supports the scene and sport. Whether motocross, off-road, NASCAR, MMA, BMX, surf, snowboard, ski, skateboard, or the rock and roll lifestyle, Monster Energy is a brand that believes in authenticity and the core of what its sports, athletes and musicians represent. More than a drink, it's the way of life lived by athletes, sports, bands, believers and fans. See more about Monster Energy including all of its drinks at http://www.monsterenergy.com.