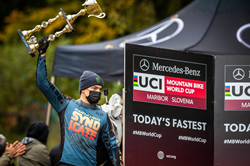 "I'm stoked! It was hard… I prefer faster [tracks] and it showed today. It's been two years now, back on the podium and I'm happy!" said Vergier upon winning the MTB World Cup 2020 race in Maribor, Slovenia.
MARIBOR, Slovenia (PRWEB) October 19, 2020
Back on top! Monster Energy congratulates Loris Vergier on claiming first place in the Elite Men's Racing event at the Mercedes-Benz UCI Mountain Bike World Cup in Maribor, Slovenia on Friday. On the notoriously challenging downhill course in the Eastern Alps mountains, the 24-year-old from Cagnes-sur-Mer, France, emerged on top of an elite field of riders with a 3:07.903 total time and more than two-second lead in the final.
After the start to this year's season had been delayed several times due to the coronavirus pandemic, the world's best riders looked forward to the first Downhill MTB World Cup of the 2020 season. Especially since Maribor enjoys near mythical status on the World Cup Circuit after appearing and disappearing seemingly at random over the last 20 years. Fans were in for twice the action this year, as the legendary race in the Slovenian mountains was contested as a double header event, with another World Cup race scheduled for Sunday.
Monster Energy's Vergier came to Slovenia looking for a win after his victory streak in the MTB French Cup 2020 series was broken by a fourth-place finish at the season finale in Les Orres, France on September 13. In the Maribor mountainside, Vergier was greeted by a steep, technical track littered with rocks and roots that are difficult to navigate at a rolling pace, let alone at race speed. Adding to the challenge, race day piled on pouring rain and peanut buttery mud. In short, exactly the kind of adverse conditions amid which the Frenchman is known to thrive.
As several top riders lost their grip on the muddy track, Vergier demonstrated perfect line selection and nerves of steel. What's more, choosing mud tiers for the challenging conditions made all the difference: "I tried dry tires yesterday and didn't feel comfortable, so I went back to mud tires today and all the podium boys were on muds. There were just so many sections where you could crash easily on dries, so I avoided that with mud tires," said Vergier.
With fellow French racer Rémi Thirion setting the pace, Vergier attacked the course with speed and precision. Soaring where others struggled, Vergier cleared the top section of the track steering clear of danger in muddy turns. Building his lead, he maintained his momentum into Maribor's infamous Rock Section, passing it faster than the rest of the pack. Barging over the finish line, Vergier finished the season's first MTB World Cup race with a 3:07.903 total time and solid 2.652-second lead ahead of Thirion.
"I'm stoked! It was hard… I prefer faster [tracks] and it showed today. It's been two years now, back on the podium and I'm happy!" said Vergier upon winning the MTB World Cup 2020 race in Maribor, Slovenia. "I focused on not crashing and just made my way down having smooth lines and tried to tuck when I could. It was tough out there, but the Frenchie killed it, so I'm stoked!"
Taking first place at Maribor on Friday marks a personal milestone for Vergier; his second World Cup victory after taking the win at the 2018 World Cup race in Vallnord, Andorra. The French racing prodigy also excelled in this summer's French Cup races, including back-to-back wins at events in Alpe d'Huez and Métabief, as well as third place at Les Deux Alpes in August. Naturally, Vergier will also be gunning for World Cup points in race two in Maribor, featuring a slightly altered track, this Sunday.
Vergier's Monster Energy teammates Luca Shaw (USA) and Troy Brosnan (AUS) also put down solid runs, finishing in 6th and 8th place, respectively. "Conditions were really challenging with the rain and then it stopped for the finals so I wasn't really sure what to expect on the track, but I was really happy with my run," said Shaw from North Carolina, adding: "I tried to stay loose and stay aggressive and charge to the bottom – and I came down in the lead. I was happy that my time held up for sixth place which was good for the first race."
Australian Brosnan is looking to improve in Sunday's race: "I still came down into eighth place for the day, but that's not what I'm looking for. We've got tomorrow and Sunday for another race. So, it should dry up a little bit. I'm excited to get these World Cups rolling and keep pushing forward."
Download High Res Photos for Editorial Use.
Stay tuned for more as the second race of this first-ever World Cup double header goes down on Sunday on a beast of a track; the original racecourse on which Monster Energy's Sam Hill claimed his win in 2008.
Also make sure to check out Vergier, Brosnan and Shaw in a stunning new video feature that provides an unfiltered look into the life of leading downhill mountain bike racers: Monster Energy, 'Between the Races' is available now to watch for free on YouTube here.
For more on Monster Energy's Mountain Bike athletes visit http://www.monsterenergy.com Follow Monster Energy on YouTube, Facebook, Instagram and Twitter.
###
About Monster Energy
Based in Corona, California, Monster Energy is the leading marketer of energy drinks and alternative beverages. Refusing to acknowledge the traditional, Monster Energy supports the scene and sport. Whether motocross, off-road, NASCAR, MMA, BMX, surf, snowboard, ski, skateboard, or the rock and roll lifestyle, Monster Energy is a brand that believes in authenticity and the core of what its sports, athletes and musicians represent. More than a drink, it's the way of life lived by athletes, sports, bands, believers and fans. See more about Monster Energy including all of its drinks at http://www.monsterenergy.com.