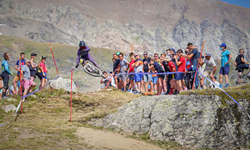 "I was trying to be more precise and less loose on race day and managed to claim the win! It was pretty tough, but I'm happy to be back in top position and looking forward to being on top again!" Loris Vergier
ALPE D'HUEZ, France (PRWEB) August 10, 2020
Another weekend of world-class mountain bike action is in the books! Monster Energy congratulates Loris Vergier on claiming first place in the Men's Racing event at the MTB French Cup 2020 in Alpe d'Huez. In the high-profile race event featuring the world's best mountain bike athletes in the French Alps, the 24-year-old from Cagnes-sur-Mer, France, emerged at the top of the field with a 3:27.98 total time.
Every year, the MTB French Cup 2020 attracts the best mountain bike riders from all over France to the Western Alps region of L'Alpe d'Huez. This time around, the focus became more international than ever, as the global coronavirus pandemic impacted the majority of racing events this season. In a surprise twist of events, many top MTB World Cup athletes entered to improve their race training and turned the French national event into one of the year's biggest competitions so far.
The high-altitude downhill racetrack at the French ski resort offered fast and raw turns using high-speed ski slopes for most of the run. As a result, the level of riding soared in the qualifiers, with Monster Energy team rider and 2018 World Champion Amaury Pierron from Brioud, France clinching the lead with a blistering downhill run. Pierron was trailed by Monster Energy teammates Loris Vergier in second and American rider Luca Shaw in tenth.
Once Sunday's final race rolled around, riders had to deal with added difficulty as the summer heatwave created dry and dusty conditions on the already challenging course. In a field of the world's fastest riders, first-place qualifier Pierron came out charging the downhill but suffered an unfortunate crash. Although he sustained a concussion and required stitches to treat a hand injury, the Frenchman walked away on his own strength, upset about having to withdraw from competition.
Rising to the occasion, it was Vergier who clutched the lead with flawless riding and technical precision. With a 1.23-second lead on the next competitor, Vergier won the prestigious MTB French Cup 2020 Men's Racing event and set the day's fastest time at 3:27.98 total.
"I was trying to be more precise and less loose on race day and managed to claim the win! It was pretty tough, but I'm happy to be back in top position and looking forward to being on top again!" said Vergier upon winning the MTB French Cup 2020 in Alpe d'Huez on Sunday. "It was basically the first race of the season, so everyone was enjoying to ride there, whatever the conditions would be. It was a good weekend to enjoy seeing friends in France, and my first French Cup in five years."
Also ending Race Day with a podium spot, American Monster Energy team rider Shaw from San Francisco, California, leapt into fifth place on the strength of a 3:30.37 finish time. "It was an amazing feeling getting to race again this past weekend after many months of waiting," said Shaw, adding:
"The field was full of World Cup riders so it was a good gauge to see where my speed is at and find some areas to improve for the bigger races coming up later this summer. The track was also really fast and fun to ride so it was an all-round great weekend!"
In the Junior category, young gun and Monster Army recruit Ike Klaassen competed as one of the youngest racers in the 16-to-18-year-old category. But even at the young age of 16, the Dutch/South African rookie is already proving himself a force to be reckoned with. At this weekend's French Cup in Alpe d'Huez, he rose to the podium with a strong fifth-place finish facing an elite field of international riders. Just one week earlier, Klaassen claimed second place in a similar French national race and finished his 2019 season by winning the Western Province championships at Hellsend Dirt Compound in South Africa. Definitely keep an eye on this kid!
For more on Loris Vergier, Amaury Pierron, Luca Shaw, Ike Klaassen and Monster Energy's Mountain Bike athletes visit http://www.monsterenergy.com Follow Monster Energy on YouTube, Facebook, Instagram and Twitter.
About Monster Energy
Based in Corona, California, Monster Energy is the leading marketer of energy drinks and alternative beverages. Refusing to acknowledge the traditional, Monster Energy supports the scene and sport. Whether motocross, off-road, NASCAR, MMA, BMX, surf, snowboard, ski, skateboard, or the rock and roll lifestyle, Monster Energy is a brand that believes in authenticity and the core of what its sports, athletes and musicians represent. More than a drink, it's the way of life lived by athletes, sports, bands, believers and fans. See more about Monster Energy including all of its drinks at http://www.monsterenergy.com.