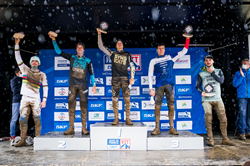 MÉTABIEF, France (PRWEB) September 01, 2020
Rain and mud can't stop this rider! Monster Energy congratulates Loris Vergier on claiming first place in the Men's Racing event at round three of the MTB French Cup 2020, contested in the ski resort town of Métabief in eastern France. In the international mountain bike race event in the French mountains, the 24-year-old from Cagnes-sur-Mer, France, emerged at the top of an elite field with a 3:35.19 total time and solid 7.42-second lead in the final.
Every year, the MTB French Cup 2020 series attracts the best mountain bike riders from all over France to downhill races all across the country. This season's third stop was contested in the popular ski resort town of Métabief in the Bourgogne-Franche-Comté region known for alpine sports and pristine downhill runs. Much like previous stops on the tour, this event attracted a more international field than usual, as the global coronavirus pandemic continues to impact racing events this season.
However, the many top MTB World Cup athletes attending the Métabief race were in for a surprise: They faced some of the toughest conditions bike athletes could possibly encounter. Torrential rainfall continued throughout training and practice, creating muddy slopes from top to bottom. Up to a point where some riders described the course as "almost impossible to get down".
But when the going gets tough, Monster Energy's Vergier gets going: "From the first day to the last, it was really muddy. We kind of enjoyed it because the conditions stayed the same and it was cool to push in the mud," said Vergier, who won the qualifiers and headed into Sunday's final race as the clear favorite.
Maintaining his momentum, Vergier soared while others struggled and barged over the finish line with a 3:35.19 total time and overwhelming 7.42-second lead on the next competitor, Greg Minnaar, in second place.
"Aside from being cold, it was a great weekend. I won the qualies and the race, so now I'm holding onto the overall red plate, it feels pretty good," said Vergier upon winning the MTB French Cup 2020 race in Métabief, adding: "I'm looking forward to the next and last round, so we'll see!"
Download photos for editorial use.
This weekend's victory comes on the heels of Vergier's win at the French Cup race event in Alpe d'Huez in early August and third place at Les Deux Alpes on August 15. As the fourth and final stop on the MTB French Cup 2020 series, all eyes are now on the season finale in Les Orres, France from September 11-13, 2020. Will Vergier end the season with a MTB French Cup 2020 trophy? Stay tuned!
Speaking of the upcoming final French Cup, make sure to keep an eye on U.S. team rider Luca Shaw. Shaw clinched yet another top ten ranking with a ninth-place finish in Métabief after narrowly escaping a huge slam that could have left him out in the cold. After already claiming fifth place in Alpe d'Huez and sixth at Les Deux Alpes, it's safe to say that Shaw is hungry for strong race results and headed to Les Orres fully motivated.
For more on Vergier, Shaw and Monster Energy's Mountain Bike athletes visit http://www.monsterenergy.com Follow Monster Energy on YouTube, Facebook, Instagram and Twitter.
###
About Monster Energy
Based in Corona, California, Monster Energy is the leading marketer of energy drinks and alternative beverages. Refusing to acknowledge the traditional, Monster Energy supports the scene and sport. Whether motocross, off-road, NASCAR, MMA, BMX, surf, snowboard, ski, skateboard, or the rock and roll lifestyle, Monster Energy is a brand that believes in authenticity and the core of what its sports, athletes and musicians represent. More than a drink, it's the way of life lived by athletes, sports, bands, believers and fans. See more about Monster Energy including all of its drinks at http://www.monsterenergy.com.