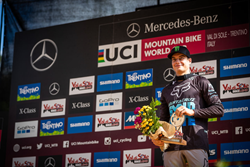 VAL DI SOLE, Italy (PRWEB) August 05, 2019
Monster Energy's Loris Vergier (FRA) takes third place at the UCI Mountain Bike Downhill World Cup in the wildest World Cup race weekend of the year in Val Di Sole, Italy. Teammates Amaury Pierron takes fourth place and Danny Hart lands in fifth place.
Now that racing in Val di Sole is in the books there was no shortage of drama and action before the day was done on what some are saying was one of the most difficult courses in 10 years.
The already steep and technical Black Snake track in Trentino, Italy was made even more treacherous this weekend when torrential rains fell during qualifying and threw the entire session on its head just in time for the top 60 ranked riders. The loose dirt turned to slime and just making it down the root sections on two wheels turned into a challenge for some of the fastest riders on earth. By race morning, the sun was back out and racers only had to deal with the 2100m of roots and rocks instead of fog and rain.
Vergier had a calm, collected run and was happy to make it through the weekend in one piece and land in third despite the tough track.
"It was actually a really tough weekend because the track was really rough," said Vergier. It's never been that rough. I felt like I was just trying to get comfortable on the track and I only felt comfortable today. I did little mistakes so I'm just glad I made it down because it was so hard and physical. I'm happy to be in the third spot with that run, and great to be in fourth for the overall. Basically it was just good to make it down safe, I'm stoked for that. It was a man's track for sure!"
Pierron (FRA) took home 4th place, with a less than stellar run in his eyes. "The most important thing is to be happy with where you are, but I'm not really happy with he way I rode, said Pierron. It was a hard weekend with challenging conditions. My pace wasn't good, and if you ride how you want you can be happy, but when you're not happy with you're riding… well no party tonight. I'll rest and go to Lenzerheide to kick some ass."
Hart (GBR), was ahead of Loic Bruni (2nd Place), challenging for the hot seat only to suffer a flat near the bottom of the track and be put out of contention for the win. Hart still managed a podium result in 5th place.
Monster Energy's Troy Brosnan suffered with his worst result of the season in 10th place. The tie in the overall race has been broken and Brosnan is now in 3rd overall.
Monster Energy riders are now second through 5th in the World Cup overall rankings with just two races remaining this season. Pierron leads the charge in second, with Brosnan (AUS) third, Vergier in fourth and finally Hart rounding out the top 5.
Download photos for editorial use.
The race teams now pack up and head straight to Lenzerheide, Switzerland for the 7th round of the World Cup.
For more on Vergier, Amuary, Hart, and the rest of the Monster Energy Mountain Bike team visit monsterenergy.com, and make sure to follow Monster Energy's YouTube, Facebook, Instagram & Twitter for exclusive updates.
###
About Monster Energy: Based in Corona, California, Monster Energy is the leading marketer and distributor of energy drinks and alternative beverages. Refusing to acknowledge the traditional, Monster Energy supports the scene and sport. Whether motocross, off-road, NASCAR, MMA, BMX, surf, snowboard, ski, skateboard, or the rock and roll lifestyle, Monster Energy is a brand that believes in authenticity and the core of what its sports, athletes and musicians represent. More than a drink, it's the way of life lived by athletes, sports, bands, believers and fans. See more about Monster Energy including all of its drinks at http://www.monsterenergy.com.