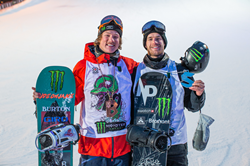 HAFJELL RESORT, Norway (PRWEB) March 07, 2020
Day one is officially in the books! Monster Energy congratulates its ski and snowboard athletes on a solid performance at X Games Norway 2020 today. In front of a stoked crowd at Hafjell Resort, Maggie Voisin from White Fish, Montana, claimed silver in the intense Women's Ski Big Air final. Also taking podium spots, Monster Energy's Max Parrot took silver in the Men's Snowboard Big Air event, joined on the podium by Darcy Sharpe in bronze position.
Now in its fifth consecutive year in Norway, the biggest spectacle in action sports returned to Hafjell Resort about 120 miles north of the city of Oslo for snow sports competitions in a festival atmosphere this weekend. Rounding out an unforgettable first day, the event featured concerts by hot musical acts Arif, Musti, Chris Abolade, and Alan Walker.
Supported by Monster Energy as the official energy drink partner of X Games, the competition is showcasing the world's biggest names in competitive freeski and snowboarding this weekend. Over the course of two action-packed days, X Games Norway 2020 is awarding 26 medals overall: gold, silver, and bronze in Slopestyle and Big Air competitions (Ski and Snowboard disciplines), as well as gold only for Ski Knuckle Huck and Snowboard Knuckle Huck.
Here's how the action unfolded for team Monster Energy on day one of the invite-only competition in Scandinavia:
Women's Ski Big Air: Monster Energy's Maggie Voisin Claims First Silver Medal in Event
The highly competitive Women's Ski Big Air final unfolded amid less than perfect conditions as riders had to deal with overcast skies and low visibility at Hafjell Resort. Nevertheless, seven of the world's leading women freeskiers showcased the highest level of progression in the sport, with several riders in the final throwing down 1260s and cork rotations during a 30-minute jam session judged on overall impression.
When all was said and done, Monster Energy team rider Maggie Voisin walked away with her career-best finish in the Ski Big Air event. After struggling to get a good landing on her first run, the 21-year-old stomped a picture-perfect leftside double cork 1260 safety grab to take an early lead. Keeping the heavy tricks coming, Voisin followed up with a leftside Rodeo 900 Japan grab and switch leftside 720 nosegrab to maintain her lead.
But when the session moved into last attempts, Voisin found herself bumped into second place by Canada's Meghan Oldham pulling out a 1260 aerial. After firing back with a rightside 900 tailgrab, Voisin ended her final performance with a strong silver medal finish, her personal best in Big Air competition to date.
Today's silver medal brings Voisin's X Games medal count to six total medals (1 gold, 2 silver, 3 bronze). The U.S. freeski prodigy made history at XG Norway 2017 as the first American woman to medal in Big Air. After undergoing knee surgery in April 2019, Voisin returned to competition in full strength by claiming Slopestyle bronze at XG Aspen 2020. Keep an eye on the Montana native as she will compete tomorrow as a bona fide podium threat in the Slopestyle event, which she won at X Games Aspen 2018.
Barely missing a Women's Ski Big Air podium spot today, Monster Energy's Giulia Tanno started her final on a strong note by sending a technical switch leftside 900 safety grab followed by a stylish leftside 1080 tailgrab. A picture-perfect leftside double cork 1080 safety grab put the 21-year-old from Lenzerheide, Switzerland into podium contention. But after putting it all on the line with a leftside double cork 1260 on her final attempt, Tanno suffered a heavy slam and had to settle for fourth place.
Monster Energy Men's Snowboard Big Air: Max Parrot Claims Silver, Darcy Sharpe Takes Bronze
As the sun set over Hafjell Resort, the enthusiastic crowd witnessed an incredible aerial show in the Monster Energy Men's Snowboard Big Air event. When the eight-rider final got underway in a 30-minute jam session judged on the best overall impression, all eyes were on the rivalry between Monster Energy's Max Parrot and fellow Canadian Mark McMorris.
Both riders were chasing records today: McMorris had a chance to claim the most overall Winter X Games medals, while Parrot was looking for his third consecutive Big Air gold medal after claiming back-to-back gold at X Games Norway 2019 and XG Aspen 2020 in January. But right out the gate, Parrot was facing a difficult start after falling on 1620 aerial attempts during his first two runs.
Battling to get back into his flow, Parrot finally clinched the landing on a Cab triple cork 1620 mute that put him back into the run for podium spots. As the action intensified, the decorated Canadian snowboard icon sent a perfect backside triple cork 1620 over the massive gap. On his final run of the contest, Parrot landed a perfect frontside triple cork 1620 mute, but still had to settle for second place due to falling on earlier attempts in what commentators called one of the best Big Air finals ever seen.
On the strength of Saturday's silver medal finish, Parrot still owns the most medals in the history of X Games Snowboard Big Air (6 gold, 4 silver). The 25-year-old from Bromont, Canada, made an emotional return to competition by winning Big Air gold at X Games Norway 2019 after a battle with Hodgkin Lymphoma cancer. He now commands an impressive overall X Games medal count at 12 medals (7 gold, 5 silver) and will be gunning for the podium in the Monster Energy Men's Snowboard Slopestyle tomorrow.
Parrot was joined on the podium by Monster Energy teammate Darcy Sharpe from Comox, Canada. Fresh off his recent Slopestyle gold and Rail Jam silver at X Games Aspen 2020, the 23-year-old put his versatile aerial skills on full display: A backside 1260 mute, frontside double cork 1440, backside triple cork 1440 mute, and a highly technical switch backside double cork 1260 tailgrab earned Sharpe the bronze medal. The brother of brother of Monster Energy freeskier Cassie Sharpe now owns four X Games medals (1 gold, 2 silver, 1 bronze) and will be mining for more precious metal in tomorrow's Slopestyle event.
Download Photos for Editorial Use.
Make sure to tune in tomorrow when X Games Norway 2020 returns with Slopestyle competitions across Ski and Snowboard disciplines at Hafjell Resort. In case you missed the live stream from Norway today, you can catch up on the official X Games YouTube channel.
X Games fans in the United States can watch eight hours of live competition coverage from X Games Norway on March 7 and 8 on the ESPN App and X Games Facebook, X Games YouTube and X Games Twitter pages.
Additionally, two hours of event recap coverage will air on ABC as part of the World of X Games series on March 14 and 21. In addition to all of the content on ESPN's U.S.-based media platforms, X Games Norway 2020 will be available globally on ESPN's streaming services.
Visit http://www.monsterenergy.com for exclusive updates from X Games Norway 2020 including photos, videos, and contest results as they happen. Follow Monster Energy on YouTube, Facebook, Instagram, Twitter for exclusive behind-the-scenes looks in Oslo.
About Monster Energy
Based in Corona, California, Monster Energy is the leading marketer and distributor of energy drinks and alternative beverages. Refusing to acknowledge the traditional, Monster Energy supports the scene and sport. Whether motocross, off-road, NASCAR, MMA, BMX, surf, snowboard, ski, skateboard, or the rock and roll lifestyle, Monster Energy is a brand that believes in authenticity and the core of what its sports, athletes and musicians represent. More than a drink, it's the way of life lived by athletes, sports, bands, believers and fans. See more about Monster Energy including all of its drinks at http://www.monsterenergy.com.