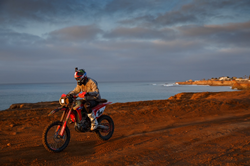 "I think this year was a really good racecourse because it had a lot of good flow. Winning a peninsula run is awesome. I've been very close to doing it, and this one feels really good to get here first to the line. It's a big one to win," - Mark Samuels
LA PAZ, Mexico (PRWEB) November 23, 2021
Monster Energy congratulates motorsports athlete Mark Samuels on his victory in the Pro Moto Unlimited Class at the Baja 1000 off-road motorsport race on the Baja California Peninsula in Mexico on Saturday. Riding for team Slam Life Racing (SLR) Honda, the 32-year-old from Yucca Valley, California finished the annual race sanctioned by SCORE International in first place. This marks the sixth victory in the prestigious off-road race for Samuels.
Congratulations to the SLR Honda Baja 1000 team including Justin Morgan, Kendal Norman and Brandon Prieto that shared in Samuel's victory and helped make it possible. Monster Energy's Phil Blurton took home the win in the Pro UTV Forced Induction Class.
Founded by Ed Pearlman in 1967, the Baja 1000 is a legendary off-road race event including various vehicle classes. This year, riders competed on the fourth-longest course in the 54-year history of the race at a total length of 1227 miles. From November 15-20, this year's edition of the race was contested on a point-to-point course, running the length of the peninsula from Ensenada to La Paz.
SLR Honda founder Samuels came into the race as a favorite and has won the Baja 1000 the previous year. Starting the race day at 2:00 AM, SLR Honda rider Justin Morgan raced until route mile 444, where Monster Energy's Samuels took over and raced to mile 816. With Norman and Prieto sharing the final part of the race, the SLR team churned out a winning time in the grueling desert race of 23 hours, 7 minutes, 18 seconds.
Samuels and team not only finished the race in less than a day, but also with a victory margin of over one hour, 15 minutes on the next competitor. Reaching an average speed of 53.04 miles per hour, the team placed sixth overall among all the cars and trucks in the Baja 1000.
"I think this year was a really good racecourse because it had a lot of good flow. Winning a peninsula run is awesome. I've been very close to doing it, and this one feels really good to get here first to the line. It's a big one to win," said Monster Energy's Samuels upon winning the Baja 1000 race.
Growing up in Kingman, Arizona, Samuels began racing motorbikes at a young age. He picked up off-road racing at the age of 20 after relocating to California. As the owner of Team SLR Honda, Samuels has built an impressive track record as a multi-award-winning professional motorcycle racer. He claimed his first victory in the iconic Baja 1000 off-road race in 2013.
In the Pro UTV Forced Induction class, Monster Energy athlete Phil Blurton took the win with a total time of 26:58:56.767. This marks Blurton's first career SCORE victory. Previously, Blurton took home the UTV World Championship in October 2021 for the fourth time in his career.
Also claiming a podium spot, Monster Energy's Cameron Steele from San Clemente, California, finished in third place in the Trophy Truck class on Saturday. Riding his Desert Assassin Trophy Truck, Steele battled his way into the Top 3 on the more than 1000-mile-long course with a finish time of 21:26:59.865.
For exclusive updates on motorsports athletes Mark Samuels, Phil Blurton, and Cameron Steele visit http://www.monsterenergy.com. Follow Monster Energy on YouTube, Facebook, Instagram, Twitter and TikTok.
###
About Monster Energy
Based in Corona, California, Monster Energy is the leading marketer of energy drinks and alternative beverages. Refusing to acknowledge the traditional, Monster Energy supports the scene and sport. Whether motocross, off-road, NASCAR, MMA, BMX, surf, snowboard, ski, skateboard, or the rock and roll lifestyle, Monster Energy is a brand that believes in authenticity and the core of what its sports, athletes and musicians represent. More than a drink, it's the way of life lived by athletes, sports, bands, believers, and fans. See more about Monster Energy including all of its drinks at http://www.monsterenergy.com.