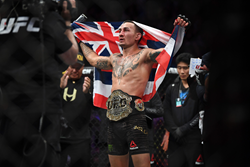 I made the weight and I made it look easy. I'll tell you what Dana White, I want to be the No. 1 pound-for-pound. If it's the No.1 at 155 (Khabib Nurmagomedov), let's do it - Max Holloway
TORONTO (PRWEB) December 10, 2018
Monster Energy's reigning UFC featherweight champion Max "Blessed" Holloway cemented his legacy in UFC history on Saturday via fourth round TKO by a merciful doctor's stoppage after the round. Holloway retained his UFC featherweight title against Brian "T-City" Ortega in the main event at UFC 231 at Toronto's Scotiabank Arena.
Although the Waianae, Hawaii native entered the Octagon as the betting underdog against undefeated Ortega, he threw down for four brutal rounds in a violent and technical offensive war, and left the cage without question as one of the greatest featherweight champions the division has ever seen. His victory marks his thirteenth consecutive win (behind only Anderson Silva), and second-straight featherweight title defense with 10 resulting in violent finishes. The Hawaiian is also the single most prolific striker in UFC history, with the most significant strikes landed in any UFC round, any UFC fight and in any UFC career at an awe-inspiring 1,627 total strikes.
Holloway (20-3) certainly proved himself to all of the naysayers after a year out of the Octagon and some health issues by delivering one of his most dominant performances to date, assaulting "T-City" with a litany of strikes, landing punch after punch with his uncanny mastery of range and timing. And Holloway all but negated Ortega's much-feared Jiu-Jitsu with his supreme balance and takedown defense.
Holloway was able to score effective shots early on by landing clean right hands and carried his non-stop offensive strategy through the second round, turning Ortega's face into a bloody mess. "T-City" regained some momentum coming into the third with forward pressure and a sharp spinning elbow, but Holloway was able to regain his composure and entered round 4 looking fresh and determined to finish the fight.
In round 4 Holloway unloaded on Ortega with vicious combinations, ripping right hands to T-City's head and eye, which began to swell and bleed uncontrollably. Notoriously tough Ortega somehow absorbed the damage and survived, hanging in for four of the five scheduled rounds until the doctor waved off the fight before round five commenced.
With this performance, Holloway might have moved past Jose Aldo as the best featherweight in MMA history while giving fans one of his finest fight performances.
When asked if he was bothered by the betting odds against him, Holloway said, "My fans got rich — you're welcome."
Holloway would like to continue his reign in the featherweight class, but Dana White has talked about him moving up to lightweight at 155 pounds and Holloway will do what he has to for the UFC. Khabib Nurmagomedov was mentioned and Tony Ferguson came up as a possible contender in which Holloway seemed fine with the idea.
"I made the weight and I made it look easy," Holloway said. "I'll tell you what Dana White, I want to be the No. 1 pound-for-pound. If it's the No.1 at 155 (Khabib Nurmagomedov), let's do it."
Max Holloway, is amongst Monster Energy's elite UFC team along with Daniel Cormier, Conor "The Notorious" McGregor, Donald "Cowboy" Cerrone, Dominick "Dominator" Cruz, Chris 'The All American' Weidman, Tyron "The Chosen One" Woodley, Yair Rodriquez, Jessica-Rose Clark, Li Jingliang, Gökhan Saki and Rose Namajunas.
For more on Holloway and Monster Energy's MMA athletes visit http://www.monsterenergy.com. Follow Monster Energy on YouTube, Facebook, Instagram and Twitter.