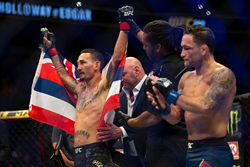 Everybody said I wasn't able to wrestle with this guy. I wanted to prove a point and go five rounds with him to let the world know that I'm here to stay and the 'Blessed Express' is still on the move. Max Holloway
EDMONTON, Alberta (PRWEB) July 29, 2019
UFC 240 is a wrap and Max Keliʻi Holloway remains the undisputed UFC Featherweight Champion. Monster Energy congratulates the 27-year-old Hawaiian MMA super star on his unanimous decision win against Frankie Edgar to defend his 145-pound title for a third time in the main event at Rogers Arena in Edmonton, Canada, on Saturday.
In the night's co-main event, Monster Energy's Cristiane 'Cyborg' Justino dealt upcoming Felicia Spencer her first career defeat in the Women's Featherweight division in front of a packed arena of Canadian MMA fans.
Let's start with the Championship match: The title bout between Max 'Blessed' Holloway and Frankie 'The Answer' Edgar had been a long time coming. The two Featherweight fighters were already supposed to square off at UFC 218 in late 2017 and UFC 222 in February 2018. But both fights had to be cancelled due to injuries – first Edgar then Holloway – at the time.
Now it was on! With Holloway putting his 145-pound title on the line against the former Lightweight champion, the crowd was in for a collision of different fighting styles: Holloway's record-breaking striking ability versus Edgar's penchant for wrestling-style takedowns. Who would retain the upper hand, especially keeping in mind that Holloway is a solid ten years younger than the future Hall of Famer?
It was Edgar who took the initiative right from the opening bell. The 37-year-old from Toms River, New Jersey came charging at his opponent, looking for openings to secure a takedown and pin 'Blessed' to the mat. But Holloway remained vigilant, putting a stop on Edgar's grapples and retaliating with heavy-hitting power shots at every turn.
The challenger maintained the pressure in his first shot at defeating the 145-pound king, but Holloway fired back with surgical precision. Demonstrating why he reigns as the single most prolific striker in UFC history, he bloodied Edgar's nose early on with a right hand. Holloway left his opponent reeling with a spinning back kick followed by a sequence of heavy uppercuts at the end of round two.
Edgar finally landed the only takedown of the night in round three, barely escaping a series of potentially finishing uppercuts. But Holloway kept the fight in the upright position and maintained his dominance with hard rights until the very end. After the highly competitive fight had gone the entire five rounds, Holloway took the win in a sweep on the judges' scorecards: The final scores read 50-45, 49-46, and 48-47, all in favor of Holloway, who defeated 13 of 14 takedown attempts.
"Everybody said I wasn't able to wrestle with this guy. I wanted to prove a point and go five rounds with him to let the world know that I'm here to stay and the 'Blessed Express' is still on the move," said Max Holloway upon defending his UFC Featherweight title on Saturday.
Saturday's win raises Max Holloway's MMA record to 21-4. It also marks his 13th consecutive Featherweight victory, officially the longest winning streak for a 145-pound fighter in UFC history. Well on his way to building a legacy as the sport's greatest Featherweight fighter, he is now only one victory short of Jose Aldo's combined record under WEC and UFC banners. And having defended his Featherweight title for the third time, Holloway's future holds a number of high-profile match-ups, including Chang Sung Jung and Zabit Magomedsharipov.
In the night's co-main event, Monster Energy's Cristiane 'Cyborg' Justino, born in Brazil and fighting out of San Diego, went blow-for-blow against 28-year-old rookie Felicia Spencer from Montreal in a three-round Women's Featherweight match.
Cyborg came into the bout under pressure for two reasons: First, because she suffered a knockout loss in her Featherweight Championship fight against Amanda Nunes in December; her first defeat in 13 years. And second, because UFC 240 marked the final fight on her UFC contract, so a win would send her into contract negotiations on strong footing.
Getting the victory was no walk in the park for Cyborg. Spencer is known as a talented submission specialist and climbed into the Octagon at UFC 240 undefeated with a seven-win MMA record. Wasting no time, Spencer bloodied Cyborg's face by landing a surprise elbow to the forehead in round one, only to set off the native Brazilian's killer instinct.
Jolted by suffering the very first cut of her entire career, the Muay Thai black belt proceeded to pummel Spencer with jabs, knee shots, and kicks to the lead leg. But whereas most previous opponents had succumbed to Cyborg's power shots, the Canadian absorbed the barrage impressively, although offering little by ways of putting Cyborg into serious trouble.
As Cyborg's continued to unleash her entire arsenal, Spencer demonstrated toughness – except for a heavy round three elbow in the clinch – and stood her ground until the final bell. But there was never a doubt who inflicted the most damage: The judges handed the fight to Cyborg via unanimous decision (30-27, 30-27, 30-27), sealing Spencer's first career defeat.
"I trained really hard. Thanks to Felicia for giving me my first cut. I'm happy. I just want to come back and do my job. Thank you, God. I feel very blessed to be here," said Cyborg upon winning her fight at UFC 240 in Edmonton.
Saturday night's victory puts Cyborg (21-2, 1 NC) back in the winner's circle. She proceeded to call out Nunes for a rematch for the UFC Women's Featherweight title immediately after the fight. That same night, Nunes responded in the positive on Twitter, stating that she is, "ready for this… again." Whether the fight will happen and under which franchise Cyborg decides to continue her MMA career will be revealed over the next coming weeks, so stay tuned!
Max Holloway and Cristiane 'Cyborg' Justino are amongst Monster Energy's elite UFC team along with Donald "Cowboy" Cerrone, Conor "The Notorious" McGregor, Jorge Masvidal, Daniel Cormier, Dominick "Dominator" Cruz, Chris 'The All American' Weidman, Tyron "The Chosen One" Woodley, Jon Jones, Yair Rodriquez, Jessica-Rose Clark, and Li Jingliang.
For more on Holloway, Cyborg and Monster Energy's MMA athletes visit http://www.monsterenergy.com Follow Monster Energy on YouTube, Facebook, Instagram and Twitter.
###
About Monster Energy:
Based in Corona, California, Monster Energy is the leading marketer and distributor of energy drinks and alternative beverages. Refusing to acknowledge the traditional, Monster Energy supports the scene and sport. Whether motocross, off-road, NASCAR, MMA, BMX, surf, snowboard, ski, skateboard, or the rock and roll lifestyle, Monster Energy is a brand that believes in authenticity and the core of what its sports, athletes and musicians represent. More than a drink, it's the way of life lived by athletes, sports, bands, believers and fans. See more about Monster Energy including all of its drinks at http://www.monsterenergy.com.