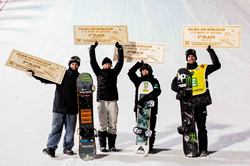 "I'm really happy because I bailed on my second run. After that on the third run, I went pretty big and was able to stomp the front 16 which is a really hard trick for me, so I was really happy just to have been able to put it down and the result came with it so... Yes!" Max Parrot
KREISCHBERG, Austria (PRWEB) January 11, 2021
What a season opener! Monster Energy congratulates snowboard athletes Max Parrot (Canada) and Zoi Sadowski-Synnott (New Zealand) on earning gold in the Snowboard Big Air Men's and Women's event, respectively, at the FIS Snowboard Park & Pipe World Cup today in Kreischberg, Austria. Also claiming podium spots in the season opener event at the popular Alpine resort, Monster Energy's Sven Thorgren from Sweden claimed silver in the Men's Big Air final and Kokomo Murase from Japan took silver in Women's Big Air.
Without the usual crowds of spectators and amid strict Covid-19 safety guidelines, this year's FIS Snowboard World Cup season opener was broadcast live on television, streaming platforms and social media. The most competitive male and female snowboarders on the circuit brought their best aerial stunts to the first World Cup event in ten months since the start of the pandemic. For extra motivation, the Kreischberg World Cup counted as the first qualifier for next year's Beijing 2022 Olympic Winter Games.
No stranger to intense competitions, 26-year-old Max Parrot from Bromont, Canada, stepped into the Big Air final with confidence and a deep bag of tricks. On his first attempt, Parrot put down a perfect switch can triple 1620 jump for 80.20 points, putting him in third place with Monster teammate Thorgren claiming an early lead. When Parrot bailed on his second attempt, it all came down to his last try. Undeterred by the pressure, Parrot sent a clean front triple 1620 across the Big Air jump for 84.80 points and a total score of 165 points for the season opener win.
"I'm really happy because I bailed on my second run. After that on the third run, I went pretty big and was able to stomp the front 16 which is a really hard trick for me, so I was really happy just to have been able to put it down and the result came with it so... Yes!" said Parrot upon claiming Men's Snowboard Big Air Gold in Kreischberg.
Before his 2020 season was cut short by the global coronavirus pandemic, Parrot put down an epic performance at X Games Norway 2020 with back-to-back gold medals in Big Air and Slopestyle. The Olympic silver medalist, who beat cancer in 2019, owns the most medals in the history of X Games Snowboard Big Air (6 gold, 4 silver) and commands an overall X Games medal count of 13 medals (8 gold, 5 silver).
Parrot's fiercest competition in today's final came from his Monster teammate, 26-year-old Thorgren from Stockholm, Sweden. Straight out the gate, Thorgren pulled a front triple 1440 weddle to rise to the top of the leaderboard with 85.80 points. But after crashing out on his second jump and scoring 78.20 points on Run 3, Thorgren had to hand over the victory to Parrot but went home with a strong silver medal finish.
Thorgren is regarded as one of the leaders of snowboarding's new school. In 2020, the Swede won bronze medals in Snowboard Big Air and the innovative Slopestyle Rail Jam event at X Games Aspen 2020. The 26-year-old from Stockholm, Sweden now holds six X Games medals (1 gold, 1 silver, 4 bronze).
In the Women's Snowboard Big Air final, 19-year-old Sadowski-Synnott from Wanaka, New Zealand, faced off against a stacked field of international competitors. After crashing out on her first attempt, the Kiwi ripper knew she needed two big scores to reach the podium. And she did: After stomping a backside 1080 – her first time landing the difficult trick in competition – for 81.60 points, Sadowski-Synnott followed up with a switch backside 900 weddle for 80.80 points. With a combined score of 162.40 points, she sealed the deal and took home her first FIS World Cup victory.
"I wasn't expecting it but I'm super stoked! I can't believe it, everyone was sending it and the jump was so perfect, girls were sending, it was sick," said Monster Energy's Sadowski-Synnott after taking Women's Snowboard Big Air Gold in Kreischberg. "I was just trying to get my switch back 9 that I'm pretty used to and then the back 10 I've never done in competition before, I only learned learnt it in New Zealand this summer."
Last year, Sadowski-Synnott started her season on a high note by winning gold in Women's Snowboard Slopestyle at X Games Norway 2020. This already marked the second win in the discipline, bringing her X Games count to three medals (2 gold, 1 silver). Recognized as 'Rookie of the Year' in the 2020 Snowboarder Magazine Awards, Sadowski-Synnott also made history as the first athlete from New Zealand in 26 years to win a Winter Olympics medal when she earned Slopestyle bronze at PyeongChang 2018.
Sadowski-Synnott was joined on the Big Air podium in Kreischberg by Monster Energy teammate Murase from Gifu, Japan. Setting the bar high, the 16-year-old snowboard prodigy pulled a massive backside double 1260 weddle for 92 points on her first attempt, instantly rising to the top of the leaderboard. But after crashing on her second attempt, Murase scored a mere 69.80 points on jump 3, but still walked away with a second-place finish at the FIS Snowboard World Cup season opener.
Named 'Snowboarder of the Year' at the 2019 Japan Action Sports Awards, Murase is laser-focused on pushing the boundaries of freestyle snowboarding. At X Games Norway 2018, the snowboard wunderkind made history as the first girl to land a 1260 double cork in competition and became the youngest Winter X Games athlete ever to win a gold medal at age 13. She now owns five X Games medals (1 gold, 3 silver, 1 bronze) across Slopestyle and Big Air disciplines and has evolved into a constant podium threat at events across the globe.
Download High Res Photos for Editorial Use.
For more on Max Parrot, Zoi Sadowski-Synnott, Sven Thorgren, Kokomo Murase and the Monster Energy snowboard team, visit http://www.monsterenergy.com. Also look forward to our ski and snowboard athletes bringing the stoke to X Games Aspen 2021 starting on Friday, January 29, 2021. Make sure to follow Monster Energy on YouTube, Facebook, Instagram, Twitter for exclusive behind-the-scenes looks as the 2021 snowboard season continues.
###
About Monster Energy
Based in Corona, California, Monster Energy is the leading marketer of energy drinks and alternative beverages. Refusing to acknowledge the traditional, Monster Energy supports the scene and sport. Whether motocross, off-road, NASCAR, MMA, BMX, surf, snowboard, ski, skateboard, or the rock and roll lifestyle, Monster Energy is a brand that believes in authenticity and the core of what its sports, athletes and musicians represent. More than a drink, it's the way of life lived by athletes, sports, bands, believers and fans. See more about Monster Energy including all of its drinks at http://www.monsterenergy.com.